VIDEO- Northbound off ramp from SR 99 shows crews contending with weather and time
VIDEO- Northbound off ramp from SR 99 shows crews contending with weather and time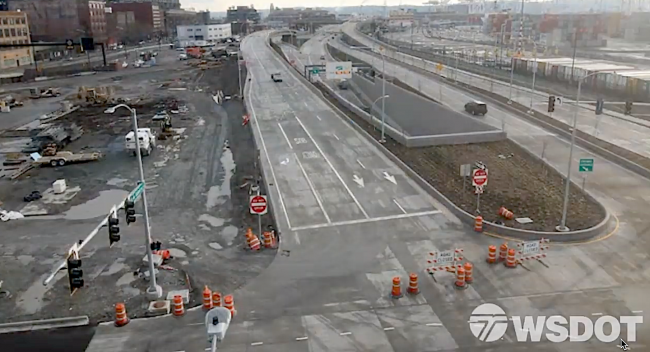 Thu, 02/21/2019
The Washington State Department of Transportation raced to complete the Northbound offramp from SR after the opening of the new tunnel but had to deal with a snowstorm in the process which not only slowed them down but brought progress to a complete halt at one point. The agency shot a time-lapse video of the work they shared online on Thursday.
This new exit ramp leads to a new intersection at South Dearborn Street where drivers can choose to head straight to Alaskan Way and the waterfront, or turn right to access First Avenue and downtown or SODO.
In addition to being an important link for travelers, engineers and researchers hope this new ramp will provide a link to something else – earthquake-resistant bridges.
This ramp is the first in the world built with flexible metals and bendable concrete designed to sway with a strong earthquake and return to its original shape. Its innovative design has won regional and national recognition.
VIDEO: Completing the SR 99 offramp
WSDOT