Seahawks fall to Beavers 4-1
Seahawks fall to Beavers 4-1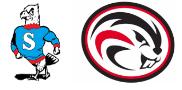 Sat, 03/23/2019
By Gerardo Bolong
CONTRIBUTING WRITER
After battling at its best, the Chief Sealth International High School Seahawks 3A Metro League girls tennis team fell to Ballard 4-1 at SWAC on Mon, March 18,
"We're building," said CSIHS head coach Amelia Aamot. "Our second sets were better as a whole. The girls are working on the mental parts of the game."
No. 2 Beaver singles player Siena Raye ignited Ballard with an opening 6-1, 6-0, defeat of Jsnice Ton.
"I hit deep and hard strokes to either side," she explained. "I also took advantage of her inconsistent serve."
Vivy Nguyen fought off a tough challenge from Hanna Mai to edge out her opponent, 6-2, 7-6 (7-4) in the No.1 singles feature.
"I started hitting flat, power serves instead of spinners," said Nguyen.
Power was also part of Mai's repertoire for the second set.
"I just hit harder," she said.
Shelzy Juta and Alina Doan racked up a 4-6, 6-1,  6-2, No. 1 doubles victory against Annelise Bowser and Hannah Weaver.
"We communicated better," said Doan.
Juta had an interesting view.
"I think about the past for a better future to improve," she added,
Francesca Evangelista teamed with Ballard teammate Elli McVicars In No.2 doubles for a 6-3, 6-1, No. 2 doubles triumph against Lyneisha Williams and Ellen Applewhite for Beaver win No. 3.
In the final match of the brilliant and sun drenched afternoon, Camryn Henninger and Natalie Zweig closed out Seahawk players Monita Meng and Lily Nguyen, 6-0, 6-1, in No. 3 doubles.
"Most of our players were in junior varsity last year," concluded Ballard head coach Kevin Todd. "They're inexperienced in court play, but they adjusted to the different styles of their opponents."