Finding a new comfort level
Finding a new comfort level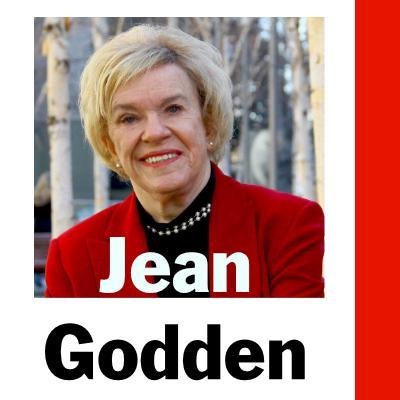 Mon, 04/15/2019
By Jean Godden
There are many different comfort levels. Take my late mother-in-law who, although she was a well-liked night nurse, never wanted to be touched, much less hugged. On the other hand, I have friends who, whenever we meet, strangle me in a bear hug. Greeting behaviors vary.
This is not an original finding, but it is timely as we think about the media furor over Joe Biden's long-standing habit of affectionately putting hands on women he meets. The women have responded in divergent ways -- some found his attention "creepy" and a violation of their personal space, others thought it was merely "Joe being Joe," expressing his warm human feelings.
Biden's penchant for sometimes unwelcome public displays of affection have some to question the former vice president's qualifications for a presidential bid. The first such story, told by a Bernie Sanders supporter, has led to an avalanche of similar reports, possibly fueled by opposing forces.
It comes down to this: In this era of #MeToo, we are still developing new standards. We are constrained to believe women who speak about their discomfort and, at the same time, we are being pushed to adopt almost zero tolerance. One recalls Senator Al Franken and the media tempest that led to his resignation.
There is danger in a rush to judgment. Fairness suggests that we ought to be able to look at the context for different behaviors. Surely there is a vast difference between the sexual predation of people like Harvey Weinstein and the human interaction of a Joe Biden.
Some argue that we should divide touching behavior into three levels with level number one being predatory behavior like the president's outrageous "grab them" approach. A second level comprises over-friendly acts that push boundaries and a third level is reserved for happy human contact.
The problem with establishing standards is partly generational. What was okay behavior in the Baby Boom era may no longer be acceptable for generation X or generation Z. If the Boomer politician could touch a woman with impunity, today's politician must at least seek permission before close contact.
Many factors figure into these interactions. There are issues of gender, ethnicity and power. What may be permissible between co-workers becomes intolerable when a superior confronts an employee.
It's a sad truth that too many journalists and pundits become transfixed by the latest taboo, rather than dwelling on critical issues. When we obsess over social missteps, we are not exploring politicians' leadership qualities. Is it more important to deplore overclose greeting behavior when we really should grill candidates on their plans for addressing health-care costs and their proposals for immigration reform?
For the sake of our nation's future comfort, let's all try to focus. Like my late mother-in-law, who was nothing if not frank, we should let people know if we don't want to be hugged. We can draw a line in the sand and we can confront behavior now rather than waiting five years. And, finally, we should move on and spend our air time and newsprint on investigating the things that really matter.
Correction: Jayson Boyd, who also writes for Westside Seattle, pointed out an inaccuracy in last week's column ("Too Soon to Say Seattle Is Dying"). Boyd has been to McNeil Island and reports that it is wrong to conflate the Department of Correction's prison facility with the treatment facility where 240 dangerous sexual offenders are housed. The prison itself stands empty and, according to Boyd, is "frankly spooky as hell." He notes that "sticking the homeless in the prison on McNeil is possible." But he adds, "it definitely would cost more than giving each homeless person a studio apartment in Belltown." My thanks to Boyd for setting the record straight and my apologies over the error.
Comments
Well, Godden, I suppose it just depends on whose ox is being gored. You make excuses for ole Joe Bite-Me former VP and his grope fests. You failed to mention the video clips of him with hands-on young pre-teen girls. Wonder what "Hands" Bite-Me does off camera? I remind you of sufficient probable cause existed for the arrest of Bill Clinton on a rape charge on one occasion and likely even more.. Oh well that's just affable old Bill, associate of the Dixieland and Democrat Mafias in Arkansas.
As a reminder, yesterday was the 130th birthday of Adolf Hitler, April 20th 1889, death date unknown, likely in South America mid-1950s. It is proper we remember the strength of Hitler, Franco, and Mussolini as they alone saved the west from the terror of Stalinist Russia. Only with the intervention of dull witted FDR did the Red Army defeat Germany. They rode to victory in trucks built by Detroit.
Even opportunist and terrorist Winston Churchill, on viewing the destruction of Germany and the advance of the Red Army, uttered the phrase: "We killed the wrong pig". George Patton said on two occasions: "We defeated the wrong enemy". At that time only Patton's third army and the nuclear bomb held the Red hordes at bay. It was the US Army's ten armoured brigades and five in reserve that kept the Reds from marching to the English Channel during the Cold War. In effect they took up Hitler's fight. Then came Reagan who called the bluff and won, thus completing successfully Adolf Hitler's overriding goal.
But never fear, the communists survived to conquer Seattle, most US universities, and the entire Democrat party. This ironically fulfilled Senator Joe McCarthy's warning should his efforts at exposing communist be derailed.
Add new comment