Curtains up for the Woodland Park Players
Curtains up for the Woodland Park Players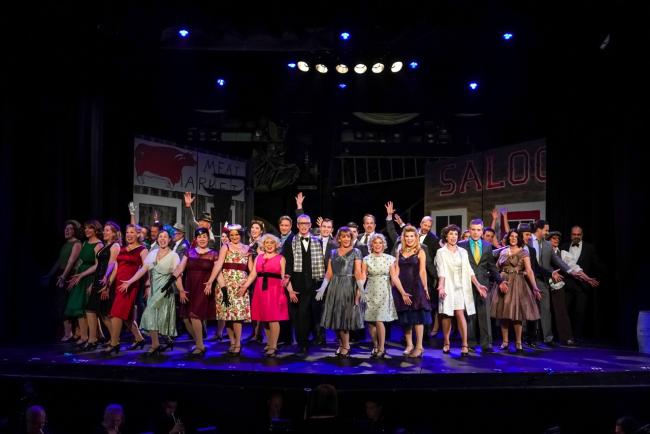 Photo courtesy of Alan Alabastro, Alabastro Photo
Tue, 04/16/2019
The Woodland Park Players just completed their 4th successful production and producer Linda Joss asked to say a huge thank you to everyone involved. 
They took their final curtain call on this year's production (aptly titled "Curtains") on March 30, 2019 but Joss is still over the moon. 
She writes, "These actors, my friends, are dancing, singing and acting their butts off. By day these 39 Phinney and Ballard neighbors work all around the city, but by night, and only once a year, they become Actors. In addition 100+ people build sets, make costumes and work as the crew for this non-profit."
Joss wants more people city-wide to know about their annual productions which are not only an act of love but also benefit various student art programs whenever there is profit. Their production was staged at Shoreline Community College. "Curtains" was written by Kander and Ebb, the team that wrote "Chicago." 
The sold out audiences loved the show, never dreaming of some of the challenges faced during preparation. There were multiple missed rehearsals due to 'Snowmaggeden.' One cast member had to drop out during tech week because she fell and broke her hip (hint, tech week is fairly late in the game). But the final product so warms Linda Joss's heart that she probably could have melted the snow personally. 
"Our orchestra is made up of middle school, high school, UW marching band and adult neighbors picking up their instruments for the first time in decades, along with local city musicians, who all come to play for us. Our company (cast and crew) is primarily made up of neighborhood people coming together to create this production. We give away our profits to local student art programs and to date, we have given away over $10,000 in the past 3 years. And so much more…" 
No word yet on next year's production but for now Linda Joss just wanted to offer her own standing ovation. 
Comments
Hope to catch one of this shows when we visit Woodland soon. We're just finishing the installation of parts from 4WheelOnline and we are up to our 2-weeks vacation.