No kitchen, no problem: favorite camping recipes
No kitchen, no problem: favorite camping recipes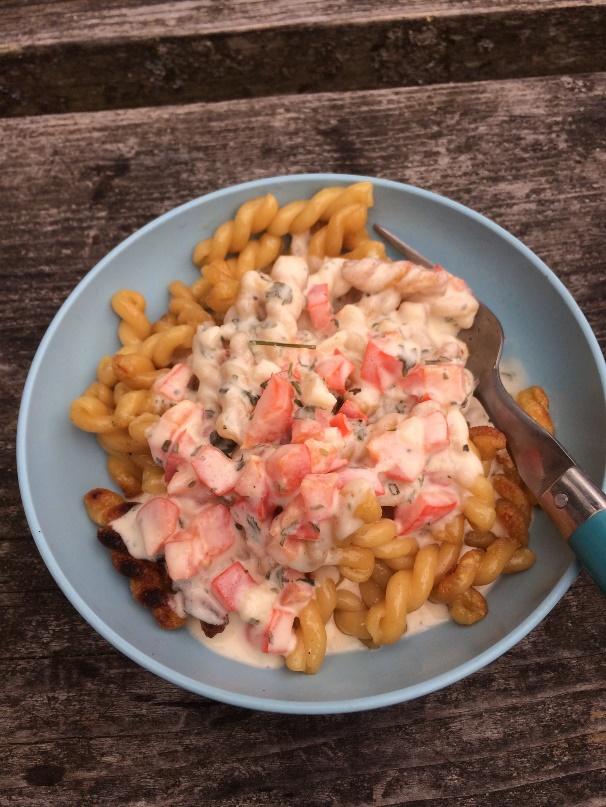 Mon, 09/02/2019
By Katy Wilkens
On my annual kayaking trip around the San Juan Islands, the weather was beautiful, the water smooth as glass most days and the food in a class by itself.
I've honed these recipes over the past 20 years. Beloved by Boy Scouts and adults alike, they all are low in sodium, which is great for your heart and kidneys. In contrast many "just add water" camping meals are extremely high in sodium and only make you thirsty.
These recipes assume:
You have no way to refrigerate or chill food
You have limited water for cooking but might have access to a fire pit
You want to be careful with how much fuel you use
There isn't a burn ban
If you have an unlimited supply of water, a cooler and all the fuel you want, you'll have even more choices.
Seaside Fettucine
1 teaspoon olive oil
3 cloves garlic, minced
1 8-ounce package cream cheese
½ cup grated Parmesan cheese
1 teaspoon dried basil
1 red bell pepper, diced
¼ cup dried parsley
1 16-ounce package pasta
¾ cup boiling water from pasta preparation, set aside for preparing sauce
In a large pot, cook pasta as directed on package—use enough water so that you can remove ¾ cup of boiling water for the sauce. In saucepan, heat oil over medium heat. Add minced garlic and red pepper. Stir frequently until slightly browned.
Meanwhile, put cream cheese, Parmesan cheese, parsley and basil in a quart-sized, heavy duty plastic zip-close bag. Remove ¾ cup of boiling water from pasta pot and add ¼ cup of water at a time to bag, squeezing with your fingers after each addition until mixed and good consistency.
Pour prepared sauce from pan over sautéed garlic. Stir and heat slightly if needed. Pour over pasta and serve warm. Serves 8.
Nutritional Information (per serving)
Calories: 341, Carbohydrates: 46 grams, Protein: 12 grams, Sodium: 215 milligrams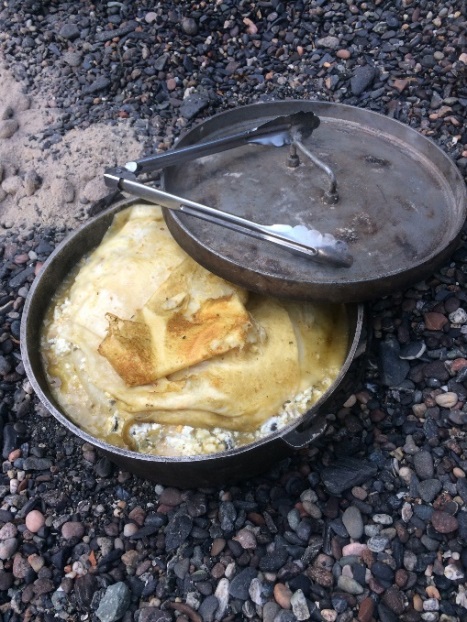 Dutch Oven Enchiladas
12 corn tortillas
½ pound pre-grated cheese
1 onion, diced
1 12-ounce can black olives
2 cans low-sodium tomato sauce
1 can tomato paste
1 green chili pepper, diced
1 teaspoon cumin
1 tablespoon Mexican seasoning or Mrs. Dash original blend
Heat coals. Drain olives and chop. Add onion to olives. Mix tomato sauce, paste, spices and chili.
Layer 3-4 corn tortillas into Dutch oven and sprinkle with about ¼ of olives, cheese and onion. Pour ¼ of sauce over mixture. Repeat until you have 4 layers.
Pour rest of sauce and salsa over top and sprinkle with remaining cheese. Bake at 350 degrees (about 13 coals on top and 9 coals on bottom of Dutch oven) for 30-40 minutes, until mixture is bubbly and brown on the top. Serves 6.
Nutritional Information (per serving)
Calories: 396, Carbohydrates: 46 grams, Protein: 16 grams, Sodium: 552 milligrams
Strawberries and Sour Cream
2 cups strawberries
1 small carton sour cream
¼ cup brown sugar
Hull and slice strawberries. Serve sprinkled with brown sugar and large spoons full of sour cream. Serves 4.
Nutritional Information (per serving)
Calories: 136, Carbohydrates: 22 grams, Protein: 2 grams, Sodium: 47 milligrams
Katy G. Wilkens is a registered dietitian and department head at Northwest Kidney Centers. The National Kidney Foundation Council on Renal Nutrition has honored her with its highest awards: the Susan Knapp Excellence in Education Award and the Joel D. Kopple Award for significant contributions in renal nutrition. See more recipes at www.nwkidney.org.