A taste of Spain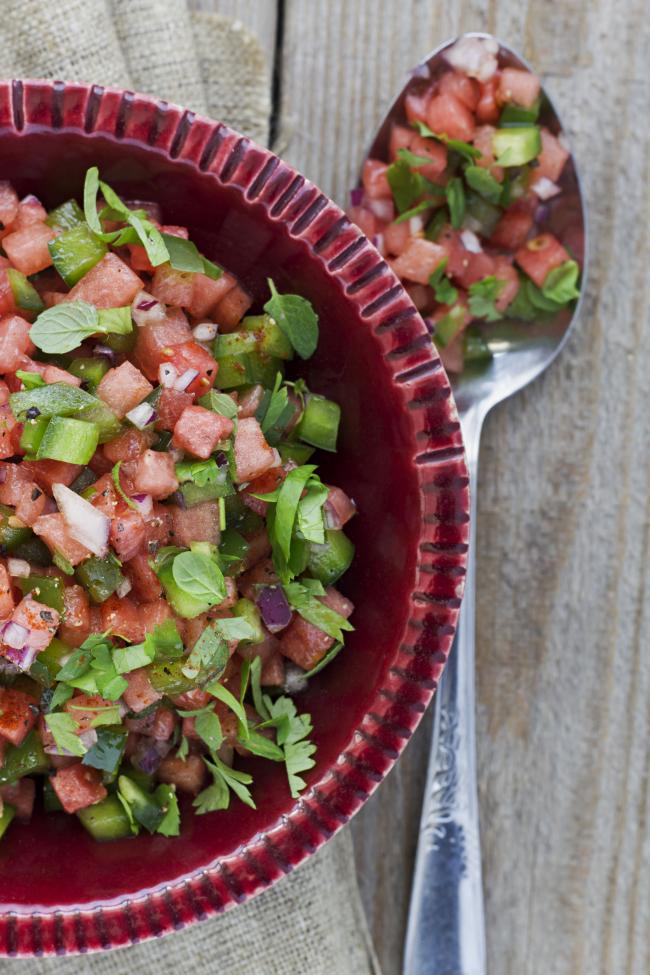 Mon, 09/30/2019
By Katy Wilkens
I am thrilled that I've been invited to Barcelona to be part of an international workgroup developing nutritional guidelines for people with chronic kidney disease and diabetes.
That got me thinking about Spain's famous small appetizers called tapas. You can enjoy a healthy and delicious taste of Spain with these recipes.
Garlic Shrimp with Olive Oil
1 pound shrimp, fresh or frozen
1 cup olive oil
5-6 cloves garlic, minced
1 red bell pepper, diced
Chile flakes (optional)
½ cup fresh flat leaf parsley
Peel, devein and wash shrimp. In a frying pan, heat olive oil on medium until shimmering. Add the garlic, chile flakes, red pepper and parsley. Cook about 30 seconds. Add shrimp and sauté until shrimp is cooked (turns pink). Makes 4 servings.
Nutritional Information (per serving)
Calories: 339, Carbohydrates: 5 grams, Protein: 16 grams, Sodium: 648 milligrams
Watermelon Salsa
3 cups watermelon, chopped into small chunks
1 cup green bell pepper, minced
2 tablespoons lime juice
1 tablespoon cilantro, chopped
1 tablespoon green onion, chopped
2 medium jalapenos, seeded and minced
1 clove garlic, crushed
Combine all ingredients and mix well. Refrigerate at least an hour before serving. This dish is great with chicken or fish. Makes 6 servings.
Nutritional Information (per serving)
Calories: 30, Carbohydrates: 7 grams, Protein: 1 gram, Sodium: 2 milligrams
Stuffed Dates
15-20 medium medjool dates
15-20 walnut or pecan halves
½ cup softened cream cheese
2 tablespoons grated orange or lemon peel
Turbinado sugar or other coarse sugar
Mix orange or lemon peel into cream cheese. Cut a lengthwise slit into each date and remove the pits. Use a butter knife to fill the dates with about 1 teaspoon of the cream cheese mixture. Stick nut halves into the cream cheese and squeeze the dates shut. Roll in sugar. Cover until served at room temperature. Makes 8 servings.
Nutritional Information (per serving of 2 dates)
Calories: 294, Carbohydrates: 52 grams, Protein: 4 grams, Sodium: 134 milligrams
[Katy G. Wilkens is a registered dietitian and department head at Northwest Kidney Centers. The National Kidney Foundation Council on Renal Nutrition has honored her with its highest awards: the Susan Knapp Excellence in Education Award and the Joel D. Kopple Award for significant contributions in renal nutrition. See more recipes at www.nwkidney.org.]