Scouts & Crew 100 mark 63 years selling Christmas trees in Ballard
Scouts & Crew 100 mark 63 years selling Christmas trees in Ballard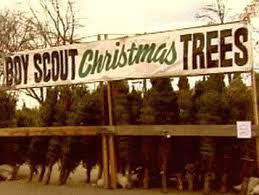 Tue, 11/26/2019
Christmas Trees in Ballard
It's Christmas tree time again for Scouts & Crew 100 Ballard. The 77 Scouts  will be selling Christmas trees for their annual fundraiser at St.  Alphonsus' parking lot.  The Scouts help customers find the perfect tree, give it a fresh cut and use their Scouting skills to make sure trees are tied  onto cars with proper knots.  
This year, girls from the newly established  Troop 100G unit will be joining the Scouts salesforce.
"Two of our long-time members of Crew 100 are among the founding members of  our [Girls] Troop and had a blast working the tree lot before," says Troop  100G Scout Master Aaron Prestegard.  "There are so many skills our Scouts 
will use while working at the tree lot:  Knot tying, tree identification,  sales, and communication.  But I think my favorite skill they will be  practicing is how to be a responsible leader in the community."

Scouts & Crew 100 has been selling Christmas trees in the Ballard area since  1956.  Buying a tree at the tree lot is a tradition with many Ballard families returning year after year.  Proceeds from sales help send the Scouts to summer camp, operate their beloved "White Whale" bus and cover camping  trips and activities expenses.  The Scouts also donate trees to several local churches along with a portion of the proceeds to support local charities and local families in need.

Location:
St. Alphonsus Parish Parking Lot
15th Avenue NW between NW 57th Street & NW 58th Street (by Ballard Market)
Dates/Hours:
Saturday Nov. 30 – Friday Dec. 20
•    Kickoff 9 am, Saturday, Nov. 30
•    Monday through Friday: 2 pm – 8 pm
•    Saturday & Sunday: 9 am – 9 pm
Products Available:
•    Six varieties of fresh-cut trees ranging from 3' – 9'+ tall:
•    Nobel Fir, Nordmann Fir, Fraser Fir, Korean Fir, Norway Spruce, Sheared 
Douglas Fir, and Natural Douglas Fir
•    Trees are delivered twice a week from local growers to ensure freshness.
•    Fresh Holiday greenery:
•    Deluxe Wreaths, Door Swags, Mantlepieces and cedar Garland by the foot.



For more information:
•    Sean Duggan, Troop 100 Tree Lot Manager: treelot@troop100seattle.com
•    Scouts & Crew 100 website: troop100seattle.com