Empty Stage Theatre Company Presents PLAID TIDINGS
Empty Stage Theatre Company Presents PLAID TIDINGS
December 7, 14 @ 7:30 p.m. AND December 8, 15 @ 2:00 p.m.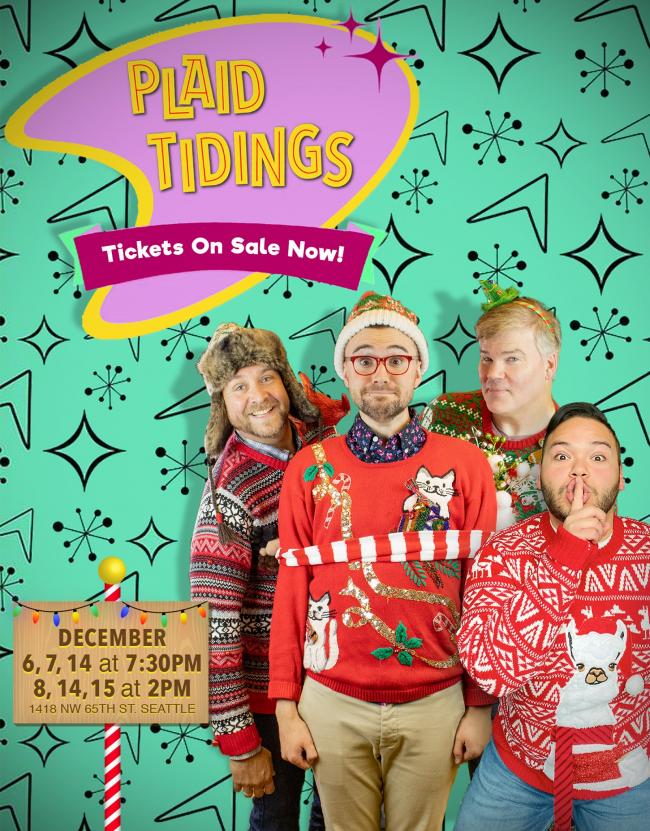 Mon, 12/02/2019
information from Empty Stage Theater
 A new theatre company in Ballard, EMPTY STAGE THEATRE COMPANY is preparing for their holiday musical offering PLAID TIDINGS.
Empty Stage Theatre Company was created by Ballard High School theatre arts instructor Shawn M. Riley, choreographer and Multi-Arts teacher Eia Waltzer, and Seattle performer Gustavo Gutierrez. The three wanted to give the Ballard community a theatre company to call their own. With big plans for the summer of 2020, including day camps for children ages kindergarten through eighth grade, and the addition of second show, Empty Stage plans on being a fixture in the Ballard community for the foreseeable future.
At first, Francis, Jinx, Smudge and Sparky aren't sure why they've returned to Earth for another posthumous performance, but a phone call from the heavenly Rosemary Clooney lets them know that they're needed to put a little harmony into a discordant world. Sprinkled among the Christmas offerings are audience favorites, like their riotous three-minute-and-eleven-second version of The Ed Sullivan Show – this time, featuring the Rockettes, the Chipmunks and The Vienna Boys Choir, as well as a Plaid Caribbean Christmas that puts the "Day-O" in Excelsis! This truly "heaven-sent" holiday treat will lift audiences' spirits and fill them with nostalgia for a bygone era of classic music sung in perfect harmony.
For over a decade, playwright Stuart Ross resisted creating a holiday sequel to his hit jukebox musical FOREVER PLAID. Then, right after 9/11, he was approached by The Pasadena Playhouse that it was the perfect time to bring a little joy and cozy Holiday fun into the world to lift the spirits of those suffering from the terrible loss. Thus, PLAID TIDINGS was born, evolving each year as theaters around the world share its toasty, cozy, musical holiday cheer to assist us in appreciating all the good stuff around us, especially in times of trials and tribulations in the world, our country and for our loved ones.
Performance Details
The performances will be on December 7 and 14 at 7:30 pm and December 8 and 15 at 2:00 pm. Performances will be held at Earl Kelly Center for Performing Arts at Ballard High School, 1418 NW 65th Street, Seattle, Washington, 98117.
Tickets
Reserved seating tickets for Plaid Tidings are available for purchase at SHOWTIX4U.COM.  Tickets are $20 for adults, $15 for students and seniors and $10 for children 10 and under.