Celebrate New Year's Eve with free rides on King County Metro
Celebrate New Year's Eve with free rides on King County Metro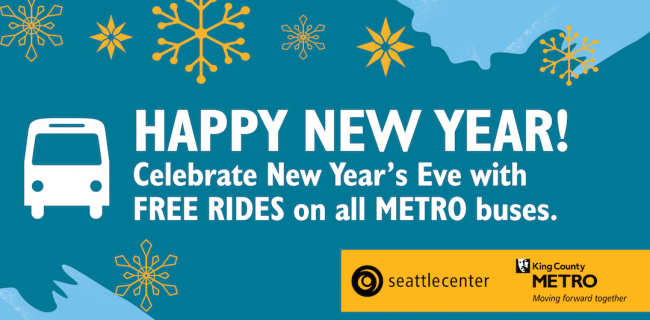 Tue, 12/31/2019
King County Metro will help riders safely usher in 2020 with free bus rides from 7 p.m. on New Year's Eve through 4 a.m. on New Year's Day. Free rides on Metro service are sponsored in part by Seattle Center, which draws thousands of people for New Year's Eve festivities. In addition to Metro buses, rides are also free on Via to Transit Southeast Seattle, DART, Seattle Streetcar, Community Van, Community Ride, and Access paratransit. 
King County Metro will again offer free rides on New Year's Eve with promotional support and sponsorship from Seattle Center, which draws thousands of people for New Year's Eve festivities, including free Seattle Center Winterfest activities at Seattle Center Armory and International Fountain and midnight fireworks off the Space Needle. Other events include New Year's Eve pARTy at Chihuly Garden and Glass, INDULGENCE NYE Bash at MoPOP, Spectra: NYE 2020 at Pacific Science Center and T-Mobile New Year's at the Needle.
Rides will be free from 7 p.m. Tuesday, Dec. 31, to 4 a.m. Wednesday, Jan. 1, on Metro buses and other Metro transit service. In addition, Metro will add more frequent service to its night routes, focusing on helping people travel near Seattle Center following the fireworks at midnight.
"There's no better night to leave your car at home than New Year's Eve, and with free fares you can ride Metro transit, celebrate late, and not have to worry about parking or a safe ride home," said King County Executive Dow Constantine. "There's no better way to kick off the new year than with your friends at Metro, who will make sure you get to the Seattle Center festivities – or wherever the night takes you –  and back home again."
"Seattle Center is the best place to celebrate on New Year's Eve, with a diverse mix of activities, and we're glad to team up with Metro to encourage people to ride transit," said Seattle Center Director Robert Nellams.
Regular fares still will be collected on Seattle Center Monorail, which serves as an important link between Seattle Center and downtown transit options, Sound Transit Link light rail, and Sound Transit Express buses – all of which accept ORCA cards and mobile phone Transit GO tickets.
King County Metro will operate reduced weekday schedules on New Year's Eve on some routes, with extra buses as needed on several routes serving destinations such as Seattle Center, Capitol Hill, and downtown. New Year's revelers can take advantage of Metro's expanded Night Owl network, with added service on major routes between 1 a.m. and 5 a.m. Via to Transit service in southeast Seattle will also operate on expanded hours.
Metro buses will operate on revised or reduced service schedules from Dec. 23 through Jan. 3.