Jerry's View: Salmon Creek was a great place to raise kids
Jerry's View: Salmon Creek was a great place to raise kids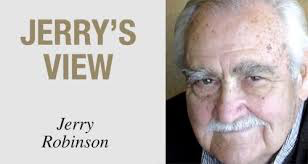 Sat, 01/04/2020

Editor's Note: This is an excerpt from Jerry Robinson's (1920-2014) 
autobiography, "Listen to your father"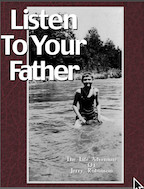 ​
by Jerry Robinson
      Just off Ambaum Boulevard, at 124th St, I  bought a house in 1957. It had a long gravel drive at the end of 14th SW with an open view of Puget Sound over the tops of the trees that make up the Salmon Creek ravine. The yard was the gateway to exploration of a verdant forest. Our boys set about seizing territory like Alexander the Great.
         To those school age kids, this was Tom Sawyer, Huck Finn and a little bit of Lord of the Flies. Nobody died, that I know of, down in that ravine but they sure had quite an adventure.
         A slightly overgrown, switchback trail led down the steep incline, 20 feet, to a more gentle slope for about 300 yards. The leafy brush struggled to grow among the Madrona, Alder and fir trees of this mostly damp ground where the confluences of several runoff creeks formed one larger creek they aptly named "Robinson Creek", reasoning that they did not see a sign in their investigation and certainly never consulted a map. And this was all on the first day!
         Subsequent trips to this newly gained land helped improve their cardiovascular condition, mostly on the way back up but their hearts must have raced a bit when they discovered a pump house 5ft by 5ft and roughly as tall as a man, that had been built over the creek when Joe Burke owned the property in the 30's.
         Near the pump house they found enough debris to slightly dam up the flow. Building dams is a rite of passage for young boys.  In the process of construction they found small fingerling trout in the swirling pools. The trout were slippery as eels, wriggling  in their small hands. The stream fed into the newly built Salmon Creek sewer treatment plant.
     The actual Salmon Creek runs slightly north of the plant with a much, much larger flow as much as 6 feet across. It originates from near Hicklin Lake up near Evergreen High School, flowing south and west underneath Ambaum Boulevard with its piped outflow adjacent to the Schick Shadel Hospital. From there it meanders west washing out into Puget Sound near Standring Ln. In the 30's fishermen claimed to use pitchforks to stab Salmon as far up as Ambaum.
         The boys did not spend much time around Salmon Creek, but often walked the access road up and down from Puget Sound.
         The house had an expansive front yard with a lone Maple tree about 20 feet tall. The yard was a second playground after the trail to Robinson Creek.
         Flat and mostly square, it was the scene of many football games, snowball fights and judo demonstrations.
         The Maple tree may still be there and if it is, it should still have a scuff mark around 6 feet off the ground where I zigged instead of zagging, clipping the trunk with my right ear. I hit the ground bleeding while the kids looked for body parts stuck in the bark. This may explain why I am hard of hearing today.
         There was hardly any grass for the football field in that yard as Ken often took his pet horse Billie out of the barn I built and rode him around the yard showing visitors what cute tricks he could do. The horse could count to ten with his front hoof, which even Ken could not. Billy was smart but never apologized for messing up the front lawn with road apples.
         He also figured out how to open his barnyard gate and create havoc with the neighbor's garden patch. The horse,...not Ken.
      I was glad when Ken sold him until I found a Chevy transmission under his bed.  Now he was into autos and spent many hours hanging out at filthy Phil's wrecking yard in White Center.
                  That front yard was also the arena for one particular touch football game with one of my old friends taking a side. On a pitch-out the friend raced around the right end, failing to negotiate the precipitous edge enough to avoid literally "flying" off the front of the yard, down 20 feet into the brambles. That is the reason for the chain link fence I installed the next Spring.
         The yard was also a private park. Sleep-outs on the lawn were common where the boys stared at the heavens, hoping for a million dollars. If they could wish it, while seeing a shooting star. Sleeping was secondary to everything else. New P.F. Flyer tennis shoes were perfect for nightly excursions.
         On those warm summer nights, those bags were mostly empty until near 2 a.m. They later told me they skulked around the neighborhood, ducking headlights from passing cars. They climbed fruit trees to pick a night's cache for their bellies. One by one the neighbor's house lights went out. Their path aided slightly by the lone street lamp on the corner.
         Thoughts of going down to Robinson Creek at night were simply not tolerated. Dark lives there, along with assorted monsters of the ravine. Even a double-dog dare would not be honored regarding that place. It was a day visit only and even then it often felt like secret eyes were following them along their way.
         By 2 a.m. their internal batteries were depleted. They nestled into sleeping bags. I came out at 7 a.m. on my way to the office. I nudged their warm bodies with my shiny wing-tip shoe, beckoning them to seize the day, never realizing they had seized the night just hours earlier.
Comments
Beautiful story! Calls to mind my own adventures growing up in the same area described by Jerry. Salmon creek was hiking distance from our house and I spent many an hour exploring its course, playing and fishing there. We also slept outside many times in the summer, gazed at the stars in rapt wonder and even raided our neighbors fruit trees...what a time and place to grow up! Thanks for posting this piece. MA
Add new comment