Ballard Jazz Band 1 to perform at Starbucks Hot Java, 
Cool Jazz at the Paramount Mar. 27
Ballard Jazz Band 1 to perform at Starbucks Hot Java, 
Cool Jazz at the Paramount Mar. 27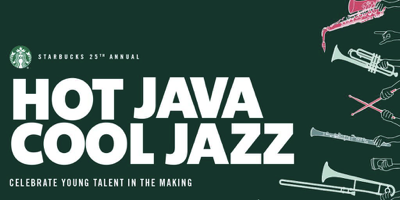 Fri, 02/07/2020
Information from Ballard Performing Arts
Join us for young talent in the making as Ballard High School's award-winning Jazz Band 1 takes the stage as one of five bands selected to perform in Starbucks 25th annual Hot Java Cool Jazz performance at the Paramount Theatre on Friday, March 27.

        This annual event features some of the best high school jazz ensembles in western Washington. Bands are selected through an intensive screening process and the last time Ballard High Jazz 1 was selected to perform at the event was in 2018. This year's performance will feature several of the band's outstanding soloists.
       Starbucks hosts this event annually as part of their ongoing commitment to supporting local youth. Tickets are $25. A limited number of tickets are available starting February 7 at the Starbucks at NW Market Street and 22nd Street NW in Ballard, and 100% of the proceeds from ticket sales at this location directly benefit the Ballard Performing Arts music programs. Since 1995, this event has raised more than $700,000.
      
         The invitation to Starbucks Hot Java Cool Jazz comes on the heels of recent accomplishments for this jazz group, including an invitation to perform at the Next Generation Monterey Jazz festival in April. Hot Java Cool Jazz sells out early; get your tickets today and enjoy an evening of exceptional jazz!    #HotJavaCoolJazz2020
Starbucks Hot Java Cool Jazz Performance Details
Date: Friday, March 27, 2020
Venue: Paramount Theatre, 911 Pine St, Seattle, WA 98101
Doors open: 6:00 PM; Show starts: 7:00 PM
Ballard will be performing first, followed by Edmonds Woodway, Mountlake Terrace, Garfield and Roosevelt High Schools
Tickets
Tickets, $25, are on sale February 7 through March 20 (while supplies last) at the Ballard Starbucks on Market St. and 22nd. 100% of the in-store ticket proceeds will go to support the Ballard High School Jazz Program!
After March 20, you can purchase tickets online at: www.stgpresents.org or at the Paramount box office. Purchases made online or at the box office incur a service charge and tax.