Herbold: Permanent bus pathway to open for West Seattle/Downtown Buses
Herbold: Permanent bus pathway to open for West Seattle/Downtown Buses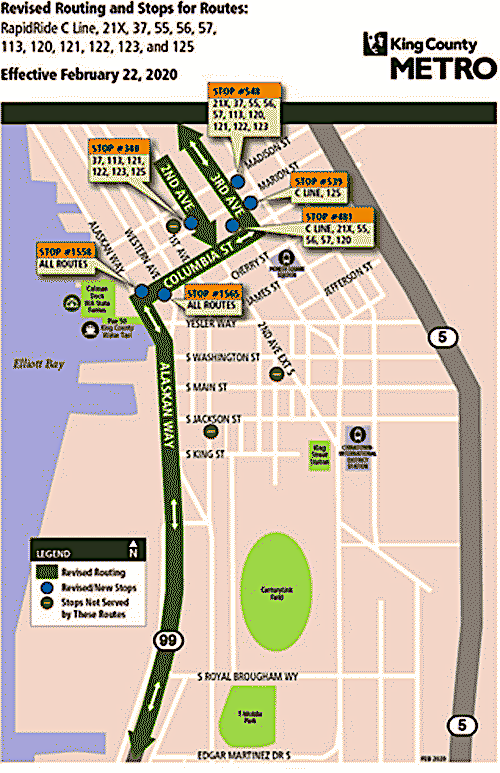 Mon, 02/10/2020
Seattle City Councilmember Lisa Herbold shared this news via her constituent newsletter:
King County Metro and SDOT have announced that, beginning on February 22nd, buses that formerly traveled between West Seattle to Downtown on the Alaskan Way Viaduct will access Downtown through Alaskan Way and Columbia Street. This is the permanent travel path planned for buses, and comes with the planned completion of two-way bus lanes on Columbia StreetDowntown.
This will be an important improvement for many District 1 routes, including the RapidRide C Line, 21 Express, 37, 55, 56, 57, 113, 120, 121, 122, 123 and 125. Buses will no longer travel through the temporary routes on SODO or 1stAvenue. Planned bus stop locations are shown on the map below.
The C Line and the 120 (planned for conversion to the RapidRide H Line in 2021) carry a combined total of about 20,000 riders each day.
The next step will be the completion of dedicated transit lanes on Alaskan Way between South King Street and Columbia Street in lane 2021. Here's a link to King County Metro and the SDOT Blog releases.