No Country for Big Umbrellas
No Country for Big Umbrellas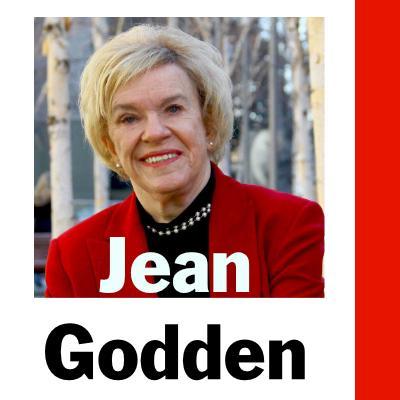 Mon, 02/10/2020
by Jean Godden
Seattle's tolerance for newcomers toting umbrellas has been tested recently by the number of Amazon employees seen toting oversized orange and white golf umbrellas on city sidewalks.
Those bumbershoots, picked up from buckets at building exits, stretch some five feet in diameter. Not only do they commandeer large swaths of narrow sidewalks, but to make matters worse they're lethal. The fearsome ribs seem designed to poke out eyes and stab cheeks and earlobes.
The giant rain deflectors shield company workers and, in many cases, also shelter their dogs. Those pampered canines, some fully outfitted in doggy rain wear, are kept dry while they attend to their business, peeing on Seattle sidewalks. It's enough to raise the hackles of even the most welcoming Seattle locals.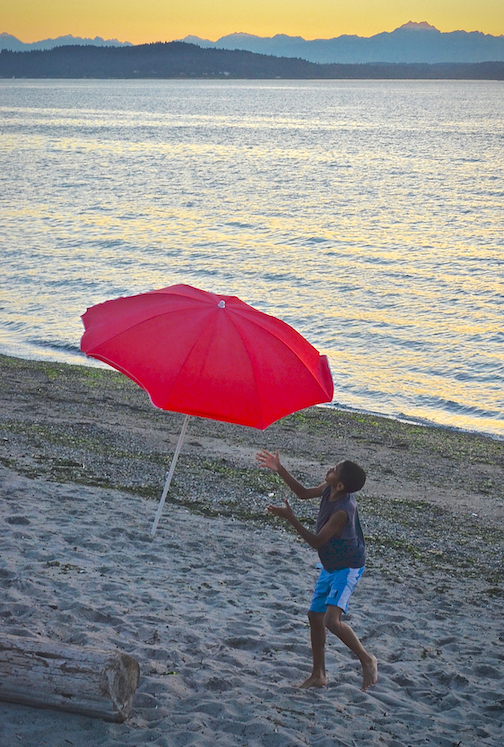 Umbrellas have always been a touchy subject for Seattleites. A few years ago, New York Magazine sent a reporter to Seattle, the so-called Rain City, to "find the best umbrellas." It was a fatally flawed assignment. The kindest response came from a resident who dismissed the question saying:  "Only the tourists use them."
Around that time Seattle was home to Brella Umbrella, the town's last brick and mortar umbrella store.  Although owner Jodell Egbert lamented closing in October, 2017, she wasn't surprised. She'd heard scores of negative remarks. They told her she was stupid to think Seattleites would buy umbrellas.  One critic said, "That's what hats are for."
Egbert closed Brella Umbrella and moved to New Orleans. Good choice: Orleanians have been known to carry umbrellas even when it's not raining. After all the umbrella was originally invented to protect us from the sun. The word parasol translates as "para" for stop and "sol" for sun. Umbrella on the other hand comes from the word "umbra" meaning shade or shadow.
Full disclosure: I do own an umbrella, just one. It was a give-away, a Seattle City Light promotion. I don't know why City Light bothered. It's not as if Seattleites can buy electricity elsewhere. Besides, if the city's municipal power company was hoping for thanks, they should have chosen something more durable than a flimsy fold-up with tiny ribs and a cranky mechanism. You'd be drenched by the time you were 'brella-up.
Truth is that Seattle is not nearly as soggy as many other cities. Seattle only averages 37.49 inches of rain a year while New York City gets 49.9 inches and New Orleans, 62.7 inches. Where Seattle does excel: It's the U. S. city with the most overcast days per year. Just in January of this year, the city recorded 30 days of rain.
Old timers will tell you that Seattleites make it a mark of honor not to carry an umbrella.  And there are good reasons for that. First reason is that umbrella toting marks you as a newcomer, something to avoid if possible. Real Seattleites prefer to wear jackets or raincoats with a hood.
Second reason never to carry an umbrella is that, unless it's made of stern stuff, it likely will be blown inside out. Gusts of winds at cross streets are umbrella killers. You'll be left holding onto a busted umbrella and trying to find the right trash can where you can bury the carcass.
Third reason not to carry an umbrella is that it makes you an easy target for rain jokes. One of worst is the worn-out one former Mayor Charley Royer used to tell about the tourist couple who came to see Seattle sights and were put off by constant rain. The drenched wife finally approaches a youngster and asks, "When does it stop raining?"
"Don't ask me," shrugs the kid. "I'm only six years old."
Best solution to the march of Amazonians carrying umbrellas may be to convince those transplants that Seattle rain is somehow different. Because our rain comes mainly from flat status clouds, raindrops here are smaller than precipitation falling elsewhere.
What typically does come our way on overcast days is a dewy mist.  Local journalist/historian Knute Berger suggests using the word "Smirr," Scottish term for a fine drizzle.
Hey, Amazonians, how about shelving those space-hogging golf umbrellas, contraptions that aren't much good when combatting Seattle's fine misty rain? Can't we all get along wearing a hooded jacket or coat?