Celebrate World Kidney Day with healthy world cuisines
Celebrate World Kidney Day with healthy world cuisines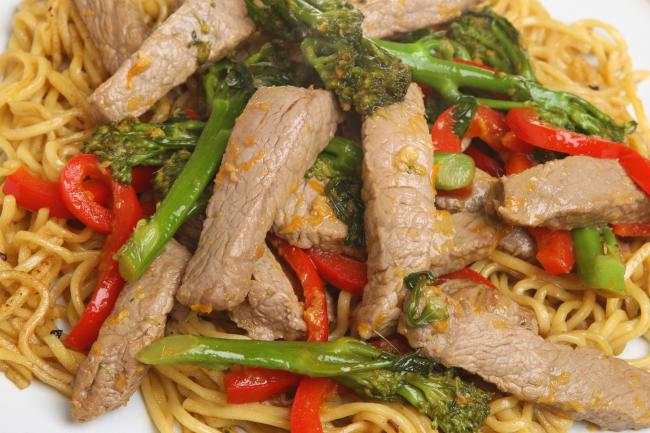 Mon, 03/02/2020
By Katy Wilkens
March is National Kidney Month and World Salt Awareness week is recognized March 9-15.
Both are good reminders that hundreds of millions of people around the world suffer from kidney disease, which is associated with heart disease, diabetes and high blood pressure. In many countries, kidney disease is terminal because there are no funds for dialysis; in the United States alone, kidney disease kills 50,000 people a year.
At least in countries where people eat less salt, there is less high blood pressure, and, therefore, less kidney disease.
What can you do to be sure your kidneys are healthy?
Ask your doctor to do a simple blood test for kidney function.
Eat less salt!
You can cut the salt and still enjoy "take out" meals from favorite worldwide cuisines. Check out these suggestions:
Indian food
Curries can hide high-sodium ingredients, but you can find tandoori dishes with reasonable salt levels. Tandoori is an assortment of chicken, lamb, beef, fish, and vegetables with lemon, onion and roasted vegetables baked in a clay oven. Another great choice at Indian restaurants is the saffron rice. With great flavor and a bright yellow color, it is usually lower in salt than other choices.   
Naan, bread cooked in those same clay ovens, is so light and good when served fresh that you don't need to smear it with butter or other spreads, which alone makes it a healthier choice. The tamarind and cilantro sauces served at most restaurants are usually low in sodium. Try Raita, a cooling cucumber salad with yogurt that will counter the heat from other choices.
Mexican
America has a love affair with Mexican food, but salted margarita glasses and deep-fried chips are not good for kidneys. Try a glass of sangria, fruit spiced wine, or red wine instead, or enjoy your margarita without the salted rim. Some restaurants cook their own tortilla chips, so you can ask that yours not be salted. You can also order fresh corn tortillas and roll them up and dip in salsa. Ask for a fresh salsa, which is less likely to be over-salted.   
When ordering entrees, remember that corn tortillas have one tenth the sodium as flour tortillas. Consider making a salad with the lettuce, tomato and avocado that often come on the side and using the fresh salsa as the dressing.
Chinese
Everyone has a favorite neighborhood Chinese restaurant, and many of us feel a little better bringing Chinese food and rice to the table rather than hitting a fast food drive-thru after a busy day. But is that a healthy choice?
Yes, if you know what to order. Barbecue pork with hot mustard is a good low-sodium choice for an appetizer at most Chinese restaurants. Sweet and sour entrees usually have less salt than most others.
Many Chinese restaurants now offer healthier choices, such as brown rice. Because Chinese food is made to order, you can ask the cook to leave out the salt, and to limit the soy or other salty sauces.
At the stove
In the time it takes for an order to be delivered to your home, you can stir-fry your own delicious dinner. Try our recipe for stir-fried Pepper Steak. Full of fresh veggies and brimming with flavor, you can have it on the table long before takeout food arrives. To speed up your dinner, boil-in-the-bag instant brown rice takes less than 10 minutes.
The healthiest tip?
Try cutting your soy sauce with half water or pineapple juice. Use a low-sodium soy sauce and mix with the sweet and tart flavor of pineapple. You won't miss the salt, but your kidneys will – and that's a good thing.
Stir-Fried Pepper Steak
2 tablespoons cooking sherry or unseasoned rice vinegar
1 tablespoon homemade low-sodium soy sauce (see below)
1 teaspoon cornstarch
1 pound lean flank steak or chuck steak, cut into thin strips
1-2 bell peppers sliced into strips
1 medium onion, sliced
1 clove garlic, crushed
4 plum tomatoes, cut into 6ths
2 cups broccoli
2 tablespoons vegetable oil, divided
2 tablespoons grated fresh ginger
½ teaspoon sugar
¼ cup water
For Sauce:
1 tablespoon cornstarch
2 tablespoons water
2 tablespoons homemade low-sodium soy sauce (see below)
Combine sherry or rice vinegar with homemade low-sodium soy sauce, cornstarch and beef. Marinate for 15 minutes. While marinating, cut up peppers, onions, garlic, and tomatoes. Heat 1 tablespoon oil until hot. Fry onion and peppers for one minute. Add garlic, tomatoes, sugar, ginger and water. Stir fry for another minute. Remove from pan and set aside. Combine cornstarch, water and soy sauce, and then set aside. Heat one tablespoon oil until hot: stir fry marinated beef until meat changes color. Add vegetables and thicken with cornstarch mixture. Serve immediately over noodles or rice. Makes 4 servings.
Nutrition Information (per serving)
Calories: 296, Carbohydrates: 18 grams, Protein: 26 grams, Sodium: 220 milligrams
Homemade Low-Sodium Soy Sauce
5 packets Herb-Ox Sodium Free Bouillon, beef or chicken flavor
6 tablespoons cider or balsamic vinegar
4-5 tablespoons molasses
2 cups boiling water
1/4 teaspoon black pepper
1/4 teaspoon powdered ginger
1/4 teaspoon garlic powder
2 tablespoons Kikkoman Less Sodium Soy Sauce
Mix all ingredients. Pour into bottle and store in refrigerator. Keeps indefinitely. Makes 32 servings per recipe.
Nutrition Information
Calories: 10, Carbohydrates: 2 grams, Protein: 0 grams, Sodium: 38 milligrams
[Katy G. Wilkens is a registered dietitian and department head at Northwest Kidney Centers. The National Kidney Foundation Council on Renal Nutrition has honored her with its highest awards: the Susan Knapp Excellence in Education Award and the Joel D. Kopple Award for significant contributions in renal nutrition. See more recipes at www.nwkidney.org.]