Calling Drag Queen Bingo in my civvies
Calling Drag Queen Bingo in my civvies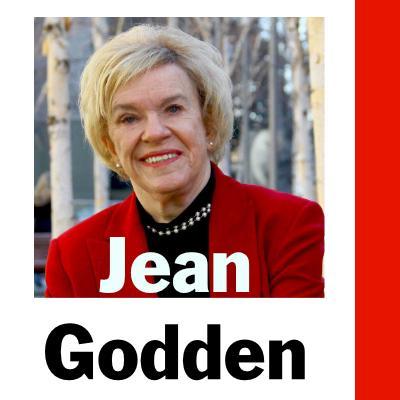 Mon, 03/09/2020
By Jean Godden
During my years as a newspaper columnist and councilmember, I was asked to do a number of odd and interesting things. I served as a judge for contests -- clam-eating competitions at Ivar's and the oyster slurp at Anthony's. I helped pick the "top ten best dishes" for the Taste of Seattle and spotted winners at the Oyster Olympics.
Some of the jobs for which I was drafted were no hardship. I was called into service to pick finalists for the Seattle Firefighters Calendar. I joined a panel starring Actor John Procaccino and Restaurant Critic John Hinterberger to answer the question: "Where's the city's Best Martini?" (Oliver's at the Mayflower Park Hotel won and eventually retired the trophy.)
But the most unusual job for which I was tapped was as guest caller for Drag Queen Bingo. On a Tuesday night, sometime in the aughts, I found myself pressed into service announcing numbers like B-6 and G-51 at an event held in the Temple de Hersch Sinai auditorium. At the time, Drag Queen Bingo was a fundraiser for Lifelong AIDS Alliance, which provided food, housing and medical assistance to those in need.
I showed up on the appointed evening not knowing what to expect, although Drag Queen Bingo was scarcely new. Seattleite Mark "Mom" Finley, who studied theater at the California Institute of the Arts, gets credit for having invented the art form in 1990s. Finley, who stands seven-feet in heels, is entrancing to behold when he applies the right makeup and dons a curly blond wig.
The night I helped at Drag Queen Bingo, the event was being hosted by Glamazonia. The "mistress of ceremonies" was wearing fishnet hose, sparkly leotard and a feathered boa. In my plain black suit, I couldn't have been more underdressed. To make proper eye contact, I had to tip my head back at a 45-degree angle. Tree-top-tall Glamazonia had to bend almost double to explain my task.
The Temple de Hersch auditorium had been outfitted in long cafe-style tables covered in bright-colored tablecloths. It was clearly a family-oriented night, no alcohol and no smoking. The bingo players were a wonderful mix of city folks, gay and straight, from gray-haired seniors to family groups, children and adults. The room was adrift with the scent of popcorn and snack food.
Players all seemed experienced. They were equipped with business-like daubers, designed to mark the numbers on their bingo cards. Seated down front were the Sisters of Perpetual Indulgence, drag queens dressed as nuns, who helped keep the party lively. The goal was winning prizes like plastic flamingos and concert tickets, but what mattered most was the entertaining banter. Punchlines were smart, bawdy and laugh-out-loud.
Since its beginning, Drag Queen Bingo has spread. It has surfaced in Chicago, Boston, Dallas and Southern California. St. Petersburg, Fla. launched a dog-friendly version that raised funds for a local pet shelter. Raising money for nonprofits is a great feature of Drag Queen Bingo, which can bring in as much as $10,000 on a good evening.
But alas. As with many great notions, there's often a bureaucratic hitch. Seattle Times' Danny Westneat reports that the Washington State Gambling Commission has cracked down on Drag Queen Bingo. After a two-year investigation, the commission discovered gambling going on. (Gambling? What a shock!) The commission has sent cease and desist letters warning that unlicensed violators -- never mind if they raise money for charities -- risk Class B felony charges with up to 10 years in prison. Ten years!
These have been hard times for Gay Bingo. In South Park, the volunteer community center treasurer was fined $300. West Seattle Community Center's Rainbow Bingo, also under surveillance, can now only hire Benjimen Blair (aka Sylvia O'Stayformore) as an entertainer. Sylvia can't touch the equipment or call out numbers.
The state gambling commission obviously is charged with enforcing the law. But a two-year surveillance of nonprofits, complete with threats of felony convictions and stiff fines, is certainly the definition of officious overkill. As the Charles Dickens character said of the law: "If the law says that, the law is an ass -- an idiot."