Chinook's Restaurant offering to-go menu daily
Chinook's Restaurant offering to-go menu daily
Anthony's Seafood Company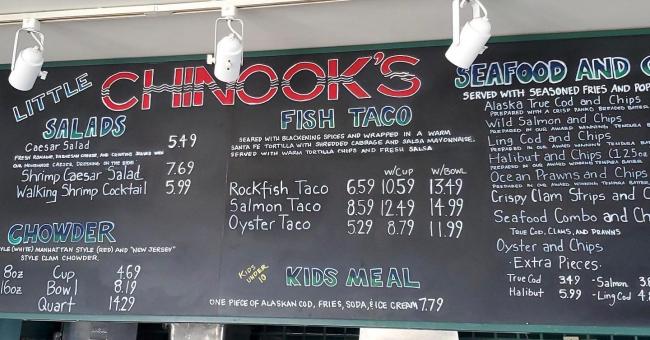 Mon, 03/23/2020
NOTIFICATION FROM Anthony's Seafood Company
Little Chinook's (fish counter adjacent to sit-down restaurant Chinook's) is offering a to-go menu available daily from 12pm-6pm: 
1900 W. Nickerson St. Seattle 98119
Anthony's Seafood Company is our wholesale division that supplies all of the seafood to our restaurants. We do not normally sell to the general public, but we are currently offering the below items for sale during small windows of time this week! This is a rare opportunity to get some very high quality seafood & meat for a very reasonable cost: 
Wild Alaska Troll Caught Silver Salmon Fillets - $8.50/lb (2 lb fillets)
Wild Patagonia Prawns - 2lb bag for $15
7oz Free Range Chicken Breast - $40 for a 10lb box
Wild Frozen at Sea Scallops - $13.50/lb (2.5 lb minimum)
American Kobe Ground Beef - $35 per 5lb
We will be selling these items today directly from our wholesale company located halfway up the Magnolia Bridge from 9am-1pm: 
Anthony's Seafood Company
Magnolia, Pier 91, Building 39, W. Garfield Street, Seattle 98119 
(plug "Anthony's Seafood Company" into google maps and it will direct you to us!)
(Credit/debit cards only - no cash please!)
We will have additional time slots for seafood sales this week, but have not been finalized yet. If you would like an update on additional days and times, please let me know and I will be happy to get you that information as soon as it is available. 
Full list of to-go opportunities as of 3/23 in the Seattle-ish area and beyond: 
Little Chinook's at Fishermen's Terminal
1900 W. Nickerson, Seattle WA 98119
Daily from 12pm - 6pm
(206) 283-4665

Anthony's Cabana - Anacortes
1207 Q Ave, Anacortes WA 98221
Mon-Thurs: 3pm-7:30pm
Fri-Sun: 12pm - 7:30pm
(360) 588-0333

Anthony's Beach Cafe - Edmonds
456 Admiral Way, Edmonds WA 98020
Daily from 12pm - 7pm
(425) 771-4400

Woody's - Everett
1722 W. Marine View Drive, Everett WA 98201
Wed - Sun 12pm-6pm
(425) 258-4000

Anthony's Hearthfire Grill Bellingham
7 Bellwether Way, Bellingham, WA 98225
Daily 4pm - 7:30pm
(360) 527-3473

Anthony's HomePort Olympia
704 Columbia St NW, Olympia, WA 98501
Wed - Sun: 1pm - 7pm
(360) 357-9700