He's a big man in a little sport
He's a big man in a little sport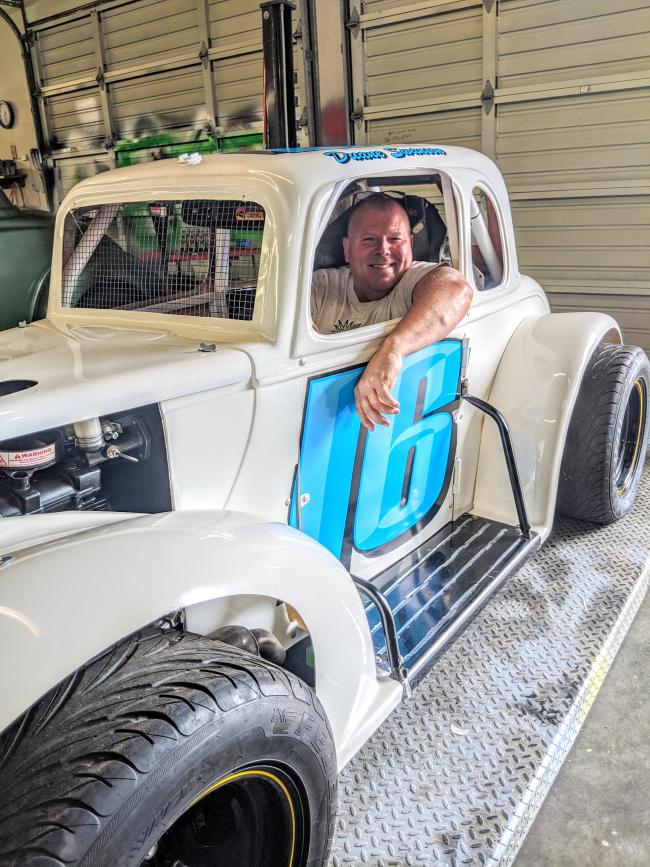 Mon, 06/29/2020
by Rob Clay
Duane Swanson is a big man on the Northwest midget racing circuit. As the owner of a Legend race car, Duane can tell you about the near 30 years he has been owning, repairing, and driving around the country or the more than 800 races under his belt. Duane is a busy guy, so we'll tell you about it.
Midget race cars are smaller versions of mid-to-late '40s Ford Coupes scaled down to 5/8 of the original roadster with a Yamaha motorcycle engine, a four speed stick shift, one aluminum molded seat with a slim pad and a windscreen in place of a windshield. This will be an important point later in this story.
In 1983 at 18, Duane flipped his cap at graduation from Highline High School, taking a job as a truck driver. A short time later he opted to help his dad at the Muffler Shop in White Center. His interest in the tiny cars came on gradually. He entered a few races here and there with a variety of cars. All of them had to meet specific criteria.
The cars must weigh no less than 1300 pounds, including the driver, and can only have up to 145 horsepower. Standing close to four feet high from the tires, makes getting inside a bit of a challenge, especially for Duane at 6-1" and 200 lbs. Top end on these types of roadsters is about 115 mph. The average speed is much lower in a twenty-minute race. Specialty tires cost $100 a piece, lasting about 3-4 races. Because the tracks are all right to left ovals, the teams shave brand new tires on the right front and rear to gain more speed (less weight). If you're always turning left, you need less traction on the right side of the tires. There are other little racing tricks drivers learn but winning comes mostly from experience. Duane has plenty of that.
The Muffler shop on 16th SW and 100th in White Center is Duane's daytime activity. On most days one can usually find him under the chassis of a Chevy Suburban or similar vehicle where he MIG welds a new tail pipe complete with extended chrome sleeves. MIG welding uses inert gas to fuse two metal parts together using an electric arc like TIG or ARC welding. It looks more dramatic with sparks falling all around him but they're mostly harmless.
Inside the shop, racing parts and pictures adorn the walls along with a few trophies, a wall clock, and promotional posters. Old engine heads line the shelves like sentries on a parapet. Under the shelves, Hoosier racing tires are stacked, ready for duty.  Wrenches and machine tools are everywhere. They are part of the job, adding to the mystique of fine tuning for optimum performance. Duane buries his head into his work, flipping a gear shift or lifting the steering wheel that must come out of the racer so Duane can get inside. It is a tight fit with no wasted space.
From Alaska to Colorado, from North Carolina to Las Vegas and as close as Tenino or Monroe, WA., Duane has traveled the midget racing circuit and done so successfully as an armload of trophies would attest. This expensive hobby "doesn't pay much more than a couple hundred bucks if you win," he grinned. The goal is in the fun and then not so much fun when weather becomes a factor.
In Anchorage, Alaska a few years ago, Legend racers helped kick off festivities for the Iditarod Trail sled dog race. A special track was cut right out of the snow in the middle of town. With drifts as high as 10-12 feet, the track, on a few square city blocks, was coated with de-icer. In 0- degree weather Duane piloted his Legend car around that track while fans stood or sat on the stacks of snow drinking beer and cheering on the racers. Without gloves  Duane alternated one freezing hand on the steering wheel, warming the other hand out of the fierce chill coming through the windscreen of the car. It was memorable if nothing more. Windscreens are preferred over windshields even in freezing weather. It is better for vision.
The COVID 19 pandemic has hurt the racing industry too. No fans mean no races, but things are improving.
Back home in White Center, Duane fiddles with his car. He's likely to make it to Tenino or Monroe for some recently scheduled races.  He'll join more than 32 other Legend drivers to compete in what most would call a good hobby.
In the more than 30 years of competition in those tiny cars, Duane has won lots of races and lots of friends and that is no small task.
For information see NW Legend Cars on Facebook.