Sourdough without yeast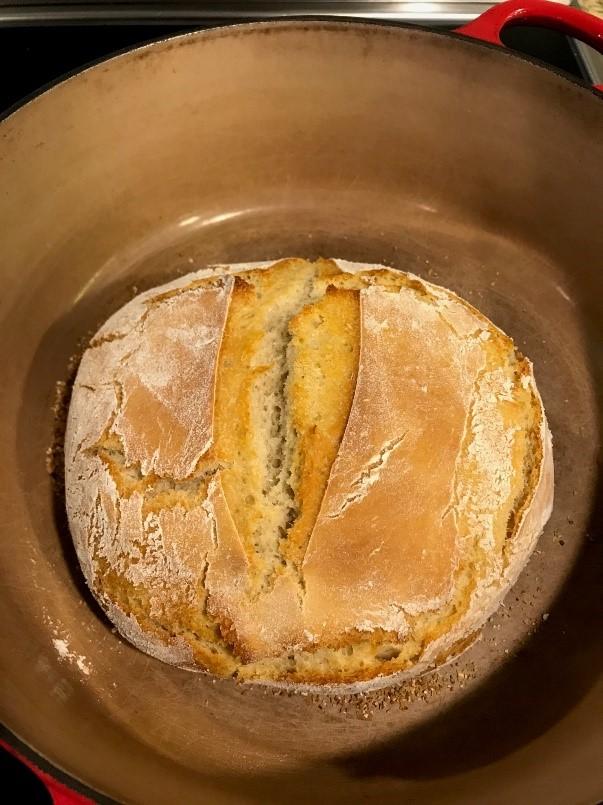 Mon, 07/20/2020
By Katy G. Wilkens
I have been amazed and pleased at the number of people who have decided to bake bread during the COVID-19 outbreak. That's because bread is one of the "Salty Six" in the American diet, one of the foods with the highest levels of salt. Making it yourself means you can avoid that salt overload.
Consider that a healthy goal for sodium is about 1,500 milligrams a day, and that most slices of bread from a grocery store have 200 to 250 milligrams of sodium. Toast at breakfast, a sandwich for lunch and a roll with dinner adds up to about two-thirds of the recommended daily salt intake.
When you make your own bread, you can cut way down on the salt or leave it out completely. I like to add fresh rosemary to my recipe for a more complex flavor without any salt.
Sourdough is a variation that can kick up your bread-making a notch. If you have a packet or two of yeast in your cupboard, you can use it to make a yeast-based sourdough starter. You'll have enough starter to use in recipes for sourdough bread, pancakes, pretzels, pizza crust and even sourdough chocolate cake.
Yeast has been a bit hard to find at some grocery stores during the pandemic, although supplies are catching up with demand. If you don't have packaged yeast, you can make sourdough starter by catching wild yeast out of the air or from plain yogurt. Then you can use your own sourdough starter to raise your bread.
This tried and true recipe for sourdough starter uses yogurt and milk as a base.
No-Yeast Sourdough Starter

1 cup nonfat or 2% milk

3 tablespoons plain yogurt (with live cultures, no gelatin)

1 cup flour

 
Heat milk to between 90 and 100 degrees in a saucepan over medium heat or microwave. This step kills the enzyme in milk that destroys yeast. Pour into a 2- to 3-cup container with a tight lid.
Cover and put in a warm place. I use my oven with the light turned on; you can also use the top of a water heater, a cooler with a hot water bottle, or a food dehydrator set to 80 to 90 degrees. You just need a warm, but not hot, place for it to grow. Let stand for 18 to 24 hours, until the milk has formed a curd.
If there is clear liquid on the top, stir it back in. If the liquid is light pink (signifying harmful bacteria), toss it out and start again.
Stir in the flour, cover and then leave in the warm place for another 2 to 5 days, until it is full of bubbles and has a good sour smell. If clear liquid has accumulated, stir it back in. If your starter has turned pink, toss it out and try again.
When you have a suitable starter, refrigerate it and use it at least once a week for the first month or more. You can keep your starter available for ongoing use by feeding it at least once a month. Sourdough starters have been known to last for generations.
To feed your starter: remove it from refrigerator and add ½ cup flour and ½ cup of either water or milk. If you use milk, warm it to about 100 degrees, or use prepared powdered milk. Let starter rise for about a day and then take out the amount you need for your recipe. Return the remaining starter to the refrigerator. This way it is fed for another month.
Your feeding routine should be based on how much you use or will need. Makes about 2 cups.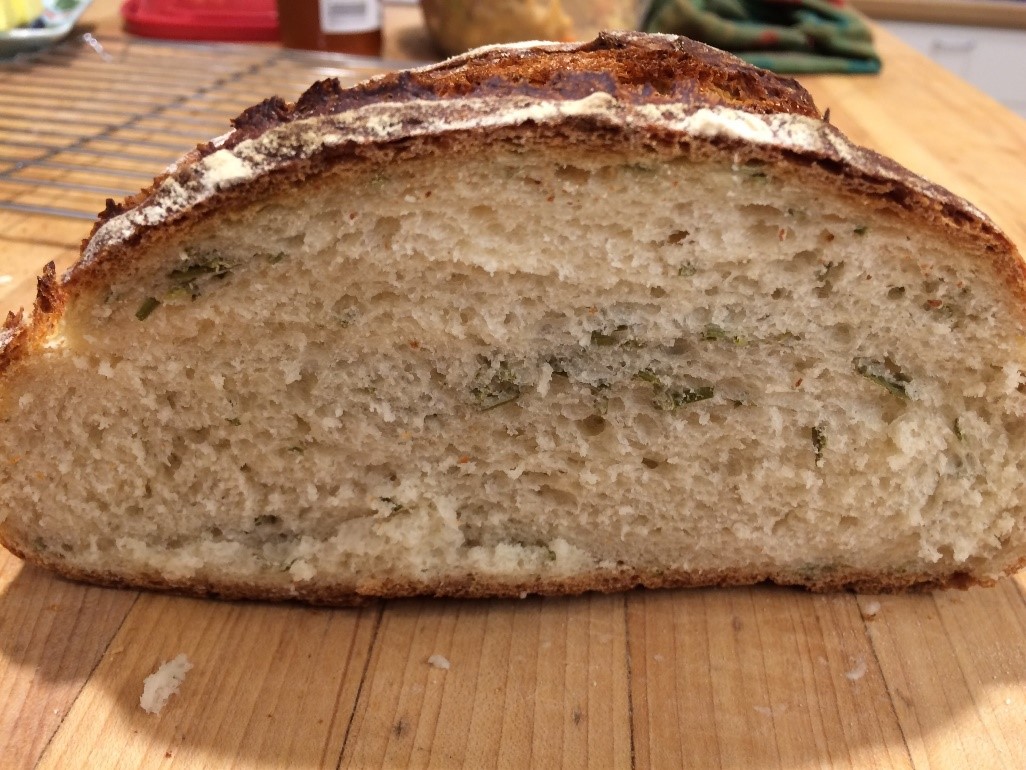 Rosemary Sourdough Bread

1 cup sourdough starter

1 cup water

½ cup warm milk (90-100 degrees)

4 cups unsifted flour (half-gluten flour for chewier texture)

2 tablespoons sugar

2 tablespoons olive oil

4 tablespoons fresh rosemary or 2 tablespoons dried

1-2 tablespoons cornmeal

 

Mix ingredients together and form into a ball. Knead for about 5 minutes. Put in a greased bowl, cover and let rise about 2 hours. Divide into two loaves. Roll into 8- by 12-inch rectangles, and then roll up like a jelly roll. Pinch outside edges to seal loaves. Sprinkle cornmeal on baking sheet; set loaves on baking sheet. Cover with clean cloth, and allow to double in size, which takes about 2 hours.

Preheat oven to 375 degrees. Right before baking, make a cut a quarter inch deep across the top of the loaves. With a shallow pan of hot water on the lower rack of oven, bake loaves about 35 minutes, or until thermometer reaches 200 degrees. Makes about 20 servings.

 

Nutrition Information (per serving)

Calories: 130, Carbohydrates: 25 grams, Protein: 4 grams, Sodium: 8 milligrams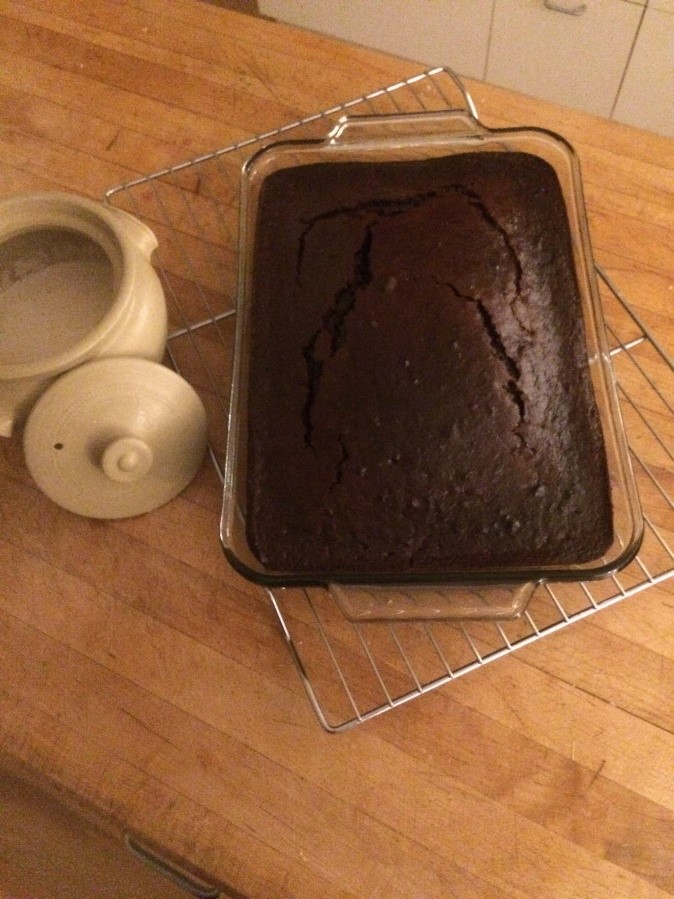 Sourdough Chocolate Cake

½ cup sourdough starter

1 cup warm milk (90 to 100 degrees)

2 cups flour

1½ cups sugar

1 cup vegetable oil

2 teaspoons vanilla

1 teaspoon baking soda

1 teaspoon cinnamon

¾ cup cocoa

2 eggs

Mix sourdough starter, warm milk and flour. Cover and let stand for about 3 hours.

Cream together sugar, oil, vanilla, cinnamon, baking soda and cocoa. Beat eggs and add. Add chocolate mixture to starter mixture. Pour into 9-by-12-inch greased pan. Bake at 350 degrees for 30 to 40 minutes, until cake springs back when pressed. Serve with a dollop of whipped cream and a few sliced strawberries. Serves 12.

Nutrition Information (per serving)
Calories: 383, Carbohydrates: 49 grams, Protein: 6 grams, Sodium: 130 milligrams
[Katy G. Wilkens is a registered dietitian and department head at Northwest Kidney Centers. The National Kidney Foundation Council on Renal Nutrition has honored her with its highest awards: the Susan Knapp Excellence in Education Award and the Joel D. Kopple Award for significant contributions in renal nutrition. See more recipes at www.nwkidney.org.]