Ballard Food Bank will get new building
Ballard Food Bank will get new building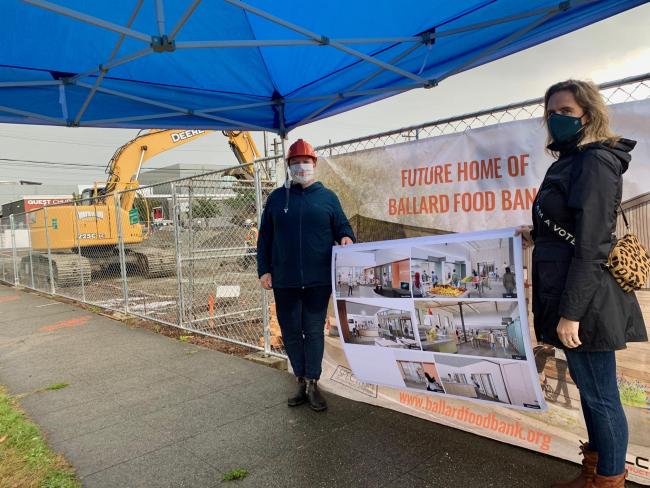 Mon, 09/28/2020
Ballard Food Bank broke ground last Thursday for their new facility  at 1400 N.W. Leary Way. It will be a hub for basic needs and belonging.
Before COVID-19, the Ballard Food Bank building was already bursting at the seams. The pandemic has significantly increased demands for food and other basic resources. In February, 3,200 people visited the Food Bank or received food deliveries; by July, that number had swelled to more than 6,000. Needs are expected to increase as more of our neighbors struggle with losses of jobs and income.
BIG COMMUNITY IMPACT
The new 11,000 s.f. facility will be double the size of the current "Big Blue Building" on Leary Avenue. The Food Bank will be able to serve more communities, including Licton Springs through Bitter Lake and up to 145th Street, home to some of the most vulnerable populations in the region. We expect to serve up to 1,700 households per week by 2022.
Our grocery-store-style food bank will be co-located with a garden, spacious waiting area, a larger warehouse space, and a café. Our Community Resource Hub will expand access to vital resources like rent assistance, medical check-ups, case management, VA services, and more.
A TEAM EFFORT
This will be the first building that Ballard Food Bank has owned—a huge effort that has brought together supporters from philanthropy, business, and government. The Bill & Melinda Gates Foundation has contributed $1 million. Funding support also includes $500,000 from the City of Seattle and $750,000 from the State of Washington.   
The new building is made possible by a dynamic project team. Spectrum Development Solutions is overseeing the project as the development manager. Graham Baba was selected as the architect and Wilcox Construction will lead construction of the building.