A smaller Thanksgiving can still be festive
A smaller Thanksgiving can still be festive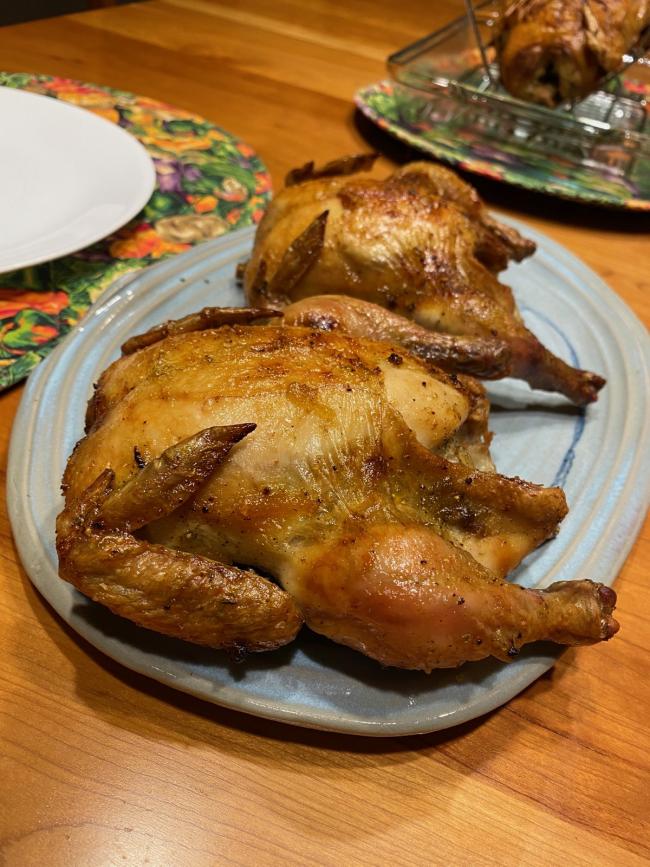 Mon, 11/09/2020
By Katy G. Wilkens
As we continue social distancing because of COVID-19, most of us will not be traveling to visit family or friends over Thanksgiving. Think of that as your gift to the people you care about: their health. 
So if you are planning a smaller Thanksgiving, or if a whole turkey seems daunting, consider scaling back to a turkey breast, a turkey leg if you like dark meat, or both. Parts are a lot easier to cook than a whole bird because they won't dry out nearly as much. 
Another idea for a small Thanksgiving is to use Cornish game hens as your miniature turkeys. Usually one bird will serve two people, but if you want some leftovers, you might cook one bird per person.
Mini-Turkeys/Cornish Game Hens

1 Cornish game hen per 2 people

2 tablespoons butter

Fresh herbs, chopped (sage, rosemary, thyme)
You can find Cornish game hens in a freezer at most supermarkets. Thaw them in your refrigerator for about 24 to 36 hours before cooking. You can also microwave on defrost, but birds may cook in some areas. You can also defrost by putting the packaged hen in a large bowl of cold water in the sink. (Make sure bowl doesn't block drain.) Continually trickle cold water into the bowl. The hen will thaw in about an hour and a half. 
Preheat oven to 400 degrees. Put hens in roasting pan or glass baking dish. Chop herbs and mix into butter. Brush butter over the skin and roast until golden brown, and thermometer reaches 180 degrees. This should take about 50-65 minutes. 
Don't stuff these little birds; stuffing will be much better if you bake it in a casserole dish alongside the birds. Add a flavorful homemade gravy and apple dumplings for dessert, and you will have a holiday dinner to be thankful for. You can find easy and healthy recipes for stuffing, gravy and apple dumplings at www.nwkidney.org/mini-thanksgiving. 
[Katy G. Wilkens is a registered dietitian and department head at Northwest Kidney Centers. The National Kidney Foundation Council on Renal Nutrition has honored her with its highest awards for excellence in education and for significant contributions in renal nutrition.]