Seven story 122 unit apartment coming to NW Market Street in Ballard
Seven story 122 unit apartment coming to NW Market Street in Ballard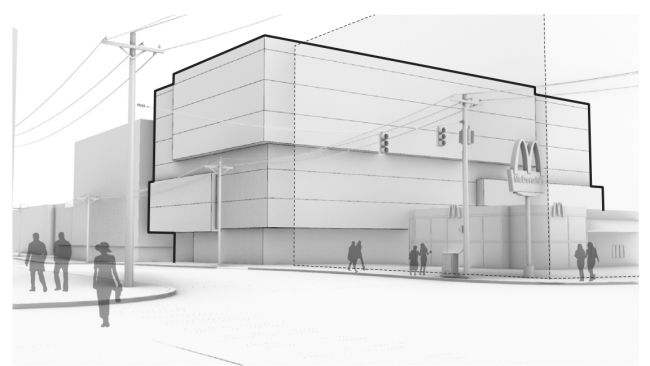 Thu, 12/10/2020
A Land Use Application has been filed with the Seattle Department of Construction and Inspections to allow a 7-story, 122-unit apartment building to be built at 1145 NW Market Street. 74 parking spaces are proposed. The existing building will be demolished. Design Review Early Design Guidance is conducted under 3036716-EG.
J. Selig Real Estate LLC is the developer and architect is Mithun.
From the EDG package:
Development Objectives
-CREATE A GENEROUS AND VIBRANT PEDESTRIAN ENVIRONMENT WITH LANDSCAPING FROM COMMUNITY OUTREACH AND INCREASED SETBACKS AT GRADE, DIRECTLY ACCESSIBLE FROM THE PUBLIC ROW. -ACTIVATE AND PROMOTE PEDESTRIAN STREET ACTIVITY WITH TRANSPARENCY AND ACTIVE USES AT NW MARKET STREET. NW 54TH STREET BALANCES VISUAL POROSITY WITH PRIVACY, CONTRIBUTING TO A SAFE, WALKABLE NEIGHBORHOOD. -EMPLOY LIGHTING DESIGN AND TRANSPARENCY SIGHT LINES TO ENCOURAGE EYES ON THE STREET FOR THE SAFETY AND COMFORT OF RESIDENTS AND NEIGHBORS. -USE QUALITY MATERIALS AND CAREFUL DETAILING TO CREATE A HOLISTIC DESIGN THAT REDUCES THE PERCEIVED MASS OF THE BUILDING, CREATES VISUAL INTEREST, AND HONORS, RESPECTS, AND CARES FOR THE NEIGHBORHOOD CHARACTER. -REPLACE THE CURRENT LOW DENSITY USE WITH A BUILDING THAT IS GROUNDED IN THE VISION OF BALLARD'S DESIGN GUIDELINES TO FILL IN THE NEIGHBORHOOD FABRIC WITH BUILDINGS THAT MAINTAIN THE URBAN EDGE AND PROVIDE QUALITY HOUSING TO HELP MEET DEMAND FOR MORE HOUSING UNITS IN THE CITY AND IN BALLARD.
Summary of Comments from Community Outreach
-MOST OF THE RESPONDENTS "LIVE VERY CLOSE TO THE PROJECT." -ANSWERS TO THE QUESTION: "WHAT IS MOST IMPORTANT TO YOU ABOUT A NEW BUILDING ON THIS PROPERTY?" -INTERESTING & UNIQUE DESIGN -ENVIRONMENTALLY FRIENDLY FEATURES -RELATIONSHIP TO THE NEIGHBORHOOD CHARACTER -RESPONDENTS WANT VEHICULAR PARKING PROVIDED AS PART OF THE BUILDING. -RESPONDENTS WANT NOISE AND DISRUPTIONS TO BE MINIMIZED DURING CONSTRUCTION. DESIGN RESPONSE: INTERESTING AND UNIQUE DESIGN- THE DESIGN RESPONDS TO BALLARD'S TIMBER PRODUCTION HISTORY TO ARRIVE AT A UNIQUE MASSING WITH BOLD DESIGN MOVES. THIS MASSING RESPONDS TO NEARBY DATUMS AND WILL UTILIZE HIGH QUALITY MATERIALS. NEIGHBORHOOD CHARACTER- SCHEMES INCLUDE INCREASED GROUND LEVEL SETBACK TO ENCOURAGE PEDESTRIAN USES FOR THOSE LIVING IN THE NEIGHBORHOOD. ADDITIONALLY, THE UPPER LEVEL MASSING IS BROKEN DOWN TO PROVIDE A HUMAN SCALE TO THE BUILDING. A RESTRAINED AND TIMELESS PALETTE INSPIRED BY BALLARD'S NEIGHBORHOOD CHARACTER. ENVIRONMENTALLY FRIENDLY FEATURES- THE PROJECT WILL FEATURE SOLAR COLLECTORS, A HIGH PERFORMANCE ENVELOPE, AND STORMWATER PLANTERS.