Get Kraken with Everett Fitzhugh
Get Kraken with Everett Fitzhugh
New NHL team's broadcaster is an extravert extraordinare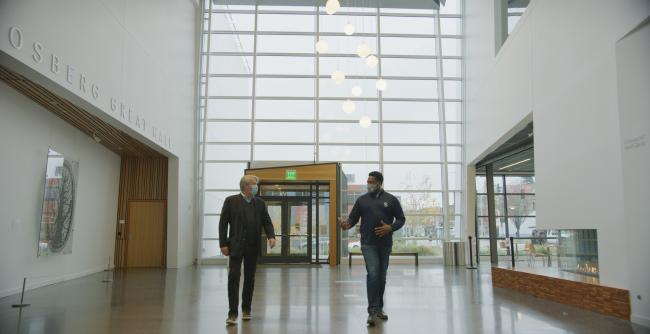 Sat, 12/19/2020
By Peggy Sturdivant
One telephone interview with the Seattle Kraken's National Hockey League Team Broadcaster Everett Fitzhugh and I'm ready to become a season ticketholder. Never mind that there isn't a head coach yet, or even players. The first professional goal Detroit native Everett Fitzhugh set was to be an NHL broadcaster by age forty. Since the Kraken have hooked and landed him at age 31, in 2020, I feel a sudden surge of hope for Seattle 2021. 
"I've been exceedingly lucky," Fitzhugh says, and this past year, that's a feat. Seattle is another stick closer to fielding an NHL Team: Seattle Kraken. It also happens their, no our, broadcaster will be the first African-American in NHL history. What matters, to paraphrase Kamala Harris on the subject of being a first, is that especially given his determination to promote community and the sport, he won't be the last. 
As the Voice of the Cincinnati Cyclones, an NHL expansion team, Fitzhugh was working steadily on his career goal. He thought the introductory email in early 2020 from Kraken CEO Tod Leiweke was a joke, but he answered it anyway. Three Zoom calls and one actual visit to Seattle later Fitzhugh, and his then fiancée, said yes to Seattle. By October 1, 2020 their road trip of family farewells and West Coast hellos landed them officially in Seattle. "I love it," he said, "it's been a really good move for us." 
The only Seattle Freeze for Everett Fitzhugh is going to be when there are actual players on the ice of the practice facility near Northgate. Fitzhugh (can't we just call him Everett?) is an extrovert extraordinaire. There are those who believe overly extroverted types overwhelm the descendants of early Scandinavian settlers. I hope the pandemic has cured Seattleites of their reserve. Fitzhugh's ebullience and sincere interest in his new home will melt the coldest heart. 
In addition to his personality what so engaged me chatting with Fitzhugh is learning about the broad role he gets to play before there's an actual team for Climate Pledge Arena. His title is Team Broadcaster but his passion right now is building community. Since childhood he's seen firsthand that youth hockey is an expensive sport and has been mostly accessible to privileged groups, at least in the U.S.. A major part of Seattle Kraken's team mission is to increase diversity, not just in the players but all of its hires, its outreach, and ultimately its fan base. For Fitzhugh, and for the organization, the opportunity to both explore and build community before the 32nd NHL team takes the ice is a priority. 
Hence the launch of  "SightSEAing with Fitz" on the Kraken website. Fitzhugh credits Marketing Coordinator Chase Johnsen with providing the background information and contacts for the first episode, which explores the Nordic roots of the kraken legend, and Pacific Northwest connections. As one who is protective of Ballard and Seattle misrepresentation I was impressed with accurate context (and appropriate mask-wearing). Fitzhugh meets with Nordic National Museum's Eric Nelson, visits UW, throws axes with a Swede, visits Poulsbo, but ends back at Skal Beer Hall on Ballard Avenue with Adam McQueen. 
As a newcomer Fitzhugh gets to combine his work with actual exploration of his new home (what a cool job). The "SightSEAing" videos will take him throughout Seattle and Washington State, perhaps even north to Alaska to learn about indigenous hockey. He also looks forward to learning about varied local fandom. I know about as little about local sports as someone living with a Seahawks fan can know. Sounders, Storm, Reign, Thunderbirds…I'm not part of any fandom, except of Everett Fitzhugh. If the Seattle Freeze is our metaphorical kraken, Fitzhugh will melt it through sheer enthusiasm. Game on!
https://www.nhl.com/kraken/video/sightseaing-with-fitz-episode-1/t-304858646/c-7064320