Shelves filled with untold riches
Shelves filled with untold riches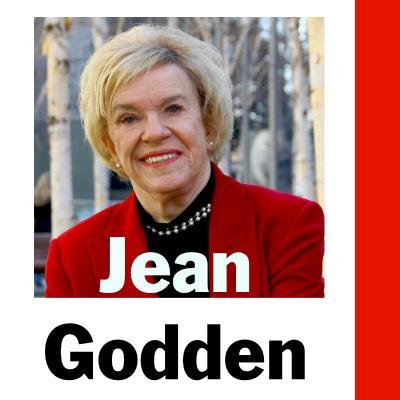 Mon, 01/18/2021
By Jean Godden
As a newswoman and columnist, an ink-stained wretch, I always knew that I would never get rich. But, if not checkbook rich, I'm rich in another way: I'm cookbook rich.
Over the years, I've managed to collect nearly 200 cookbooks, some inherited from relatives, some acquired as gifts and others that I bought or picked up at yard sales. Some of those books are in pristine shape, paged through but hardly ever used.
Others of those cookbooks are in frightful shape. They're dogeared and splattered. Those distressed volumes are the ones that I refer to constantly and actually consult when the culinary spirit moves me.
One of the earliest and most disreputable of my cookbooks is the late John Owens' "Intermediate Eater's Seattle Cookbook." John was the long-time Seattle Post-Intelligencer sports editor and, in the years when I worked at that paper, I knew him well. Like many P-I readers, I adored John's weekly "Intermediate Eater" columns, illustrated by cartoonists Ray Collins and Bob McCausland.
Owens grew up in Montana and had a muscular approach to cookbook-ese. Most cookbooks tell you to mix or combine ingredients. Not John. He advised you to mush, glunk or even "glop" those puppies together.
Take "Bug Juice Chicken," one of the simple but delicious recipes he celebrated. His recipe called for slathering chicken parts with an especially exotic ingredient (soy sauce) supplemented with a few spices and baked in the oven. On another well-used page, there's John's recipe for Puget Sound Stew. It starts with a stick of butter, chopped onion, mashed garlic, some chicken broth and a large can of tomatoes. After combining and simmering, you toss in clams, oysters, shrimp and other local delights. Doesn't get any tastier than that.
Next to John's cookbook on the top shelf, there's a vintage copy of "Prudence Penny's Celebrity Cookbook: Favorite Recipes of Prominent People." My copy -- disreputable and well-used -- dates from the days when women submitted recipes to the P-I's food department using their husband's name. Included is "Merry Cake," a date-nut dessert from the kitchen of Mrs. Harlan Edwards, a Seattle councilmember and namesake of Myrtle Edwards Park.
Then there's a spiral-bound copy of "Recipes from the Public Market," published by the Friends of the Market back in the days when we were trying to rescue the city's market from urban removal. The book is filled with basic gems like "Public Market Corn Chowder," credited to Victor Steinbrueck, the Market savior himself.
I've been lucky enough also to amass cookbooks from noted Seattle chefs, stars like Tom Douglas, Kathy Casey, Gwen Bassetti and Mauro Golmarvi of Assagio's. Not only are the pages of those cookbooks much-thumbed, but between the pages one can find other favorites clipped from the Seattle Times and P-I food sections.
Shelved beside treasured cookbooks from Ivar's Acres of Clams and Ray's Boathouse there's a well-worn copy of Julia Child's "Mastering the Art of French Cooking." Whenever I prepare "Daube de Boeuf a la Provencale" (a simple beef casserole), I take time to admire the book's title page. Julia personally autographed my dog-eared edition during one of her frequent visits to Seattle.
Prominent among my favorites is a literally crumbling copy of "Sourdough Jack's Cookery," held together with rubber bands and scotch tape. That cookbook is key to recipes that make use of my pot of sourdough starter. Possibilities are endless: pancakes, waffles, cornbread, biscuits, Dutch Babies and crusty sourdough bread.
During the pandemic, many of us have found a renewed interest in home cooking. Although sometimes opting for take-out (the right way to keep our restaurants going), we're nevertheless stepping up to the stove. We're cooking quality meals and taking seriously the science of bread making.
When it comes to the challenge of cooking during the pandemic, I've been amazingly well equipped. With my 200 cookbooks and two dozen well-worn favorites, I'm wealthy in the literature of tasty cuisine. In Julia's words: "Bon Appetit!"