Small Business Saturday Nov. 27 is your day to support local merchants
Small Business Saturday Nov. 27 is your day to support local merchants
Mon, 11/22/2021
As the nation is still struggling with the pandemic and supply chain issues affect larger retailers, there may not be a better time to support local businesses. They form the foundation of healthy communities since they provide not just the food, goods and services you need but also jobs and the paychecks that keep money moving locally. In many ways shopping, dining, and using local companies is helping yourself. 
In West Seattle it's all about the deals:
Always wanted to learn to play an instrument?
40% off Summer Camps at School of Rock. Use offer code ROCKSUMMER22 and get jammin next summer. 
Electric Bikes Seattle SALE through Nov. 29: 10% off all bikes in stock 20% off all accessories in stock, and 25% all accessories with purchase of a bike!
Bohemian Studios is offering deals on barre, yoga and fitness classes. Get in shape for the holidays with 30% off class punch cards, 40% off unlimited passes, $20 first month on auto-pay contracts (3 month contract). Check out the great deals HERE
CLICK is offering a GIFT with a purchase while supplies last, and they will be opening an hour early on Saturday. Open 10-6
Merry Everything at Fleurt who is offering no sales tax on all purchases, lucky door prizes throughout the day, and Gift with Purchase of $75+ Open 10-6
Seattle's only premier fly fishing retail store
is supporting FISH. Shop with them from now untill the end of December and they will donate 5% of sales to @wildsteelheadcoalition
The West Seattle Discovery Shop is offering deals to gobble up on Saturday and Sunday with 25% off the entire store. 
The Escape Artist is offering 20% off gift cards purchased Friday - Sunday for Small Biz Saturday! Use code: SMALLBIZ2021 at checkout for your 20% off. Thank you for supporting your local small biz escape room this holiday season!
Lika Love Pre-sale starts Wednesday at 2 pm shop our bundle deals until supplies last! 
Shop Small Saturday - Spend $75 & get $20 back! 
Cyber Monday - 75% Jewelry & Accessories 
The Junction True Valuehas some great items for you: 
1. Stanley® 19 in. Essential Tool Box, Only $9.99, Product Details
2. Holiday Wonderland® 200 ct. LED Traditional Mini Light Set, Only $26.99
3. Black & Decker® 2-Slice Brushed Stainless Steel Toaster, Only $19.99 Product Details
Family friendly outdoor pop-up Nov 26-28
Consider handmade, local, gifts made with love from small- businesses.
Bring joy to an artist and the lucky recipient.
Art Under $100, Art Sale 20%-60% Off
Complimentary hot cider and cookies  
Ornament decorating
Enjoy a show at Arts West Playhouse and Gallery: 
'We've Battle Monsters Before' is live and in-person November 26th - December 26th at ArtsWest . Thanks to accessible pricing, tickets start at $15!
In Burien the events run from Nov. 1 through Dec. 21 with a program they call "It's a Wonderful Burien"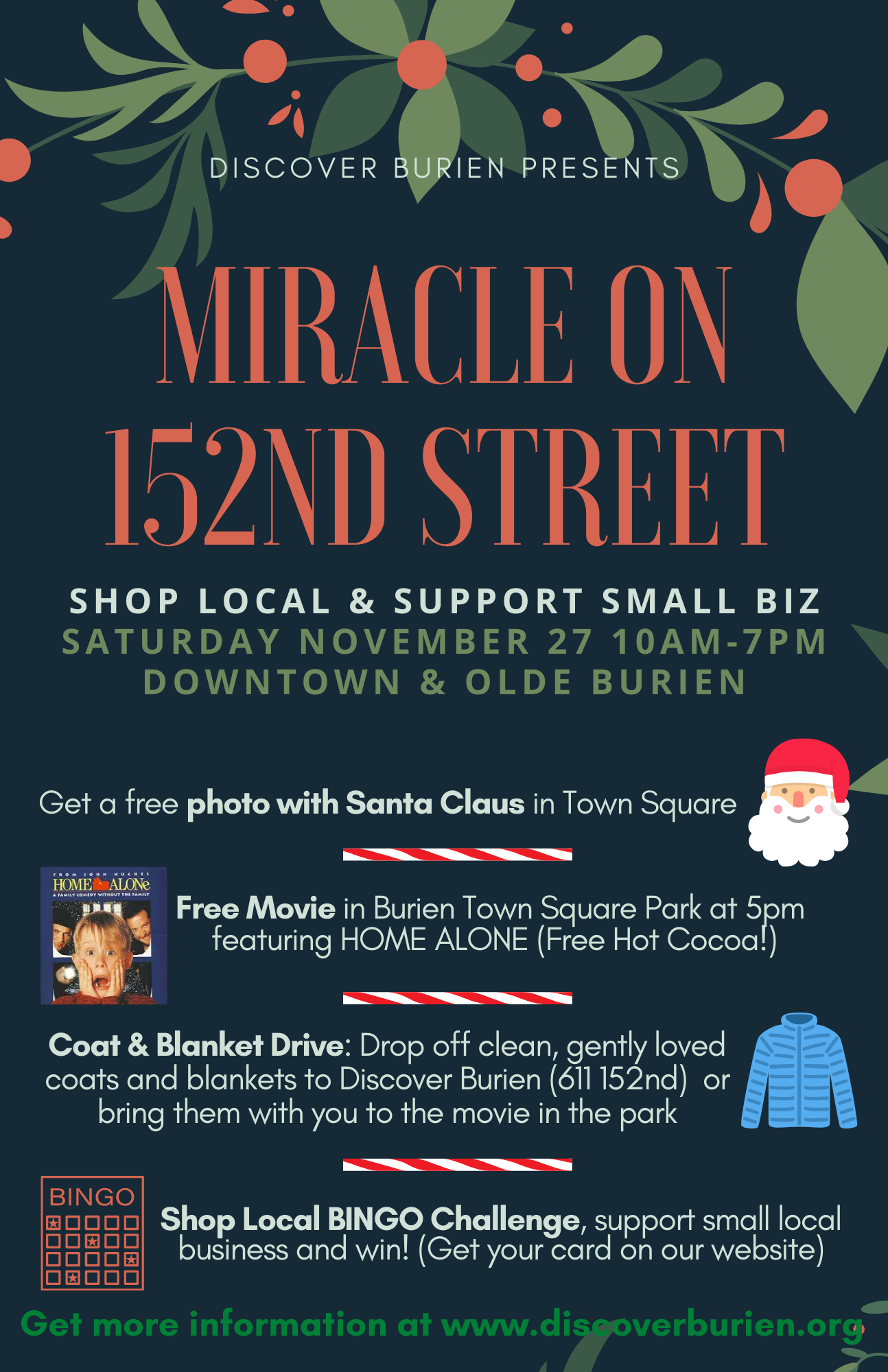 But for Saturday they are calling it "Miracle on 152nd Street" with a series of activities including a Free Photo with Santa in Town Square, a free movie in Burien Town Square Park at pm (the classic Home Alone) with free hot cocoa.
A Coat and blanket drive asking you to drop off clean and gently loved coats and blankets to Discover Burien at 611 152nd or bring them with you to the movie in the park.
And the chance to win with the Shop Local BINGO Challenge. Get your card HERE.
Get more information about the Burien holiday events here.
In Ballard it starts the day before on Black Friday with the return of Ballard Gives:
Each year, Ballard businesses join together and opt to give a portion of their proceeds from their Black Friday (November 26, 2021) sales to a charity of their choice. The program began in 2013 when a few local independent businesses wanted to put a more socially-conscious spin on the Black Friday shopping frenzy. Each year on Black Friday, shoppers in Ballard will find a lineup of generous businesses featured and know that some of their holiday shopping dollars will go toward supporting non-profits, Check out this year's participating shops and their charity. Get more information here.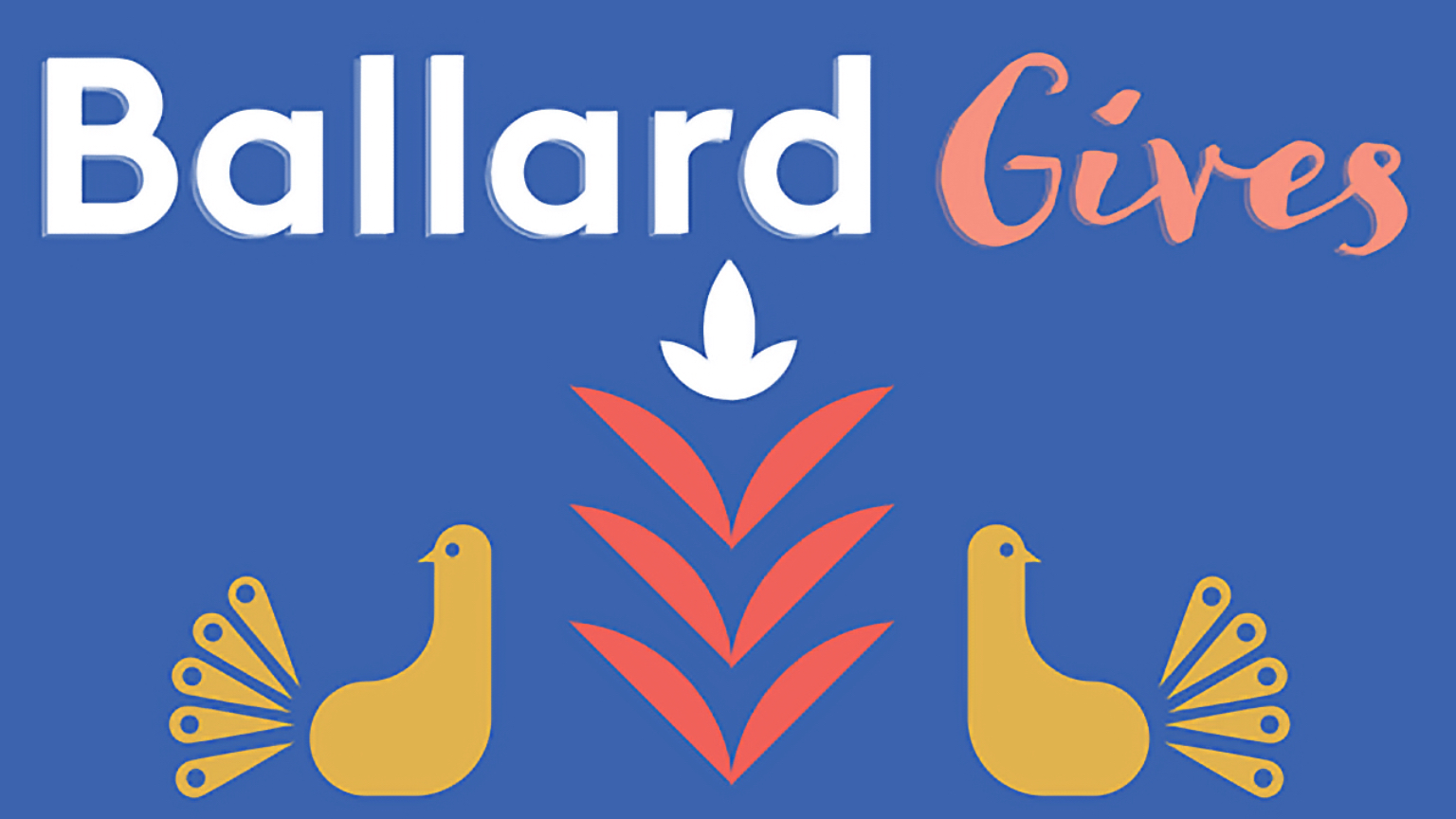 A more socially conscious effort is planned for our community on Black Friday, as participating Ballard businesses are donating a portion of their proceeds to a local non-profit for Ballard Gives Back.
Twenty Ballard businesses are putting a generous spin on Black Friday by participating in the Ballard Gives Back program.
Ballard's business owners are encouraging shoppers to skip the crowds and shop locally in Ballard for a good cause on November 26, 2021, Black Friday.
 Many businesses are extending their donations throughout the entire holiday weekend. Here is a list of participating
businesses and the charity they are donating to when you shop at their location on Black Friday:
STUDIO RA Giving to YOUTHCARE
COUCH SEATTLE Giving to MARY'S PLACE
MARKET STREET SHOES Giving to LABATEYAH BRIDGE HOUSING
SECRET GARDEN BOOKS Giving to PAGE AHEAD
SWEET MICKEY'S Giving to SAFE CROSSINGS FOUNDATION
THE BEEHIVE MERCANTILE & CO Giving to BALLARD FOOD BANK
ANNIE'S ART & FRAME Giving to TREEHOUSE
BALLARD REUSE Giving to BALLARD FOOD BANK
MONSTER Giving to THE PEOPLE'S HARM REDUCTION ALLIANCE
FLEET FEET Giving to WASHINGTON TRAILS ASSOCIATION
barre3 BALLARD Giving to REAL RENT DUWAMISH
OTHER COAST CAFE Giving to THE BAIL PROJECT
ASCENT OUTDOORS Giving to OUTDOORS FOR ALL
HORSESHOE BOUTIQUE Giving to BALLARD FOOD BANK
FAIR TRADE WINDS Giving to REFUGEE WOMEN'S ALLIANCE (ReWA)
CATHEDRAL Giving to TWO FEET PROJECT
BALLARD STATION Giving to MOMENTUM LEARNERS
BEGIN Giving to BALLARD FOOD BANK
CLOVER TOYS Giving to TREEHOUSE
re-souL Giving to YOUTHCARE
The program began in 2013 and continues to grow each year as more businesses flock to Ballard's bustling shopping and dining district.
"In addition to the 'giving' portion of the post-Thanksgiving weekend, the Ballard merchant community is promoting a message to shop local and shop small. When small businesses thrive, communities thrive. When people support their local merchants and small businesses, more of their money stays in the community," said Legh Burns, co-owner of re-souL.
_____________________________
Small Business Saturday in West Seattle 2021
Ryan Cory