Woodland Park Zoo will usher in Year of the Tiger Feb. 1
Woodland Park Zoo will usher in Year of the Tiger Feb. 1
Meet the zoo's tigers, Azul and Bumi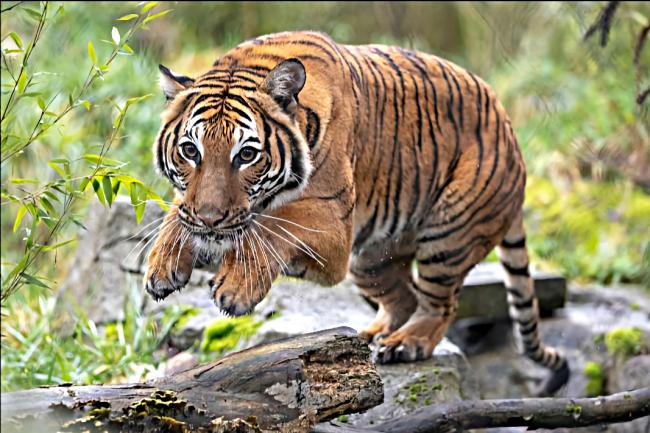 Sat, 01/22/2022
information from Woodland Park Zoo
Hear the powerful roar of the strong, brave tiger as Woodland Park Zoo ushers in the 2022 Lunar New Year, Year of the Tiger. On February 1, join Woodland Park Zoo in celebrating the tiger with talks and programs centered around its resident Malayan tigers, Azul and Bumi.

Swing by a discovery station and enjoy hands-on activities, bio-facts, and fun stories and games highlighting tigers and their habitats. Discover how you can help save tigers through a few simple actions.
 
Woodland Park Zoo currently has two Malayan tigers: Azul, a 6-year-old female who arrived last year, and Bumi, an 11-year-old male. Speaking of Year of the Tiger, Bumi was born in 2010, which is among the Years of the Tiger! Because tigers are solitary animals (except for mating and mom and cubs), visitors can see Azul and Bumi on a rotational schedule in Banyan Wilds.
 
Bumi and Azul have a breeding recommendation from the Association of Zoos & Aquariums' Malayan Tiger Species Survival Plan. The zoo plans to introduce Bumi and Azul sometime this year with the hope of pouncing tiger kitty paws in the near future.
 
The Malayan Tiger Species Survival Plan is a cooperative, conservation breeding program across accredited zoos to help ensure a healthy, self-sustaining population of tigers. Led by experts in husbandry, nutrition, veterinary care, behavior, and genetics, Species Survival Plans also involve a variety of other collaborative conservation activities such as research, public education, reintroduction and field projects.
 
WHEN:            
Year of the Tiger: Tuesday, February 1, 10:00 a.m.–4:00 p.m. 
 
10:00–11:00    Tiger Discovery Station
10:30–1:30      Yummy Box (Asian fusion) food truck in West Plaza
10:30–noon     Rain or Shine Play Time
11:00               Tiger Talk and Enrichment
noon–2:00       Tiger Discovery Station
2:00                 Tiger Talk
3:00–4:00        Tiger Discovery Station
 
WHERE:          
Year of the Tiger activities will be held at the tiger exhibit or conservation action center in Banyan Wilds, where zoo-goers can be inspired to learn how they can help save wildlife and the forest.
 
Enter Woodland Park Zoo through the West Entrance at Phinney Ave. N. between N. 55th & N. 56th Sts. or South Entrance at N. 50th St. & Fremont Ave. N.
 
COST:             
Year of the Tiger activities are free with zoo admission or membership. Go to www.zoo.org/visit for admission and parking costs.
 
INFO:              
About Tigers
Only six subspecies of tigers survive today: Malayan, Amur (or Siberian), Indian (or Bengal), South China, Indo-Chinese and Sumatran. All are endangered or critically endangered. The Malayan tiger lives only on the Malay Peninsula and the southern tip of Thailand. The population for Malayan tigers is dangerously low, with fewer than 250 living in their home range. They face tremendous pressure from poaching for the illegal wildlife trade and other threats including habitat loss due to residential and commercial development, logging and other human developments.
 
Hope for Tigers
To help save these iconic big cats from extinction, in 2012 Woodland Park Zoo designed and created the Malayan Tiger Conservation Program in partnership with Panthera and a local organization, Rimba. This program works with the Terengganu State Government to protect tigers in and around Taman Negara National Park in peninsular Malaysia. Now entering a second 10-year agreement, with new on-ground partners Panthera-Malaysia and Nature-Based Solutions, the program has been enormously successful at protecting tigers and tiger habitat in the largest tiger landscape in the country.
 
The program has two main initiatives: (1) Stopping poaching with rangers trained to patrol the park and nearby wild forest lands, pulling snares and searching for poachers; and (2) Protecting habitat. Forests in Malaysia are disappearing rapidly, with the biggest culprit being the development of oil palm plantations. The program has worked with the government to create the first-ever state park in Terengganu, Kenyir State Park, which is 300 km2 of (now protected) pristine rain forest.
 
Visit www.zoo.org/tigers to help support the Malayan Tiger Conservation Program.
 
Many confections include palm oil, the bulk of which is grown in Indonesia and Malaysia. To produce palm oil (the most widely used vegetable oil on the planet), tropical rain forest and peat swamps are being converted to agricultural land, confining the animals that live in these areas to much smaller habitat patches and making them susceptible to poaching and hunting, not to mention competition with other animals for limited resources.
 
For Valentine's Day and other sweet occasions, use this treat shopping guide that will delight your loved ones and save forests and wildlife a world away. The guide features companies that are committed to sourcing certified sustainable palm oil that is deforestation free.

Adopt a Tiger
Show your love for tigers with a Malayan Tiger Adoption Special for $69 through April 30. The ZooParent program supports the zoo's animal care, education and wildlife conservation efforts in the Pacific Northwest and around the world.

Woodland Park Zoo offers a safe, outdoor experience for all. Visit zoo.org for the latest information on the zoo's face covering policy. Zoo hours: 9:30 a.m.–4:00 p.m. daily.

For more information or to become a zoo member, visit www.zoo.org or call 206.548.2500. Follow the zoo on Facebook, Twitter and Instagram.