Mirror Stage launches free Multimodal Arts series in Ballard
Mirror Stage launches free Multimodal Arts series in Ballard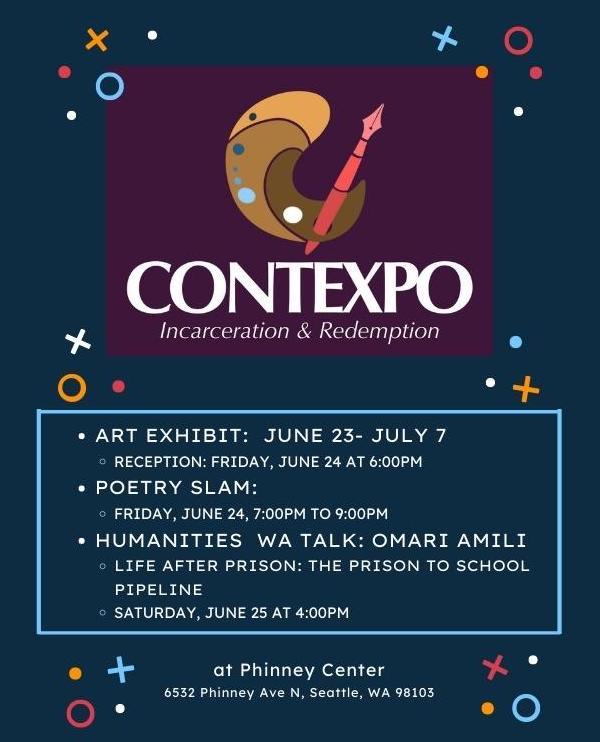 Tue, 06/21/2022
Mirror Stage is launching a series of free multimodal arts experiences which will allow participants to take a deep dive into themes relevant to the community. Contexpo events include visual art, spoken word, special speakers, and workshops.
These events will be presented at 6532 Phinney Ave N in Seattle.
Mirror Stage is a non-profit arts organization which uses the power of storytelling (in all its forms) to challenge assumptions, bias, and prejudice. With this new programming series, created by artistic associate QuiQui Dominguez (they/them),
Mirror Stage is using the arts as a way to spark conversations about important issues in today's world, while providing a platform for historically excluded voices and faces. Future programming will focus on themes including PTSD, Income Inequality, and the Industrial Meat Complex. Contexpo: Incarceration and Redemption will kick off on Friday, June 24 at 6:00pm with an exhibit featuring work created by incarcerated artists. Following the art gallery reception, Mirror Stage will present a poetry open-mic at 7:00pm hosted by legendary spoken word artist, Miz Floes.
All poets and spoken word artists are invited to participate by presenting pieces that explore the concepts of incarceration and redemption.
Poetry Open-Mic Host, Miz Floes, is a vocalist, author, producer, playwright, actress, and spoken word artist living in Seattle. She grew up in inner-city Chicago surrounded by violence and poverty, and credits the literary arts for saving her. As a woman, mother, grandmother, and member of the BIPOC community, Floes seeks to transform pain into art and productively release it back into the community. Her newest volume will be released soon. You may have heard stories about tragic outcomes related to the "school-to-prison pipeline."
On Saturday, June 25 at 4:00pm, Omari Amili will introduce new possibilities and challenge fear-based narratives through his exploration of a potential new pipeline that runs from prison to college. While sharing his story and exploring the history of mass incarceration, especially in Washington State, Omari will explore how society, as a whole, benefits when people pursue higher education after incarceration. Omari Amili is an author, speaker, and community organizer. Since his release from prison in 2008, he earned a master's degree from the University of Washington Tacoma, where his research focused on the benefits of college education for formerly incarcerated people. In 2018, he was named a Distinguished Alumni by Pierce College, and has been featured in the Seattle Times and the News Tribune. Contexpo: Incarceration and Redemption is being held in partnership with the Phinney Neighborhood Association and will take place on the top floor of the Phinney Center Blue Building, located at 6532 Phinney Ave N in Seattle.
All events are free and open to the public. Come join the conversation as a guest or an artist. Mirror stage gratefully acknowledges the support of 4Culture, ArtsWA, the City of Seattle Office of Arts & Culture, the EPS Fund, the National Endowment for the Arts, & Teen Tix.