Container shipper Matson will pull out of Terminal 5 in September
Container shipper Matson will pull out of Terminal 5 in September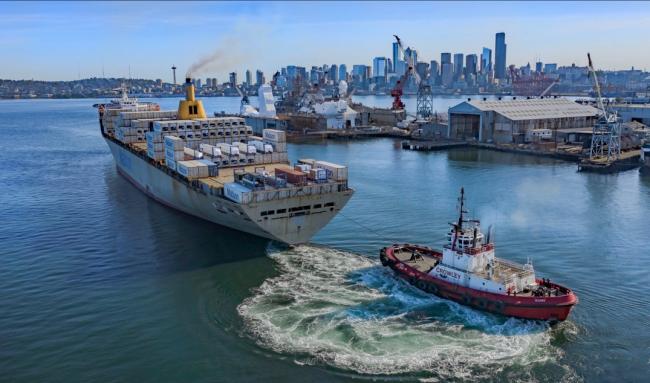 Thu, 07/30/2020
Amid the changes happening at Terminal 5 in West Seattle shipping company Matson has decided to terminate its Terminal 5 service in September to consolidate its Hawaii and Alaska operations in Tacoma. SSA Terminals is the marine terminal operator for Terminal 5 and West Sitcum Terminal.

Additionally, the Port of Seattle Commission will consider the sale of the six cranes at Terminal 5 to SSA Terminals as part of this transaction. SSA Terminals will be relocating three of the cranes to Tacoma and dismantling the remaining three.

Terminal 5 has been undergoing a $300 million makeover to get it ready for the larger ships now used in shipping.

The Managing Members will consider authorizing $325,000 to replace 10 of the 41 hydrants at Terminal 5.

The changes will all be discussed in a virtual meeting on Aug. 4, The Northwest Seaport Alliance Managing Members will consider a lease amendment for West Sitcum Terminal in Tacoma.

In accordance with Proclamation 20-28.6 of the Governor's office, public attendance at this meeting is allowed remotely only. No in-person attendance is permitted. The public is encouraged to stay home and follow the meeting via live stream at http://portal.veconnect.us/p/nwseaportalliance or by telephone conference. Please see the agenda for instructions on how to participate in public comment and the public hearing.
Dial-in: 253-617-4257, Conference ID: 426 473 113#.

Matson currently operates its weekly Hawaii service at Terminal 5 in Seattle.
Staff will also provide a briefing on the Orca Underwater Noise Program to establish a strategy for reducing underwater noise from large commercial vessels. View the full agenda.

This is a special joint NWSA and Port of Seattle meeting and will begin at noon. See above for instructions on how to submit a public comment.

Meetings are streamed livefrom the alliance's website.
Comments
I'm an OSHA Certified Forklift Operator, experienced material handler, machine operator and experienced Certified Flagger. Is there any jobs available?
Add new comment