Brass Knuckle Bistro opens in White Center
Brass Knuckle Bistro opens in White Center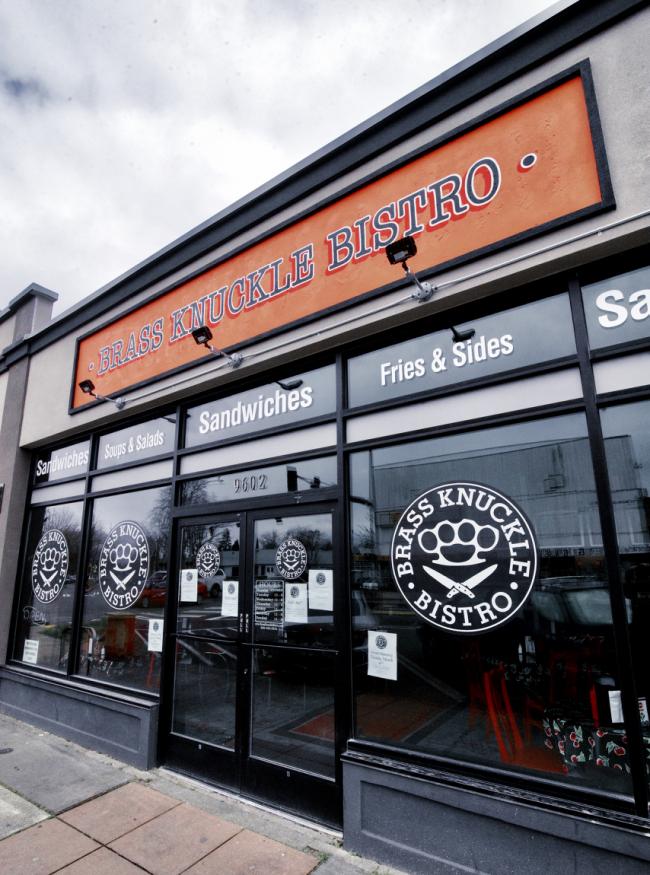 Mon, 03/05/2018
Brass Knuckle Bistro is now open in White Center at 9602 16th Ave SW and offers something new to the neighborhood in that it's a completely scratch kitchen (other than bread) offering uniquely named sandwiches (including vegan options), salads, soups and more in a streetwise atmosphere meant to encourage people to stop in and hangout a bit. Chef and owner Case Justham said, "We're a little bit quirky, and like to do everything our own way. We've got local street art on the walls, an eclectic soundtrack on the stereo, and funky retro designs on the tablecloths." The name Case said, "Is because there's nothing subtle about our flavors. They are meant to hit you in the mouth," he said laughing. Some he said have gotten the wrong idea thinking it's a celebration of violence but that's incorrect. He just wants his his cafe name and for that matter the sandwich names to be unforgettable. The interior was done by his mother, Linda who also does home staging and it's blend of red, black and gray. The brass knuckle mural on the south wall was painted by his friend Jackson Joldersma.
It is apparently already a hit because during his soft open period he sold out and had to close early.
Justham is a food prep veteran having worked at The Swinery on California Ave for 3 1/2 years, during the time it became a fan favorite and critical darling. He brings that experience and his own take on the perfect sandwich. "I was a picky eater, so I wanted my food just so. Now there's nothing on this menu I don't like." He has far more potential sandwiches in his repertoire than the ten on the menu he said, upwards of 40 in fact and patrons will likely see those appear over time as he tries different ideas.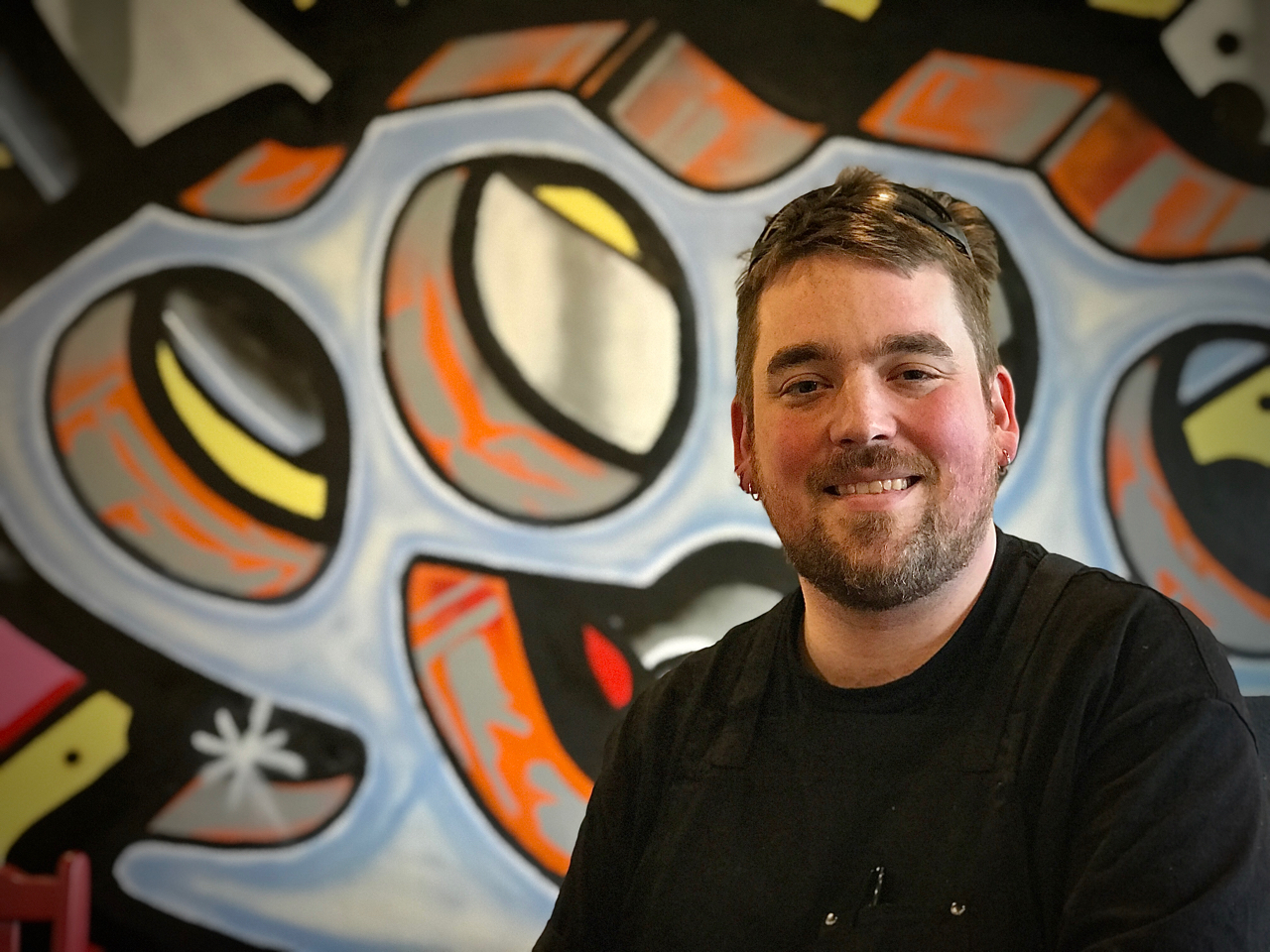 Justham describes it as "Old school meets new school.  We're not reinventing the wheel here, we're taking classic flavors and combinations and upping the execution."
The menu centers around the hot sandwiches and as an example offers such selections as Pittsburgh Phil (Seared Steak, Charred Onions and Peppers, House Made Cheese Sauce), Ed LaDou (Pulled Pork, BBQ Sauce, Red Onion, Provolone Cheese Sauce, Cilantro), and the vegan Soy Cowboy (Ginger-Garlic Marinated Fried Tofu, Pickled Carrots and Daikons, Vegan Chile Shallot Aioli, Cilantro) each for $9. Cold sandwiches are also available on a rotating selection so you can grab and go.
A couple of salads are offered, basic and Caesar.
Sides include Fries, Buffalo Fries, Chili, a Hummus Plate, and Coleslaw, Mac & Cheese. Soft drinks and beer are also offered.
There's no relationship as yet with any food delivery service but when he's ready he will work with Caviar because in his previous experience with The Swinery other services would get in the way of serving in house customers. Caviar lets the owner turn off the service to concentrate on the best customers.
Justham has hopes that if his cafe is successful he could with his large kitchen, have enough capacity to prepare food for a food truck at some point. The Knuck Truck as it might be called would offer the same kind of high quality sandwiches. 
The cafe is open 11am to 8pm Tuesday through Saturday.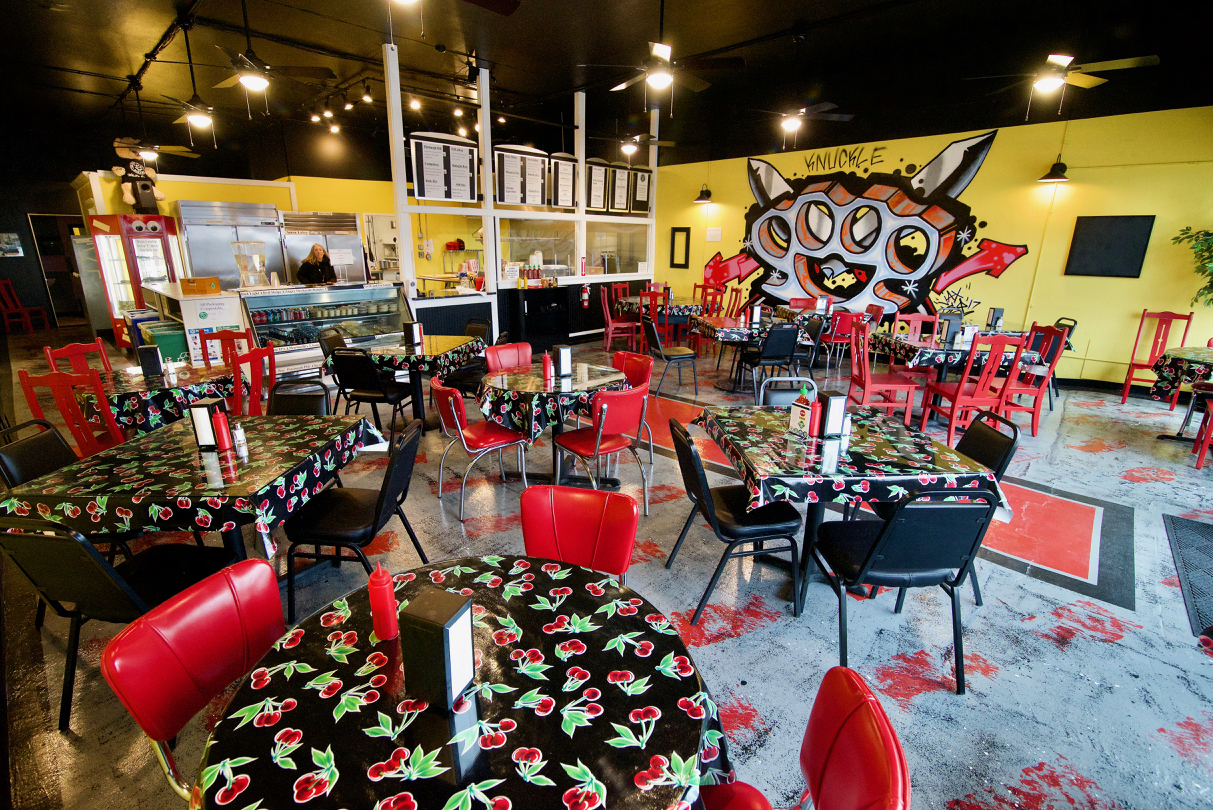 Comments
Awesome! Looking forward to trying this place. We own a business and the area and we all will be thrilled to have a new place to try.
Add new comment