Sick Eagle rescued in West Seattle; You can help fund her survival
Sick Eagle rescued in West Seattle; You can help fund her survival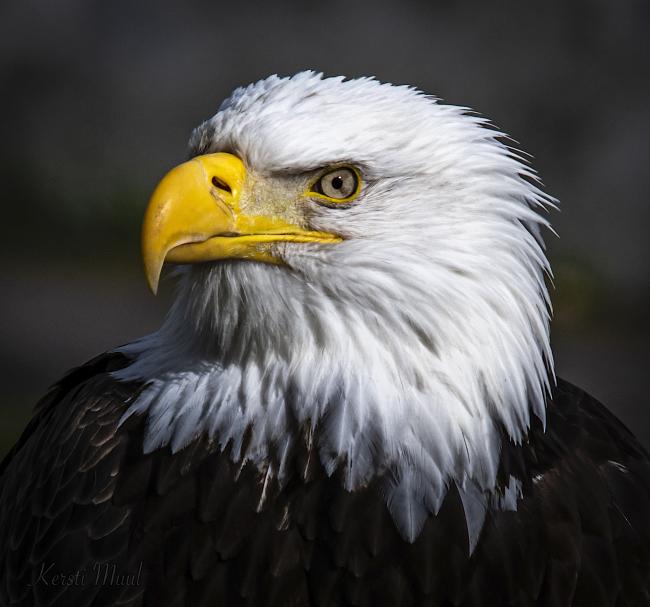 Sun, 02/28/2021
By Kersti E. Muul
Conservation Scientist/Specialist and Community Naturalist
Around 1:15 on Thursday, February 25, 2021 I received a call from the Marine Mammal Stranding Network (MMSN) regarding a grounded adult bald eagle at Don Armeni Park. Local Response, Rehab and Research group (SR3) was en route to assess and attempt capture if necessary. I went to assist them and was going to transport the eagle to Progressive Animal Welfare Society (PAWS).
The eagle had not flown or moved from it's spot in over an hour. When I arrived, the MMSN had taped a perimeter around the bird to keep it safe from onlookers. 
It is not abnormal for eagles to be on the ground resting, eating, or even in territorial disputes (especially this time of year). However after observing this eagle for just a few minutes, it was obvious to me this wasn't the case.  The bird appeared 'sick' to me. 
After logistical deliberations between several groups, PAWS determined that it should be captured and transported to their facility for assessment. At this point WDFW was on scene and performed both operations.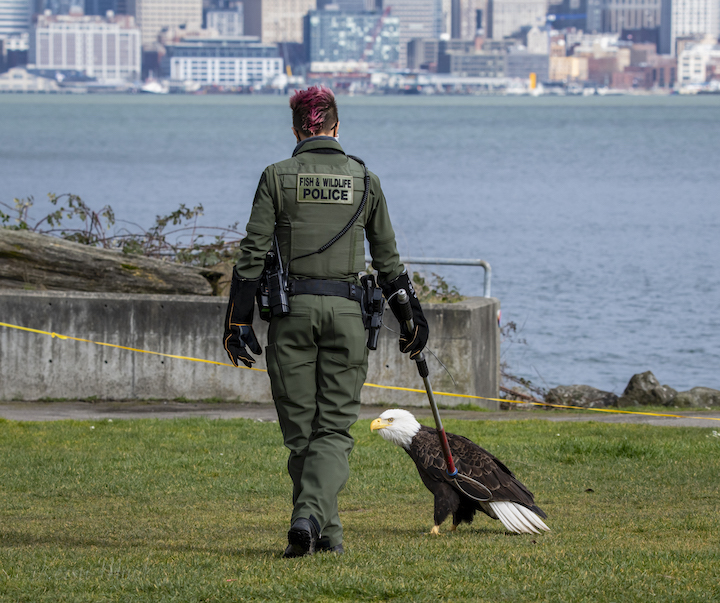 There were several failed capture attempts which forced the bird to take multiple strained, short, and low flights. The bird was not well and did not want to fly. Structurally the bird seemed fine; did not appear injured to me.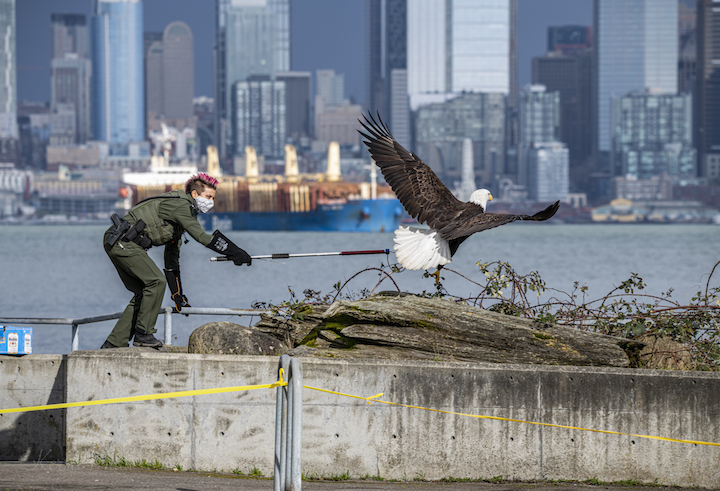 The eagle was finally captured by using a snare around her right leg. A blanket was then placed around her before carrying her to the crate.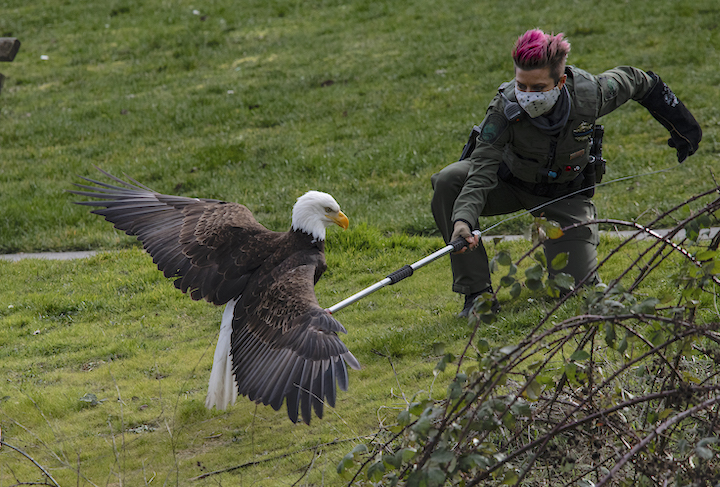 She was transported to PAWS and remains there in excellent care.
I am investigating if this eagle is one of the two established, mated pairs, either the Salty's or the 56th/Schmitz Park nests. This would be consequential for when and if she is released. I'm asking people to let me know if they see these pairs. 
I have also started a fundraiser for PAWS to help cover her medical costs. You can find the donate button on my Facebook post here:
https://m.facebook.com/story.php?story_fbid=10224209722887060&id=1121785635&ref=m_notif&notif_t=feedback_reaction_generic
UPDATE: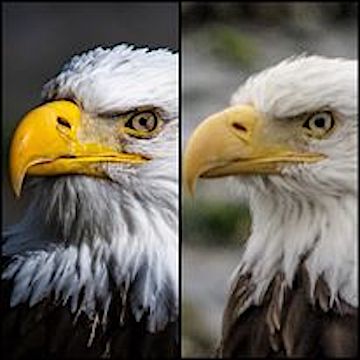 I was able to analyze her iris by comparing my photo of her (on the left) from Thursday, with an older photo sent to me today (on right) The pigment (?) in the iris has two distinct rays in the exact same position. The photo sent to me is of a resident female named 'Bey' her partner named 'Jey'. So this eagle is definitely a mated resident, but not the Salty's nest female, as both were seen today in the nest tree together.