Two Burien residents to scale mountain to fight breast cancer
Two Burien residents to scale mountain to fight breast cancer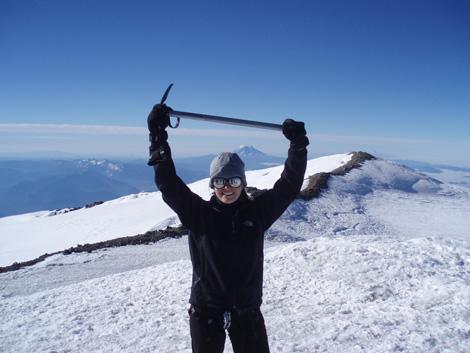 Carol Roll photo
Wed, 05/25/2011
Carol Roll and Jameson Dowell of Burien are taking on an ambitious goal in support of research to improve prevention and early detection of breast cancer. This August they will be scaling Mt. Kilimanjaro, 19,341 feet, in Tanzania, Africa for the Climb to Fight Breast Cancer benefiting Fred Hutchinson Cancer Research Center.
The Mt. Kilimanjaro climb will be Roll's third time participating in Climb to Fight Breast Cancer. In 2007, she raised $8,000 and climbed to the top of Mt. Rainier - 14,411 ft.
Last year she attempted Mt. Shasta in Northern California and raised $9,000 for The Hutch.
Roll grew up in the area and always enjoyed spending time outdoors hiking, camping and fishing.
It is not just about reaching the top of a mountain though that inspires Roll to climb. After her second battle with breast cancer, Roll lost her aunt, Dr. Carol Folger, to breast cancer in 2001. She climbs in memory of her aunt in hopes that the funding she generates will one day lead to life saving research.
Dowell has already climbed many of the highest peaks in the Pacific Northwest including Rainier, Adams, Hood and Baker but this will be Dowell's first time participating in the breast cancer climb. He says he is looking forward to giving back to the community while participating in an activity that he loves.