Local boxer trains in Russia; ready for Tacoma fight this weekend
Local boxer trains in Russia; ready for Tacoma fight this weekend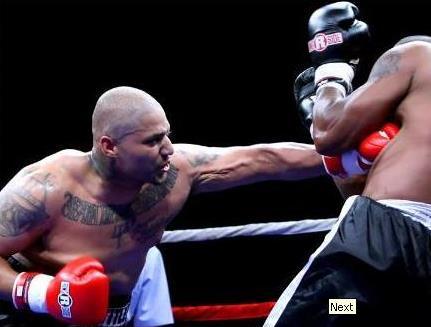 File photo by Kurt Howard
Wed, 08/24/2011
Vincent Thompson went the extra mile in training this summer.
Boy did he. He logged nearly 5,250 miles across the world.
The local boxer just got back from Moscow, Russia, where he sparred with top heavyweight contender Alexander Povetkin (21-0, 15 KOs) under the watchful eye of famous trainer and ESPN commentator Teddy Atlas.
Thompson was invited to camp to help the Ukranian boxer prepare for his fight against Ruslan Chagaev (27-1-1,17 KOs) for the vacant WBA heavyweight title this Saturday in Erfut, Germany. He also helped himself get ready for his own upcoming fight in the process.
Thompson (8-0, 3 KOs) squares off against Masataka Takehara (6-4--3, 2 KOs) in the main event of the Battle of the Boat 83 at the Emerald Queen I-5 Casino in Tacoma Saturday, beginning at 7 p.m.
As Povetkin's sparring partner, Thompson was instructed to stand in front of the 6-foot-4 Povetkin and work side-to-side, mimicking Chagaev's boxing style. Ironically, Takehara, Thompson's foe, also likes to stand in front of his opponents.
"Teddy Atlas said I emulated Chagaev the best (of the sparring partners)," Thompson said. "He dug that about me."
Thompson said he learned a valuable lesson during one sparring session with Povetkin, who was a gold medalist as a Super Heavyweight at the 2004 Olympic Games in Athens.
"He stepped around me, stepped to the right, taking away my power hand," said Thompson, a southpaw. "He hit me with a left hook. He got me good. But I adjusted to him."
Thompson said Spokane heavyweight Chauncy Welliver (49-5-5, 19 KOs) put "in a good word" for him with Atlas, who took the chance and brought the Federal Way fighter to Russia. Atlas once trained heavyweight champions Mike Tyson and Michael Moorer.
"I learned a lot just watching how Teddy worked with the fighters and listening to what he said," Thompson said. "I put it away in my archives.
"Teddy told me how he liked the way I paid attention and always wanted to do things better. He also said I'm fast and can capitalize with my speed. That gave me a lot of confidence, knowing that on the way up I can match up well against difficult opponents."
Japanese heavyweight Masa Takehara poses a new challenge for Thompson. Takehara showed resilience and toughness against quality opponent Alex Leapai (23-3, 18 KOs) in a six-round draw two years ago. Since then Leapai, ranked in the top 20 in various boxing organizations, has won seven consecutive fights. Leapai's only blemish in his last 15 fights is that draw with Takehara.
In that bout, Takehara mostly leaned on Leapai, taking away the Australian's extension. Takehara couldn't capitalize, rarely firing off any power punches or effective combinations inside. Still, Takehara was persistent and stuck to his game plan to neutralize Leapai's power.
"Masa stands right in front of you, but that is not the way to fight Vince," said West Seattle-raised Jack Stafford, Jr., whose father Jack trained former heavyweight champ and Southwest Seattle-resident Pinklon Thomas at the Delridge Community Center in the 1970s. "Vince is just too fast...watch for Vince's jab, right hook and uppercut to play a big factor in the fight."
This eight-round bout will be the longest fight so far in Thompson's young career.
"I'm going to pace myself and dazzle him with my speed and look to counter, not run away from him," Thompson said. "But, of course, if I see he's hurt, I'll go for the kill."
Thompson, whose nickname is "Vicious," is also coached by his father, Calvin, of Federal Way, and cut-man Sam DiTusa of Normandy Park.
In other bouts on the card: light welterweights Oscar Andrade (6-0, 3 KOs; Los Angeles) vs. Mike Lucero (12-16, 4 KOs; West Linn, Ore.); light welterweights Aaron Schupp (2-2, I KO; Salem, Ore.) vs. Edgar Zubia (1-0; Hobbs, N.M.); light middleweights Randall Corpuz (0-1; Yakima, Wa.) vs. Nalo Leal (4-11-1); cruiserweights Jose Rico (0-0) vs. Tommy Davis (0-0); and Tacoma middleweights Damen Anzai (2-3, 2 KOs) vs Mike Gavronski (2-0, 2 KOs).
Tickets ($100, $45, $25) are on sale at the Emerald Queen Casino box office (1-800-831-7655) at all Ticketmaster outlets or online at www.ticketmaster.com.