Pro from the Moon replaced clubs with pen
Pro from the Moon replaced clubs with pen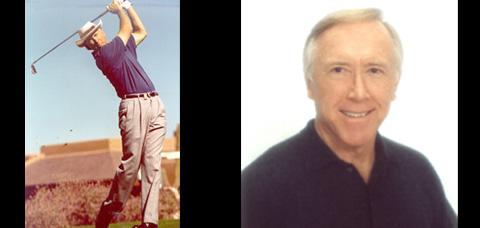 Tue, 05/07/2013
By Rob Clay
It could be said that Kermit Millard Zarley Jr., former West Seattle resident and now retired professional golfer was blessed. Blessed with natural talent or an affinity for the game of golf beginning as a youngster on the rolling hills and fairways of West Seattle Golf Course.
It could also be said that natural talent for Kermit was something divine but undiscovered.

Kermit, born in Seattle in 1941, is the son of Kermit Sr. and Barbara Zarley. By the late 40's Kermit Sr., was the fry cook and cafe concession owner behind the counter at West Seattle golf course where Abe and Dick LaBelle used to break for lunch from running the driving range next to the course.
When Kermit Jr., turned 12, his dad opened Kermit's Charcoal Broiler up on California Avenue next to the Granada Theatre. Kermit helped in the new venture for a few years, finding his way back to the course to practice. And practice he did like many young kids but he needed some fine tuning. Kermit was 16 before he had that first lesson from Ray Honsberger over at Rainier Golf & Country Club in Burien.
As lead man on the West Seattle High golf team Kermit took great pride in competing against the areas best players. In the 1958 championship Kermit had a problem. He slipped on the kitchen floor at the Broiler, chipping a bone in his right elbow that would require surgery. The tourney was six weeks away, not time enough for complete healing. His doctor advised him not to play. Kermit would not hear it. He competed, swinging the club with his right hand coming off the grip near impact. This is similar to baseball players who warm up with just their left arm swinging up and away to stretch their muscles. Kermit had to swing like this out of necessity. He surprised himself with this technique, winning the championship.
Local tourney success earned Kermit an invitation to Baltimore later that summer. The Hearst National Juniors. Honsberger slowed down Kermit's swing to get a better rhythm. It worked. Kermit won. The University of Houston golf coach was paying attention. Dave Williams recruited Kermit to come to Houston. More success followed with Kermit winning the 1962 NCAA Individual championship and Houston team victory as well.
By 1965 Kermit was doing pretty well. That year, he played in the Bob Hope Invitational in Palm Springs. He had the lead after two good rounds. Bob Hope had never heard of him and thought his unusual last name was out of this world. He dubbed Kermit "The Pro from the Moon" The moniker stuck for many years.
In those years Kermit built a record of 3 tour wins, 1968,1970 and 1972 complimented that with 17- second or ties for second on both the regular and senior tour combined.
With success comes association. Kermit has played with nearly every big name in golf over the last 50 years. Byron Nelson, Arnold Palmer, Lee Trevino, Jack Nicklaus, Billy Casper, Tom Watson and Sam Snead. Yes, even Tiger Woods, who Kermit had to discipline a bit when he and Tiger were on the same tee waiting to play. Kermit had teed his ball but backed off for a moment. Tiger, arrived, and unaware, stepped up to the tee to get his own view of the fairway. I said "Tiger, get out of my way, I gotta hit". It was good natured. He introduced himself to Tiger and they shook hands.
Kermit had a good friend in Karsten Solheim, former Ballard resident. Karsten was selling pots and pans door to door before he got the inspiration to build a putter. Kermit met Karsten in 1964. Great minds think alike. Kermit believed enough in the Ping brand of putter and irons that he played them exclusively after 1981 when his contract with Spaulding expired. Kermit has designed and built clubs too, using perimeter weighting to help control ball flight off the face of the club. He would dig out the center of the driver head and move the weight to the outside edges with lead weights. Kermit convinced Karsten of this in the late 60's. As a mechanical engineer Solheim figured out the dynamics of that club design. It helped spawn the industry toward metal headed drivers by the late 70's.
What makes a touring pro great? Kermit had a lot of success winning and competing in tournaments all over the country. How?, "mainly learning to read greens", Kermit advised. Kermit added that if more people knew how to "plumb-bob" correctly, they might score better. Kermit thought Bobby Locke may have been the best putter he'd ever seen "but you would not want to copy what he did," Kermit said. Locke was known for "spinning" the ball sideways into the whole from any distance. A difficult move to master.
Ben Hogan liked to say golf is two games. One on the ground and one in the air. "Wind is another factor; learning to play in the wind," Kermit said. He did learn while living in windy south Texas.
There is more to it than just great putting and playing in a variety of conditions on different grasses. There are time zone changes, different foods in different towns, where to stay overnight and how to get to sleep at different times in different beds.
Golfers are a unique breed. They focus so much on the game they have to trust associates to handle their schedules or bank their winnings. Even investment strategy is a factor. "In those prime income years they need to be conservative and that goes against the type of person they need to be on the golf course. The aggressive, chance taker," Kermit explained. "The emotional price is also tough if you do not have your family traveling with you" Kermit added.
The "needle" is golf parlance for the attempt to psyche your opponent out to gain an advantage. "That is more old school," Kermit said. He added that it does not happen much on the American golf tour but in Europe Sevy Ballesteros was a master at "gamesmanship". Translated it might mean he would concede 2-foot putts all day long until the last hole when you really needed to make the putt and then not concede it, figuring you had not practiced that length that day.
Through all the success one factor remained. Kermit stayed true to his beliefs. From the age of six when he watched his mother cry at a Billy Graham Crusade, Kermit has continued to develop his relationship with the Lord. Kermit today is a Theological writer with six books to his credit. He started the PGA Tour Bible Study and recently began his own blog discussing a different subject each day of the week.
For Kermit, living in Scottsdale, AZ life is good. He has three great kids and quite a few grandkids. He was born in 1941 and born again as a Christian at the age of 13 where he learned to devote much of his life to God. Now he enjoys writing his books and running his blog
West Seattle golf fans can certainly appreciate Kermit's success and will fondly recall that natural talent and heavenly golf swing that was appropriately discovered..amen.
Go to kermitzarley.com on the web
Rob Clay can be reached through kenr@robinsonnews.com