Where's the Justice for Tommy Le?
Where's the Justice for Tommy Le?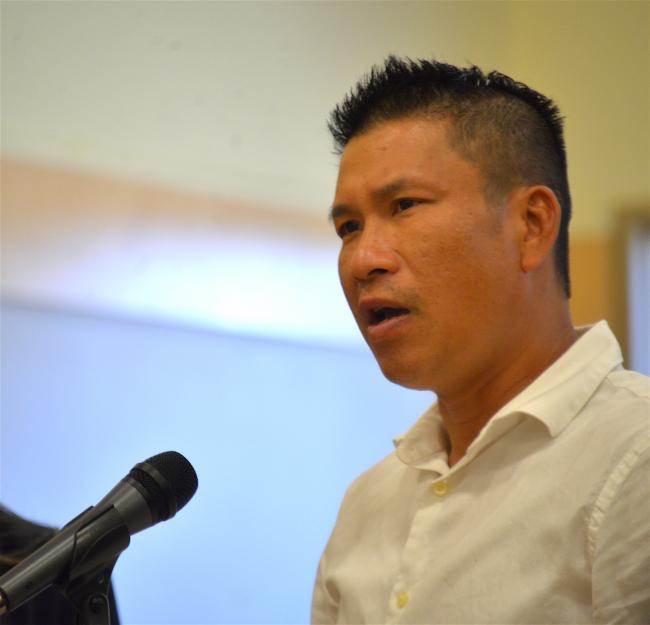 Photo by Lindsay Peyton
Fri, 07/21/2017
Hoai Le and Dieu Ho held back their tears and took turns at the microphone, addressing elected officials and the crowd that gathered on Wednesday, July 19 to learn more about the death of their son, Tommy Le.
"I want to know why," Le's father Hoai, also known as Sunny, said through a translator. "My son has done nothing to harm the police."
Tommy was just a kid – 20 years old, weighing 120 pounds. He had just picked up his cap and gown earlier in the afternoon, in preparation for graduation from the Link High School Completion Program. He planned to attend South Seattle Community College in the fall.
His mother, who also spoke through a translator, told the crowd that Tommy had been living with his grandmother and then recently moved out on his own to be more of a "grown up."
"He never got into a fight before," she said. "He was a good kid."
His older brother Quoc Nguyen was preparing for his wedding and took Tommy shopping for suits right before he died.
"It's unfortunate we had to use the suit for his funeral," Nguyen said.
The night of his death Tommy was wearing only a t-shirt and boxers. He was barefoot. There was nothing on him to identify his body later at the medical examiner's office.
A press release on the case was first sent out on Wednesday, June 14, reporting that police rushed to the 13600 block of 3 Ave S in Burien after reports of a shot being fired.
The homeowner had fired a warning shot after a friend told him that another man was chasing him holding a knife or sharp object.
Deputies from the King County Sherriff's Office arrived and "confronted the suspect in front of the house."
According to the press release, the suspect would not drop what he was holding, and Tasers fired at the man did not work. One deputy then fired and struck the subject in the torso.
The other deputy attempted life-saving efforts. Then medics arrived and took the suspect to Harborview, where he died of his injuries.
A second press release from the King County Sherriff's office, emailed on Friday, June 23, named the suspect as Tommy Le.
The press release also stated that Tommy lived around the corner from the house where he was shot – and that the object he had in his hand was not a knife.
It was a pen.
Cesar Molina was later named as the deputy who fired the fatal shots. He is 38-years old and has been with the King County Sherriff's Office for more than two years.
A couple weeks after Tommy Le's death, on Friday, July 7, Molina was driving home from work around 2 a.m. and struck a pedestrian in the middle of the road in Fife. The victim was then hit by another vehicle and died on the scene.
Molina is now on administrative leave. He had been approved to return to work on Friday, June 30 by a mental health professional.
Now, a month later, a public forum was held at the Asian Counseling and Referral Service.
The event was hosted by the Vietnamese community in Seattle and the "Viets Who Give a Shiet" group.
Officials attending the event included King County executive Rhonda Berry, King County Councilmembers Joe McDermott and Larry Gossett, King County Sheriff John Urquhart, Office of Law Enforcement oversight director Deborah Jacobs and prosecutor Dan Satterberg, as well as State Senator Bob Hasegawa, State Rep. Mia Gregerson and Michael Itti from the Governor's Commission on Asian Pacific American Affairs.
Tommy's parents, who live in White Center, retained the services of attorney Jeffery Campiche.
"Tommy Le was a very kind and nonviolent young man," Campiche said. "He owned no weapons and he was in no gangs. He liked to read and play chess. He had no criminal history, not even a traffic violation."
Sheriff Urquhart said that he is going to ask the FBI to take over the investigation.
"The police department should not be investigating their own officer-involved shooting," he said.
Urquhart said the deputies believed Tommy had a weapon and that he would attack neighbors gathered in the street.
He added that Tommy may have taken the knife back to his home and returned with the pen.
Urquhart also called for the department to have body and dash cameras.
"Every police officer should have body cams," he said. "Then we'd reduce some of this uncertainty. Why don't we have them? They're too expensive."
Gossett said that investigations into officer-involved shootings are often hindered by negotiations with police unions.
McDermott, who represents Burien, expressed his sorrow to the Le family.
"We need to remember Tommy Le's name," he said. "We need to seek answers. We need to seek the truth."
One former police officer from Vietnam, Tuan Nguyen, made his way to the podium during a public comment session. His words were translated by the event moderator Linh Thai.
"It's troubling to me to see the way police have been militarized across the country," Nguyen said. "The community is not a battlefield, and they are not soldiers."
He suggested that police learn martial arts or some other hand-to-hand combat to disarm people with knives. He also recommended firing a shot in the air or aiming at a shoulder or leg instead of shooting to kill.
"Discharging a weapon and killing someone is an awesome responsibility and one that will eat at your heart and soul for the rest of your life," he said.
To ease the burden of legal and funeral fees, the Le family has created a fund. To donate, visit www.youcaring.com/tommyle-874946