West Seattle Wine Walk will stroll through 14 wineries Sept. 28
West Seattle Wine Walk will stroll through 14 wineries Sept. 28
Tue, 07/25/2017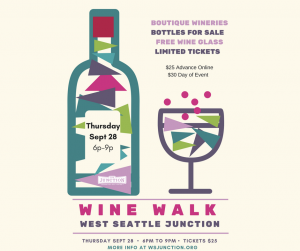 The West Seattle Wine Walk celebrates wine with this vibrant and fun event. Located in the heart of West Seattle, the Wine Walk provides you with the opportunity to meet the boutique wineries around the Pacific Northwest.
Housed in some of West Seattle's favorite merchants, you'll enjoy tastings from 14 different wineries, each showcasing a unique variety of wines.
Bottles of wine and additional individual wine tasting tickets will available to ticket holders.
Complete with a West Seattle Junction Wine Walk glass.
The night of the event, please go to our check-in host at Capers located at 4525 California Ave SW in the heart of the Junction.
We will have your name on a list at our check-in list. You'll be presented with your tasting tickets and complimentary wine glass.
Thursday, September 28th

6pm – 9pm

Limited tickets $25 advance or $30 day of the event