Sikh Captain America visits Highline students
Sikh Captain America visits Highline students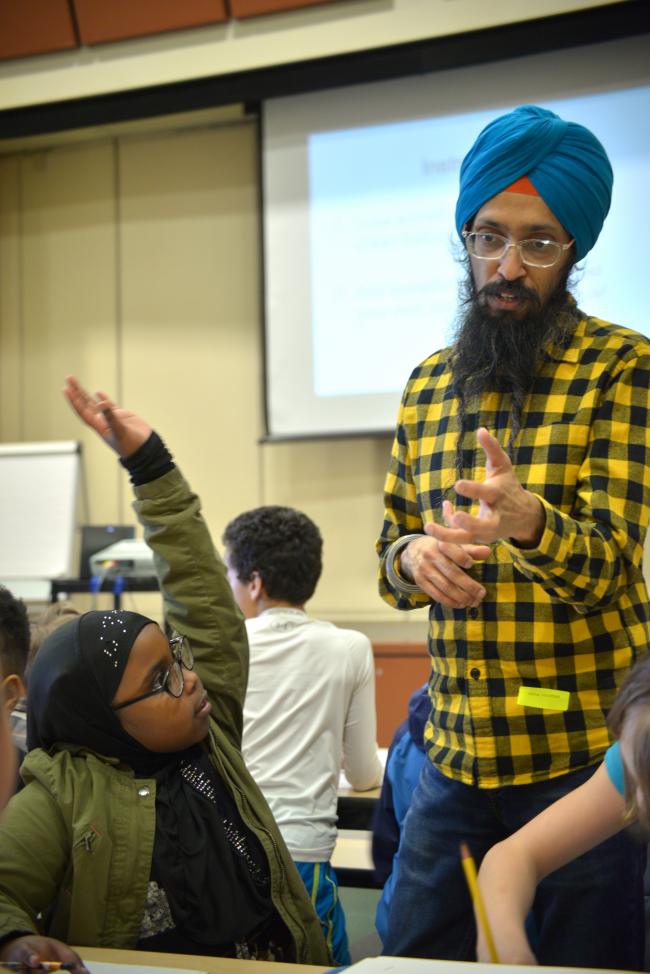 Mon, 03/12/2018
By Lindsay Peyton 
What if Captain America, the shield-wielding Marvel hero wore a turban, had a beard and practiced Sikhism?
That's the question artist and activist Vishavjit Singh asked himself, when contemplating the power of images. 
As a child, Singh never saw a superhero that looked like him. 
Now, as an adult, he's ready to change that. 
Singh, who is based in New York, has been traveling to schools across the U.S. to talk about diversity. His lectures focus on issues of identity, stereotypes and the power of life narratives. He also tells children about the power of art to create social change.
Singh recently visited four elementary schools in the Highline district, speaking to fourth grade classes. 
He cautions students not to make judgments based on appearance. Every individual has a story to tell, he said.
Then, Singh relates his own life's journey. He was born in Washington, D.C. and bullied from a young age for being different.
He told children that they should never let someone tell them there's something wrong with them simply because of the way they look. 
"You stand up for yourself, and you stand up for others," he said. "That's what superheroes do." 
Singh's family then moved to India, where he spent most of his childhood and survived the genocidal massacre of thousands of Sikhs in 1984.
After high school, he moved back to the U.S. and again was subjected to bullying based on his identity. He even gave up his Sikh look to avoid being labeled and targeted.
While attending the University of California, Santa Barbara and graduate school at University of California, Berkeley, Singh found solace in the world of books, which, he told children, were like time machines, capable of transporting them to a different place.
"If you already read books, awesome," he told children. "Read more."  
Singh also started exploring different philosophies and returned to his parents' faith, Sikhism. 
"You want to follow your own path and journey," he told the students. "If you dream big, you just have to figure out different ways of getting there."
Then, the 9/11 attacks happened, and Singh explained that hate spread throughout the U.S. and affected many Sikhs. 
"For a couple of weeks, I couldn't go out of my house," he said. "People said a lot of awful things. They didn't know me, but they judged me because of my looks."In the midst of that traumatic time, Singh found his artistic spark. He decided to draw and use imagery to change the way others saw him and others who may look a little different. He started creating cartoons about Sikhs. 
Instead of waiting for someone else to represent him, he took charge. "You don't wait for someone else to do it," he said. "You do it."
Red, White and Beard - Sikh Captain America
Sikhtoons.com
Now, Singh is a noted cartoonist and has traveled to cartoon conventions around the country, appearing as Sikh Captain America. 
He uses art and humor to connect people, and he also became a public speaker, encouraging children to also take control of imagery and create their own narratives. 
"Sometimes society, sometimes adults do things that don't make sense," he said. "You  have to ask them why."
Singh also told students that around the world, there are others who are not as fortunate. 
"Keep in mind that there's a lot of people who don't have all of their rights," he said. "You have to help them."
Then, Singh lead students through a drawing exercise, asking them to create something new, something they'd never seen before. 
Lexi Samorano, social studies specialist for Highline, said that last year, Singh visited two schools in the district. This year, thanks to the national funding program called "Every Kid in a Park," Highline was able to expand the visits to four elementary schools: North Hill, Cedarhurst, Midway and Seahurst. 
"We're always looking for opportunities to bring in someone who teaches students how to have civil discourse, how to talk to different people and have mutual respect," Samorano said. "Starting that early is really important."
She said Singh fits the bill. "He's able to do this at a fourth grade level, and that's really great when it's complex topics," she said. "Hopefully, we can have a long-lasting relationship."
Singh plans to return to Seattle in May for an exhibit of his illustrated and performance art work at Wing Luke Museum of the Asian Pacific American Experience.
For more information about Singh and the Sikh Captain America, visit his website