Local seniors and their community join together to support Seattle-area homeless
Local seniors and their community join together to support Seattle-area homeless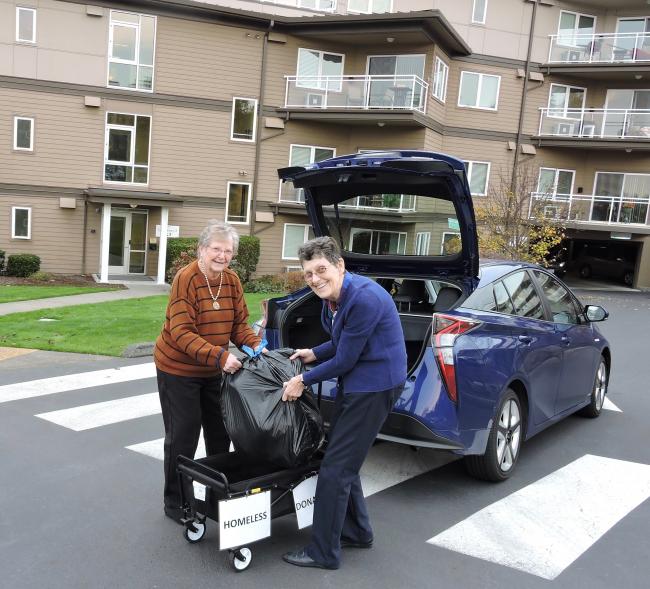 Mon, 11/19/2018
Most Wednesday mornings, Sally Dunn and Mary Alice Bueser efficiently pack the trunk and back seats of Dunn's Toyota Prius with a week's worth of donations and make the 20-minute drive north to Burien from their home at Judson Park senior living community.
This has become a familiar route. For the past two years, they've made weekly trips to drop off boxes and bags of clothing, toiletries, food and other supplies at Transform Burien, a community resource center for some of Seattle's most vulnerable.
When Dunn moved to Judson Park in 2016, she was eager to explore ways she could spend time to benefit others. When the idea of helping the homeless was brought up, she knew she had found her passion.
"There are so many ways you can contribute to those less fortunate," said Dunn. "This really resonated with Mary Alice and me and we knew it would have a real impact on an issue affecting our city."
Originally introduced to Transform Burien through her church, Dunn visited the outreach center and asked how she could help. Given a list of in-demand necessities, she returned to Judson Park and began to spread the word.
Today, Dunn and Bueser rarely need to seek out donations with many residents and team members proactively dropping off supplies at their doors. Some residents even provide cash donations, which the women use to purchase specialty items like shoes or tents on the center's "Needs List."
"Residents and team members at Judson Park have really embraced what we're doing and are remarkably generous," added Dunn. "I think everyone understands just how important an issue this is for us locally, and what may seem like a small contribution can make a world of difference for someone else."
Judson Park is located at 23600 Marine View Drive South in Des Moines.