Evergreen High School Class of '69 50 year reunion set for Aug. 17
Evergreen High School Class of '69 50 year reunion set for Aug. 17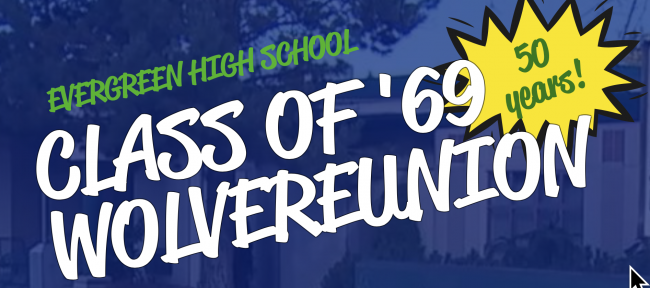 Sun, 05/05/2019
If you graduated in 1969 from Evergreen High School, you will remember that period in history. Or not, after all it has been 50 years. But for those who remember that tumultuous time and still think of themselves as Wolverines, the 50 year reunion is set for Aug. 17 and oddly enough it's not even near White Center. The organizers did however pick a great spot at Twin Lakes in Federal Way. Actually it's THREE days of fun, merriment and memories. Picnic on Sunday. Aug. 18 at Seahurst Park. and if somebody actually remembers to do this SOMETHING ON FRIDAY TOO! Hoop De Doo!
TOP 20 REASONS YOU SHOULD ATTEND THE EVERGREEN HIGH SCHOOL 1969 50-YEAR WOLVEREUNION
20. See how much older all your classmates have gotten while you've remained so young.
19. It's your SECOND chance to be part of an official SENIOR class.
18. It's now brought to you in living color.
17. P.E. waivers available at welcome table.
16. The no-host wine, beer and Metamucil bar.
15. Anyone who brings up politics during the event will be immediately sent to the principal's office.
14. You'll have nothing to worry about. No one can remember that time in high school when you…
13. Ummm...I put Number 13 down right around here a minute ago...now where did it go?
12. It features the "Guess Who I Am" costume party.
11. It will be an evening filled with numerous celebratory toasts including your choice of white, whole wheat or English muffin.
10. X-ray comparison display. Bring yours!
9. You'll be able to  tell everyone that you were an original member of the band Kiss or were a regular on "The Love Boat" during the seventies and who can argue?
8. No waiting line for the obstacle course.
7. Depends concession open all night.
6. It will be just like Woodstock but with a lot less mud.
5. To reduce the risk of overexcitement cheerleaders asked to bring only one pom.
4. The 3D movie version won't be released for years.
3. Rehearsals for the 60th Reunion will be held immediately following the main event.
2. LARGE PRINT NAMETAGS
And the number one reason you should attend the Evergreen High School 50-year Wolvereunion…
You can bask in the knowledge that after 50 years, we all finally turned out to be perfect.
VIDEO: Evergreen Class of 69 Reunion- IMAGINE A WORLD
Chris Douthitt
Comments
I'm inquiring about my father in law.
Do you have to pay a fee on line, or can you pay at the door? Where exactly is the reunion at? Can you give me an address?
Chris - you have been awesome with what the two of have "come up" with for our 50th reunion! Thank you! B
Add new comment