First time ever: Water taxi will take you to the Vashon Strawberry Festival on Saturday
First time ever: Water taxi will take you to the Vashon Strawberry Festival on Saturday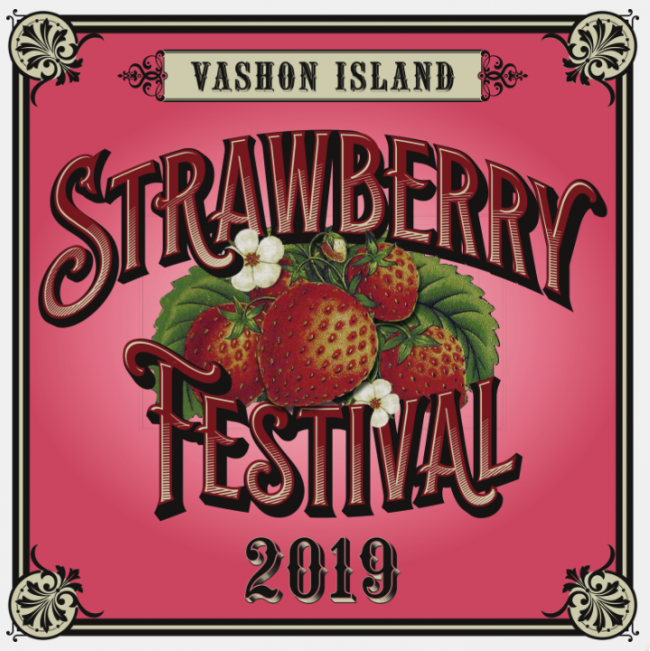 Thu, 07/11/2019
information from King County and Vashon Island Chamber of Commerce
For the first time ever, King County Water Taxi will offer Saturday service to and from Vashon Island for the Strawberry Festival on July 20. 
Water Taxi staff added the Saturday service to provide an additional option to attend the popular festival. Other travel options are available through West Seattle, Southworth, or Tacoma. 
Passengers will be able to travel directly from downtown Seattle to the festival via the Water Taxi and Metro Route 118, which will operate extended service between the Vashon Island Ferry Terminal and downtown Vashon Island.
Special sailing times on July 20
To Vashon Island: The special service departs every hour on the hour. The first sailing to Vashon Island begins at 9 a.m. and the last sailing departs Seattle at 6 p.m. 
To Seattle: Special service every hour on the half hour. Departures from Vashon Island begin at 9:30 a.m. and the last sailing departs Vashon at 6:30 p.m.
| | |
| --- | --- |
| Depart Downtown Seattle | Depart Vashon Island Terminal |
| 9:00 AM | 9:30 AM |
| 10:00 AM | 10:30 AM |
| 11:00 AM | 11:30 AM |
| 12:00 PM | 12:30 PM |
| 1:00 PM | 1:30 PM |
| 2:00 PM | 2:30 PM |
| 3:00 PM | 3:30 PM |
| 4:00 PM | 4:30 PM |
| 5:00 PM | 5:30 PM |
| 6:00 PM | 6:30 PM |
Additional bus service to and from the Strawberry Festival
King County Metro Bus Route 118 will provide additional service to accommodate Water Taxi passengers travel to the Strawberry Festival. The Route 118 will depart from Vashon Ferry Terminal during regular posted times (see Route 118 schedule online) in addition to the special service listed below:
Route 118 schedule online) in addition to the special service listed below:
Vashon

Ferry Term

Vashon Hwy 105 Av SW

Vashon Hwy

SW 156 St

SB Vashon Hwy

Bank Rd

SB Vashon Hwy

SW 204 St

SB Vashon Hwy

SW Burton

Tahlequah

Ferry

9:30 AM

9:33 AM

9:36 AM

9:40 AM

9:44 AM

9:49 AM

9:59 AM

11:30 AM

11:33 AM

11:36 AM

11:40 AM

11:44 AM

11:49 AM

11:59 AM

12:45 PM

12:48 PM

12:51 PM

12:55 PM

12:59 PM

1:04 PM

1:14 PM

2:35 PM

2:38 PM

2:41 PM

2:45 PM

2:49 PM

2:54 PM

3:04 PM

3:55 PM

3:58 PM

4:01 PM

4:05 PM

4:09 PM

4:14 PM

4:24 PM
How to pay
Passengers can pay their fare via cash (exact fare) when entering the vessel, via ORCA card at the vessel, or via credit/debit card from a ticket from a vending machine at the terminal. More information is available on the Water Taxi website.
The Vashon Water Taxi typically operates commute time service Monday through Friday between the island and downtown Seattle. The route carried 249,398 riders in 2018 and is a congestion-free option for travelers provided by King County Metro.
VASHON ISLAND STRAWBERRY FESTIVAL SCHEDULE OF EVENTS!
Friday, July 19th
5 p.m. Vashon Hwy Closes for Festival set up
5:30 p.m. Local Beverage/Beer Garden opens at Vashon Village
6 p.m. Music at Beer Garden Starts and goes to Midnight.
6 p.m. Music at Snapdragon Stage starts
Saturday July 20th
7:00 AM: Sportsman's Club Pancake Breakfast: Vashon Market IGA parking lot (Click For Info)
7:30 a.m. Check in for Bill Burby Run starts at 16800 Vashon Highway. (Burby Website)
8:30 a.m. Festival Shuttle Service starts.
8:30 a.m. Bill Burby Runs start
10 a.m. Vendor Booths officially open along Vashon Highway
10 a.m. Bubble Fun Zone at Vashon Theatre Opens
10:45 a.m. Kids Parade Starts at Methodist Church 17928 Vashon Hwy SW
11 a.m. Grand Parade Starts at south end of town and heads north past Ober Park. (Click Here for Info)
Noon: The Beer Garden Opens with Music until midnight.
1:30 p.m. Pandora's Box Stage opens
6 p.m. Swing Dance Lesson in front of Sporty's
7 p.m. Shuttle Service Stops
7 p.m. The Portage Fill Street Dance Starts in front of Sporty's
9 p.m. Street Stage
10 p.m. Results of the Unofficial Mayor Race announced in Beer Garden
Sunday July 21st
Festival Keeps going on Sunday starting at 10 AM and goes until 5 PM.
8 a.m. The Sportsmen's Club Pancake Breakfast begins in the Vashon IGA parking lot
8 a.m. Registration for the Tom Stewart Classic Car Parade opens at the Vashon Center for the Arts Parking Lot
9 a.m. Shuttle Service Starts
10 a.m. Vendor Booths along Vashon Highway Open
10 a.m. Bubble Fun Zone at the Vashon Theatre Opens
11:30 a.m. Music starts in Ober Park & Pandora's Box Stage
11:45 a.m. Car Parade leaves VCA parking lot and drives into town. (Click for Info)
NOON: Beer Garden Opens
1 p.m. Music starts at Beer Garden
5 p.m. Festival Closes
5:30 p.m. Shuttle Service Stops
8 p.m. Streets Open