Arts A Glow will light the Burien night Sept. 7
Arts A Glow will light the Burien night Sept. 7
Annual festival of lights will fill Dottie Harper Park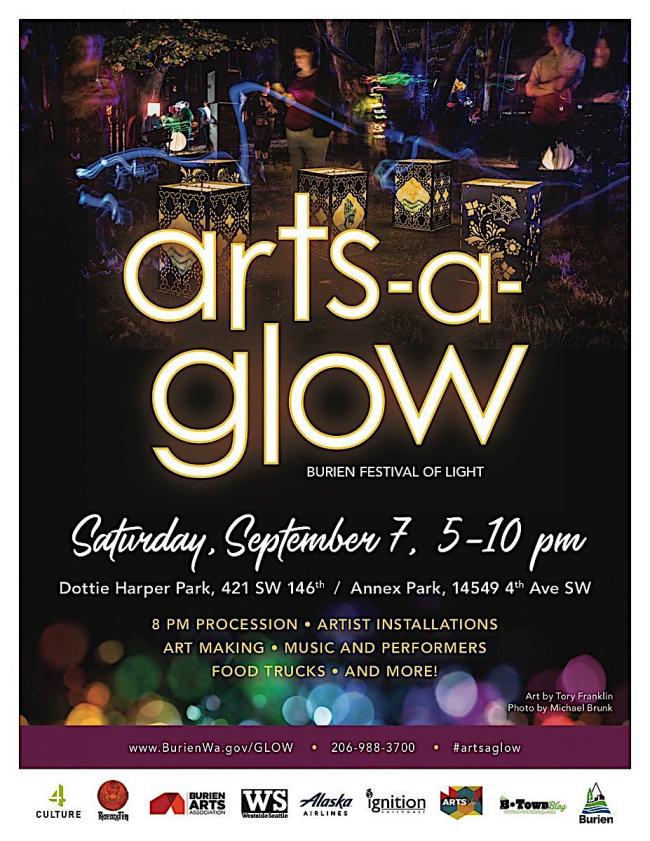 Fri, 09/06/2019
The forest comes alive with magic! Join us for Arts-A-Glow Festival of Light, when Dottie Harper Park and Community Center Annex Park are transformed by artist installations, magical lighting, and performers. The event takes place from 5pm to 10pm Sept 7.
Thirteen artists installations will grace the grounds of the event and live music will fill the air from multiple points. Food and drink from twelve vendors in food trucks and booths will dot the event. 
All are invited to the FREE!!! lantern-making booth. Want to make your lantern at home? They will have helpful tips on how to turn jars, balloons, and pie tins into whimsical lights. Face painting from Burien Arts Association and more activity booths from the Environmental Science Center and Seattle ReCreative!
Procession
Join the procession at its new location and new route! Procession will start at 8 p.m. at the southeast corner of the Burien Community Center parking lot. Lanterns and costumes encouraged! No candles please. Procession route and event map.