Burien Art Market set for Nov. 16
Burien Art Market set for Nov. 16
Submit your artwork for this very special event; Deadline is Nov. 10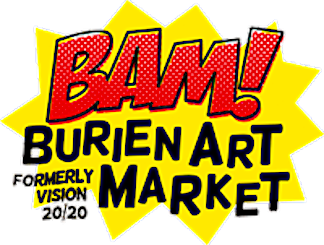 Mon, 10/21/2019
Artists and arts patrons - Mark your calendar for the Evening of Saturday, Nov 16th, 2019!  Vision 20/20 is now called the "Burien Art Market." #BurienArtMarket
The annual fundraising event features a NEW Store, open during the entire evening, along with our traditional 8" X 8" panel sales.
What: Burien Art Market, formerly Vision 20/20 Art Gala Exhibition and Sale
When: Saturday November 16, 2019  6:30 PM – 10:00 PM
Where: Burien Community Center, 14700 6th Ave SW, Burien, WA
More information can be found on the Burien Arts website: www.burienarts.org
This annual art gala event usually draws 400+ patrons. 
For questions contact  BurienArts@gmail.com or 206.795.5783
Call for Art in the Burien Art Market NEW Store for our Annual Fundraising Gala is Now Open and has been Extended to Nov 10th  - Works for sale and benefit Burien Arts and the artist with a 50/50% commission.  #BurienArtMarket
Artists apply for the Store now Submit Entries Here
Please note that the Panel Section has closed.
Each artist will be allotted a space on a table for their art in the Store room.
Artist may bring as many pieces as they wish, but those that do not fit on your section of the table will be stored under the table until other pieces on the table top are sold. 
Mark each item with your name and price with a tag or sticker. 
Artists with jewelry, unframed posters, and cards may bring table top display racks. Each item must be have a price tag or sticker, provided by the artist, with your name and sales price.  
Artists, please make a list of your items with titles, if applicable, and selling price.  Make a copy of this list for Burien Arts and one to retain for yourself.
If your work is not complete by November 10th, no worries, we understand!  Please describe in the title section, list a price, and insert a generic picture on the submission form.
Burien Arts appreciates your participation and support of the free programs and events that we offer the community throughout the year, as well as our annual Highline High School Arts Scholarship awarded to a graduating student pursuing further studies in the Arts.