Battle Ground strong-arms Mt. Rainier
Battle Ground strong-arms Mt. Rainier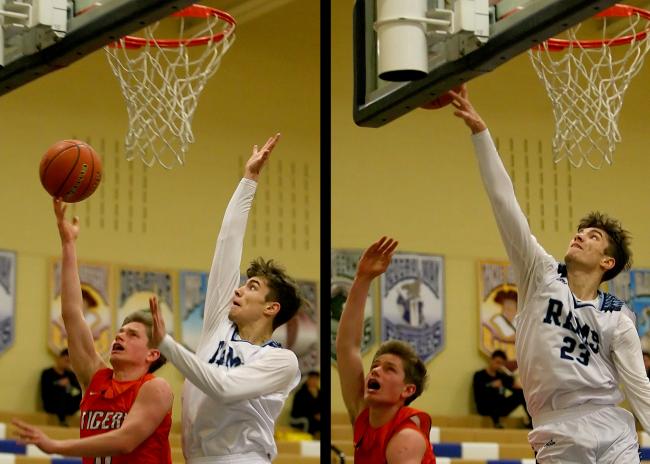 Kurt Howard photos
Thu, 12/12/2019
By Gerardo Bolong
CONTRIBUTING WRITER
Facing double digit deficits throughout the game, the NPSL 4A Mt. Rainier boys basketball team finally fell 57-46 against visiting Greater St. Helen's League 4A contender Battle Ground On Tues., Dec. 10.
Battle Ground led 43-31 less than two minutes into the fourth quarter when Mt. Rainier made one final fling at victory. 
Ricky Bell III sandwiched a three-ball and a lay up off a steal around his converted free throw to draw the Rams within 43-37. 
Following 6-foot, 9-inch Kaden Perry's Tiger basket off a pick and roll, Sarbatt Singh notched a  Mt. Rainier bucket. Singh later countered a Tiger free throw by angling home a three-ball and the Rams were within 46-42 with just more than three minutes in the fourth quarter. 
At this point, Mt. Rainier turnovers and missed shots aided a Battle Ground surge into a 52-42 margin that doomed the Ram hopes. 
"Going against a kid like (Kaden) Perry, we can glean a lot from that," said Ram head coach Brandon Horstman, "When we continued to attack inside-out and get reversals, we were better. The team needs to commit to being better in half court offense. Otherwise, we're gaining valuable experience and are close to figuring it out. 
"They continue to buy in together and make the transition. We're primarily a zone (defense) team, but tonight we played the whole game in man-to-man and were able to pick up the scout in a small amount of time. They did a great job and proved they can do it going forward." 
In the first quarter, MR won the turnover battle and rebounding. Coupled with the creation of open inside and outside shots, the Rams claimed a 10-5 lead after one quarter. 
Portentous warnings of missed shots turned into a bigger reality in a stinging second quarter. 
Mt. Rainier was ahead 12-7 when the shots stopped dropping. Losing patience to run a solid half court offense, the Rams shot quickly and were out of position for rebounds, as well. 
Eighteen consecutive points paced by three-point goals from Nate Millspaugh hoisted Battle Ground into a 25-12 lead by halftime. 
The Rams continued to attack from an atypical man-to-man defense, but were unable to dent the deficit until steals and driving scores from Kol Lerwick, Isaiah Fulmore, and Bell chopped away the deficit. 
Bell's three-ball with 2:49 remaining in the frame, closed Mt. Rainier close at 33-31, but two consecutive Tiger lay up after inbounds passes behind their own basket opened the gates to eight consecutive Tiger points to end the quarter. 
Battle Ground opened the fourth quarter with a field goal to frame the situation for the Mt. Rainier final charge. 
Mt. Rainier has run the gauntlet through a series of tough non league losses in preparation for a possible return to the playoffs.
Last season, the Rams fought their way to the state tournament and expectations for this year are still high.
"I'd rather lose to tough 4A competition (in non league games) than just beat a team we know we can beat because it makes us more prepared," concluded Horstman. 
Bell made numerous steals on his way to a game-high 20 points while Lerwick played a solid second half to earn nine points. 
For Battle Ground, Perry scored 15 second half points to total 19. Milspaugh added 14 while Max Ramirez closed with 12.