New park land in North Highline acquired by King County will open to the public next year
New park land in North Highline acquired by King County will open to the public next year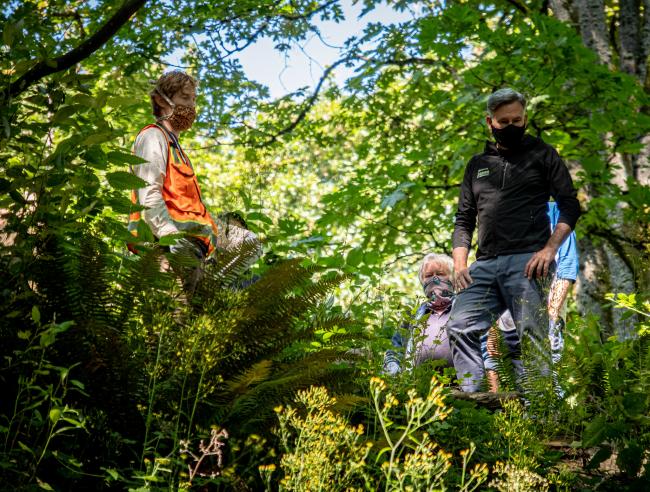 Fri, 07/10/2020
Information from King County
Executive Dow Constantine  announced on Thursday July 9 that King County will transform newly acquired property in urban unincorporated North Highline into a much-needed forest park featuring trails, overlooks, and wetlands. 
King County Parks will manage the 5-acre site as public greenspace that is within walking distance of schools where 83 percent of students qualify for free or reduced-price meals. Parks staff will partner with Washington Trails Association to create a path through the forest and a bridge across the ravine. The new park is located on 8th Ave South east of Highway 509 near South 104th Street
It is the latest progress King County has made under the Land Conservation Initiative, a partnership to protect 65,000 acres of natural areas, parks, forests, farmland, and trails before they are lost forever. The initiative focuses on creating more equitable access to open space in communities where there is the greatest need.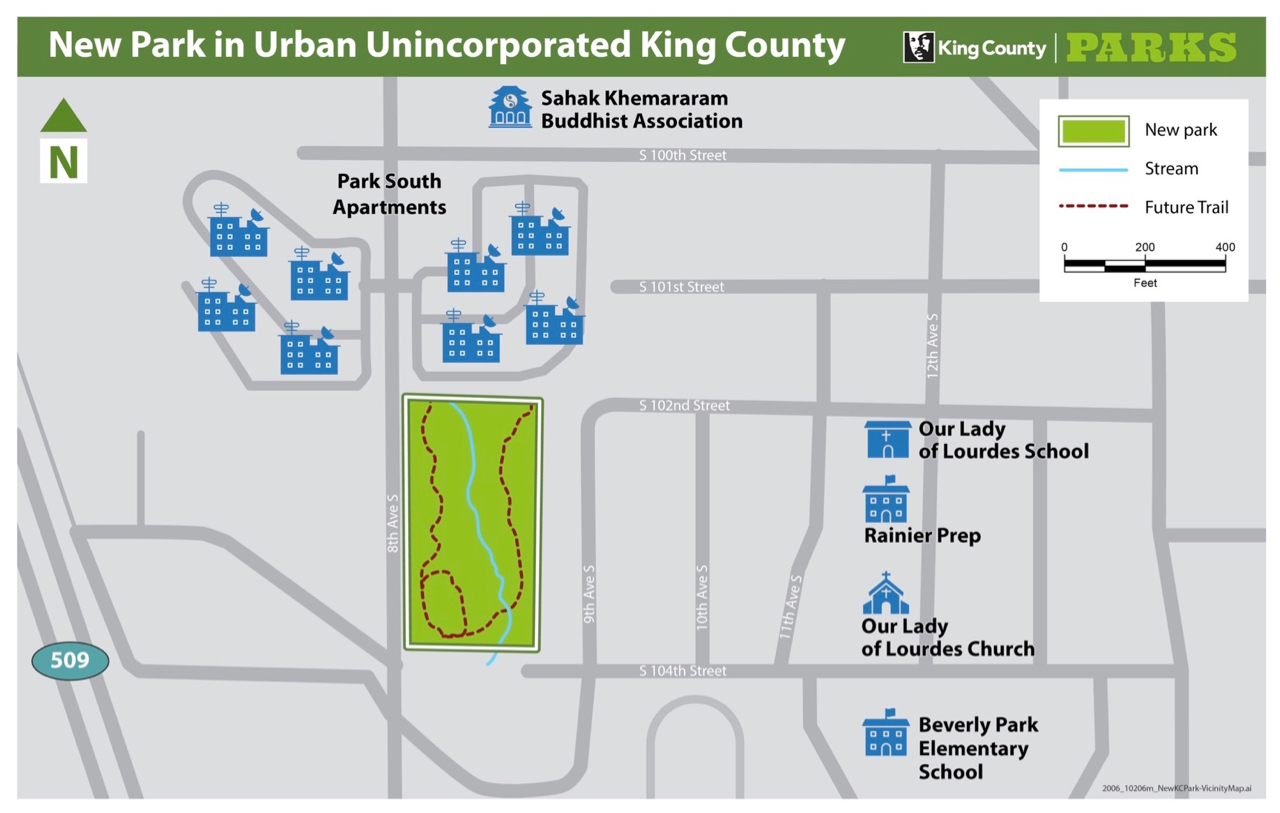 "Staying home to prevent the spread of COVID-19 has given each of us an even greater appreciation for open spaces, yet too many underserved communities do not have a park, trail, or greenspace," said Executive Constantine. "The new forest park we are creating with community input will make it possible for more people and families in urban unincorporated King County to experience the benefits of greenspace in their own neighborhood. It reflects our progress toward making access to open space more just and equitable."
The greenspace is one of the first to be protected under a new match waiver program that pays 100 percent of acquisition costs for projects that provide open space in the most underserved parts of King County, a program recommended by the Land Conservation Advisory Group.
The park, which King County acquired for $357,000, will be located in a neighborhood that is among the lowest one-third for median income and the highest one-third for hospitalization rates for asthma, diabetes, and heart disease. Many of the residents live in apartments with no yards. 
The funds are generated by King County's Conservation Futures Tax, which provides funding to government agencies as well as nature conservancy and historic preservation nonprofits to protect open spaces in cities and rural King County.
King County Parks expects that the urban forest will be accessible to the public in late summer or fall 2021.
"It is wonderful to witness the process come near full circle with the Land Conservation Initiative," said Pah-Tu Pitt, a member of the Open Space Equity Cabinet. "The actions are matching the intent to create opportunities for communities most impacted by the legacy of historic inequities to access and shape the future of the park. Concurrently, dedicating greenspace means something significant to communities, promotes resiliency, and the healing of the lands and waters themselves."
Making the future park safe, welcoming, and healthy 
King County's Community Cleanup Program is partnering with nonprofit organizations to remove tons of debris from the property. King County's Noxious Weed Program is controlling and removing non-native species through its Healthy Lands Projectto make the park safe and welcoming. The King County project team can also help neighbors who live near the new park remove invasive plants, such as English ivy, to prevent them from spreading into the forest.
The new park will be located along 8th Avenue South in the Beverly Park/Glendale neighborhood of North Highline, east of White Center. The nearest greenspace currently available to neighbors, King County's Dick Thurnau Memorial Park, is 2 miles away and across busy roads and a state highway.
"Rainier Prep welcomes this amazing opportunity to honor the Duwamish land where we learn, grow, and play by being able to further explore and care for that land," said Maggie O'Sullivan, School Leader at nearby Rainier Prep. "We are excited to promote a shared legacy as a resilient, healthy community. Our young scholars strive to be the change we wish to see in our world, from imagining intelligent solutions to climate change to challenging inequities wherever we find them.  This neighborhood network will heighten our collective awareness that we all are a significant part of something greater by sharing our spaces and our visions for community."
Accelerating the pace of land conservation
The King County Council last year approved a plan by Executive Constantine to triple land preservation investments in 2019 and 2020, protecting open spaces, forests, farmland, and trail corridors before they are either developed or no longer affordable. Executive Constantine also included $120 million for open space protection in the King County Parks Levy, which voters overwhelmingly approved in 2019.
Executive Constantine will propose $47 million in 2021 Conservation Futures and Parks Levy funding for projects across the county, based on recommendations from the all-volunteer Conservation Futures Advisory Committee that reviewed project proposals. The budget proposal includes six match waiver projects in Des Moines, Renton, Seattle, and unincorporated White Center and East Federal Way. Other proposed projects range from Enumclaw farmland to Vashon Island forests, from Lake Washington waterfront to Snoqualmie Valley wetlands.
"The Conservation Futures Advisory Committee is very supportive of the concerted effort by King County to ensure that accessible parks and open spaces are available to residents throughout the County, including those areas that have been historically underserved such as the North Highline neighborhood," said Mark Johnson, a member of the Conservation Futures Advisory Committee.
While King County and its partners have made progress to protect the last, best places within a single generation, the Land Conservation Initiative will need a sustainable funding solution to maintain the accelerated pace.
Confronting climate change, improving air and water quality, promoting healthy habitat
In addition to the immediate public health benefits that access to open space provides, land conservation helps confront climate change, improves air and water quality, reduces flood risks, and promotes healthy habitat for fish and wildlife.
Preserved forests continue to absorb and store the carbon that contributes to climate change while naturally filtering pollutants that are in the air. Pacific Northwest forests are among the best in the world at storing carbon because native tress have long, productive lifespans.
Protecting natural lands also contributes to clean water and healthy habitat. Unlike rain that falls on impervious surfaces and pushes pollutants – motor oil, pesticides, and pet waste – directly into streams, rivers, lakes, and Puget Sound, rain that falls on undeveloped land is naturally filtered.