West Seattle Outdoor Movie is a first for the Chamber Oct. 16
West Seattle Outdoor Movie is a first for the Chamber Oct. 16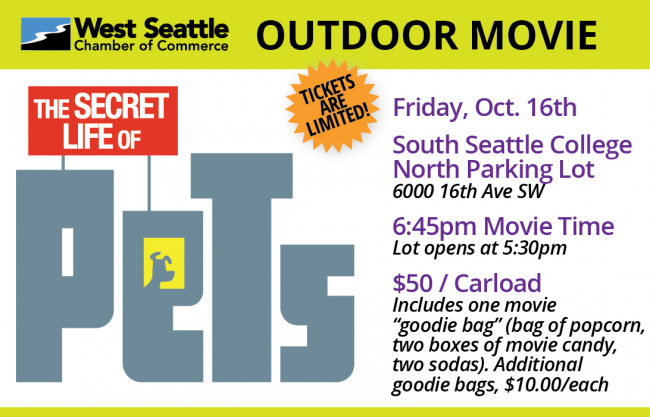 Fri, 10/09/2020
The West Seattle Chamber of Commerce has a secret. Well, more accurately has The Secret Life of Pets, lined up as their first Outdoor Movie on Friday Oct. 16. 
This is a drive up or in event meaning you stay in your car and enjoy snacks, and the movie. It's a fundraiser for the chamber of course but it's also a chance to get out of the house and have some laughs.
The cost is $50 per carload but that includes a "goodie bag" of popcorn, candy and two sodas (extra bags are another $10).
It is being held in the South Seattle College, North parking lot at 6000 16th Ave SW. The lot will open at 5:30pm and the movie starts at 6:45pm. The event ends at 8:30pm
The movie event is sponsored by a group of well known sponsors, including Westside Seattle.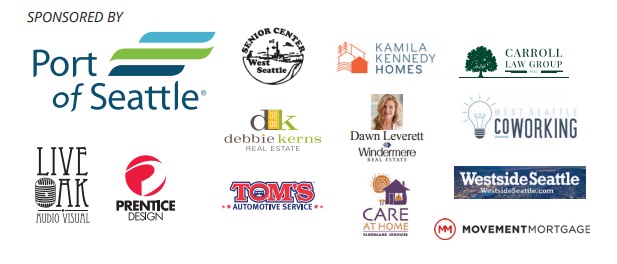 Things to know...
Larger vehicles and trucks may be asked to park in the back row.
Rain will cause postponement of the event.

To be cautious...
There will be a space in between each parked vehicle.
Movie-goers are required to wear masks when outside of their vehicle.
Date: October 16, 2020
Time: 05:30 PM - 08:30 PM PDT
Fees/Admission: $50 per carload. Tickets are limited!  Register today!
TRAILER: Secret Life of Pets
Illumination