Rams, Lancers compete virtually
Rams, Lancers compete virtually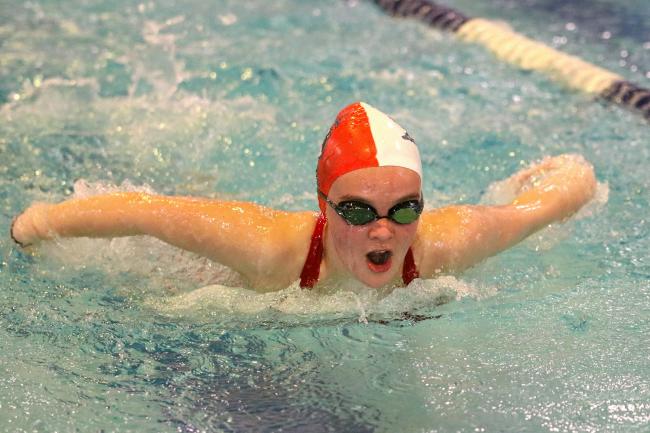 Fri, 04/02/2021
By Chelle
CONTRIBUTING WRITER
The Mount Rainer and Kennedy Lady Lancer swim meets have been decided by 10 points or less for the past two years.
It was a different story this year -- in more ways than one.
Not only was the score more decisive at 110-76 in favor of Mount Rainier, but this time the Rams were not even present.  They were in their own pool instead of being in the Lancers' home pool in Tukwila and the times were compared remotely.
"It is really hard for the girls to get amped and perform well this year without the pressure and excitement of the other team being in person," said Kennedy coach Carlos Palacian as he met with the girls pre-meet to discuss strategy against a team they could not see.  
Covid has made swim meets virtual. Each team swims at home then posts the times online to declare a winner.
While the meets go much faster, one misses the constant din of never-ending cheers and yells of "Stroke!" from teammates. It feels more like a practice than a timed meet with dreams of PRs and close races. Having a short six-week swim season makes setting PRs even tougher this year. 
Kennedy Catholic team captain and 2020 state swimmer Kiersten Weiler shared how hard it has been to remain competitive without meets.
"I had to fly to Arizona to compete in my first meet in over a year not too long ago," she said.
Kennedy had a team of 60 swimmers last year, but this year there are only 20 swimmers.
"Everyone here wants to be here. They want to compete," Weller said. 
Weiler, who is a junior this year, hopes there will be an opportunity to have a State Swim Meet.
She would like to return to State in the 100 backstroke and butterfly races and bring along freshman teammate Victoria Paulson, who is a strong prospect in the 200 freestyle and 100 fly races.