Metro breaks ground on Rapid Ride H Line that will serve riders from Burien to Seattle
Metro breaks ground on Rapid Ride H Line that will serve riders from Burien to Seattle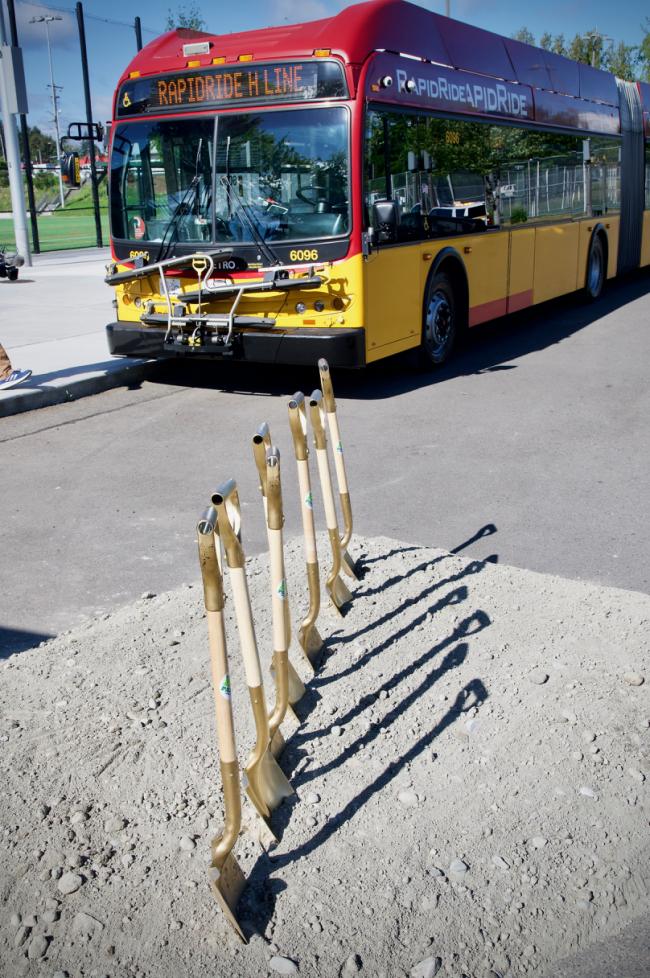 Tue, 05/18/2021
King County Metro in association with the City of Burien, and the City of Seattle broke ground on construction for the H Line Rapid Ride bus service from the Burien Transit Center to downtown Seattle. The line will replace the Route 120 line and officials promise nearly continuous service every 10 minutes in both directions with an additional 51 new stops being added along the route. 
An estimated $87 million in improvements are in the works to better serve riders on the route through South Lake Union to Delridge, West Seattle, White Center and Burien as crews upgrade bus stations and intersections and make roadway improvements.
Construction on the new line starts in June.
By the Numbers: Route 120 and RapidRide H Line
Ridership: Nearly 9,000 weekday riders in 2019; currently 4,500-5,000 each weekday and rising
Corridor length: 13 miles
Future stations and stops: 51
Intersections with transit signal priority: rising to 19
Project budget: Estimated $80-87 million
Frequency of service on route 120:

Peak direction during rush hour: Every seven minutes currently
Midday and evening: Every 12-15 minutes
Nights: Every 30 minutes
Weekends: Every 15 minutes; late night every 30 minutes

Planned service for H Line

Peak service: Every seven minutes in both directions
Midday: Every 10 minutes
Evenings: Every 15 minutes
Nights: Every 30 minutes
Weekends: Every 15 minutes all day; nights after 10 p.m. every 30 minutes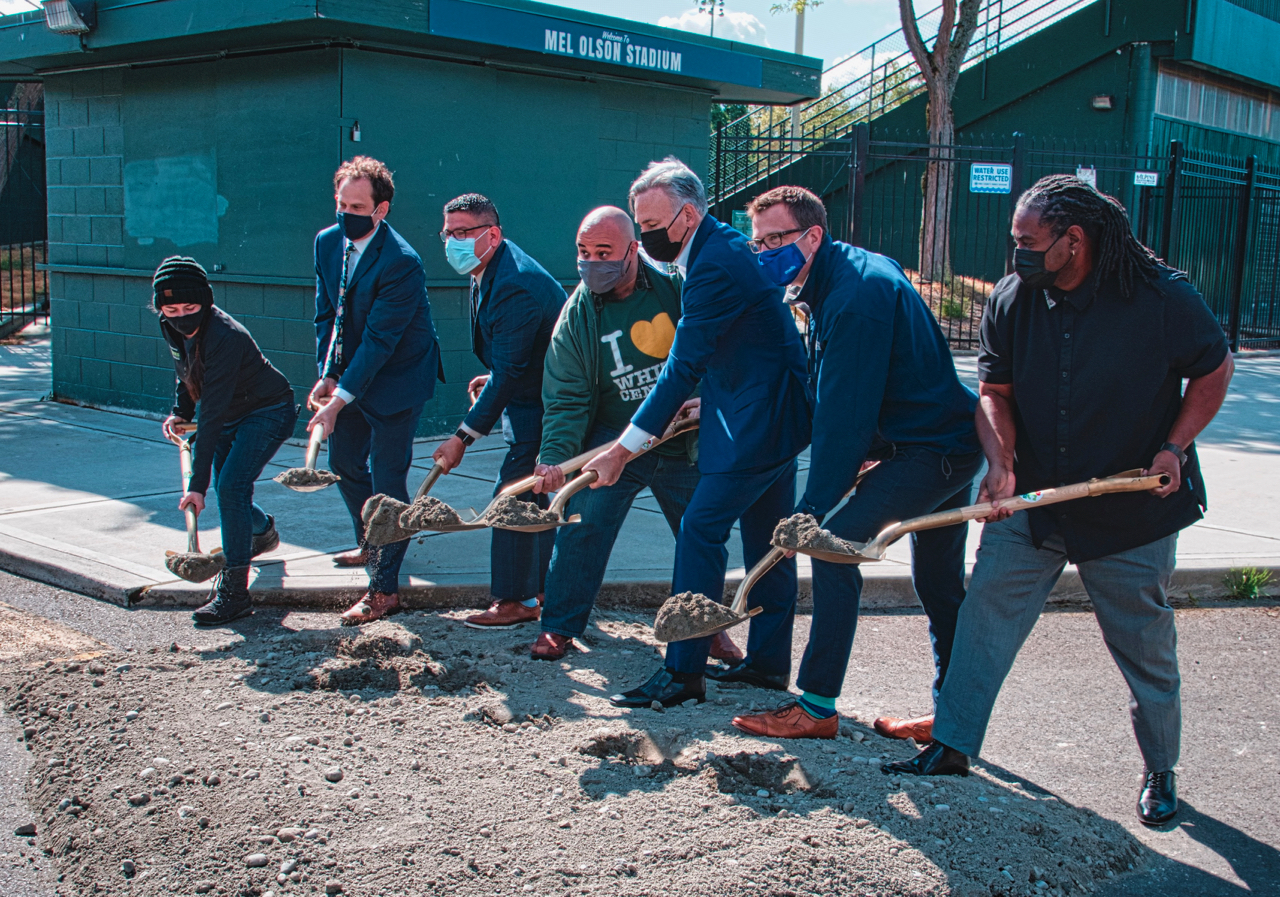 The Metro website states:
"When the RapidRide H Line launches in 2022, it will come more often and be more reliable than Route 120 is today. It will provide connections from neighborhoods in Burien, White Center, and West Seattle to downtown Seattle along Third Avenue and South Lake Union. RapidRide H Line will also provide needed connections to other bus service and Link light rail.

What changes you'll see

Buses will come more often and be more reliable.
More service will be added at night and on weekends.
Some bus stops will be upgraded with new shelters, lighting, real-time arrival information, off-board ORCA card readers and more.
Sidewalks, street crossings and signals, and paths for accessing stops will be improved for pedestrians, bikes, and those with limited mobility.
New business access and transit (BAT) lanes will be added to improve travel times for transit and provide better access to businesses for drivers. Learn more about BAT lanes.
New roadway improvements for people driving and taking transit, including new turn lanes and traffic signals, will make it easier for transit and drivers to move through the corridor.
SDOT plans to improve access to transit along Delridge Way SW and is including bicycle and pedestrian improvements as part of the project. These improvements may include upgraded crosswalks and intersections, new crosswalks, better connections to nearby greenways, and a protected bike lane on Delridge Way SW Visit SDOT's website to learn more.

The Seattle Department of Transportation (SDOT) has already started construction on RapidRide H Line and other safety improvements along Delridge Way SW. You can learn more about the effects of construction along the Delridge Way SW portion of the RapidRide H Line project by signing up for updates on the SDOT project page.

Metro and the City of Seattle are engaging communities along this corridor to inform them of the upcoming changes as Route 120 transitions to RapidRide H Line. Riders can expect changes to roadways, bus service and stations.

The RapidRide H Line project has reached final design. This means we are ready to move into constructing the route improvements so they're ready for operation in 2022! Thank you to everyone who participated during the RapidRide H Line design process by sharing your feedback and attending community events.

Three rounds of public outreach over the past several years had an important influence on the project's final design. Community input helped to inform routing, stop locations, station amenities and safety and access improvements. Read a summary of RapidRide H Line outreach to learn more.

During RapidRide H Line construction, you can expect:

Construction can be disruptive. You can expect to see and hear construction activities throughout the corridor during the duration of work.

Some sidewalk, intersection and lane closures
Detours and temporary stop relocations for Route 120
Typical impacts, such as noise, dust and truck activity"
SDOT states regarding the H Line on Delridge Way:
"Construction started in June 2020 and will last through 2022. During this time our outreach team will continue to meet with local organizations and businesses about upcoming work and notify the community with email updates for what work to expect. Construction timelines are always subject to change and we will continue to provide updates if and when they are impacted. 

In 2020, we have completed demolishing and repaving the roadway in some parts of the corridor. Roadway demolition and paving will continue throughout the project. Additionally, we have installed and upgraded water, storm, and electrical utilities throughout the corridor. Through 2022, we will continue upgrading the roadway, sidewalks and curb ramps, as well as continue building the new roadway median in select parts of the corridor."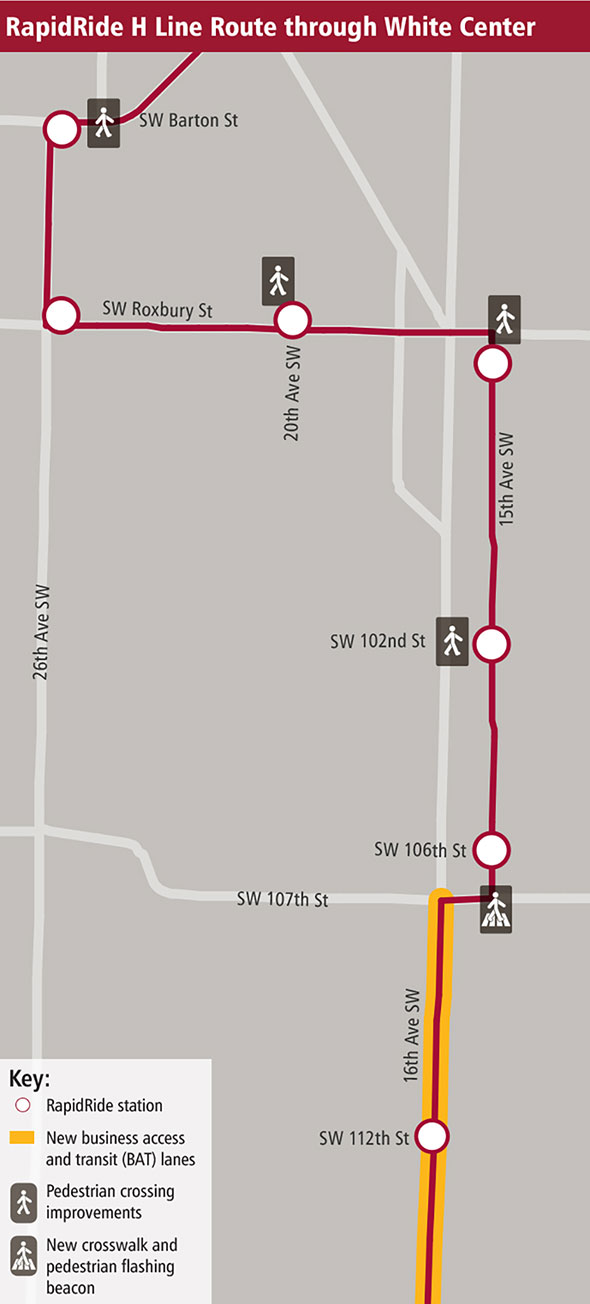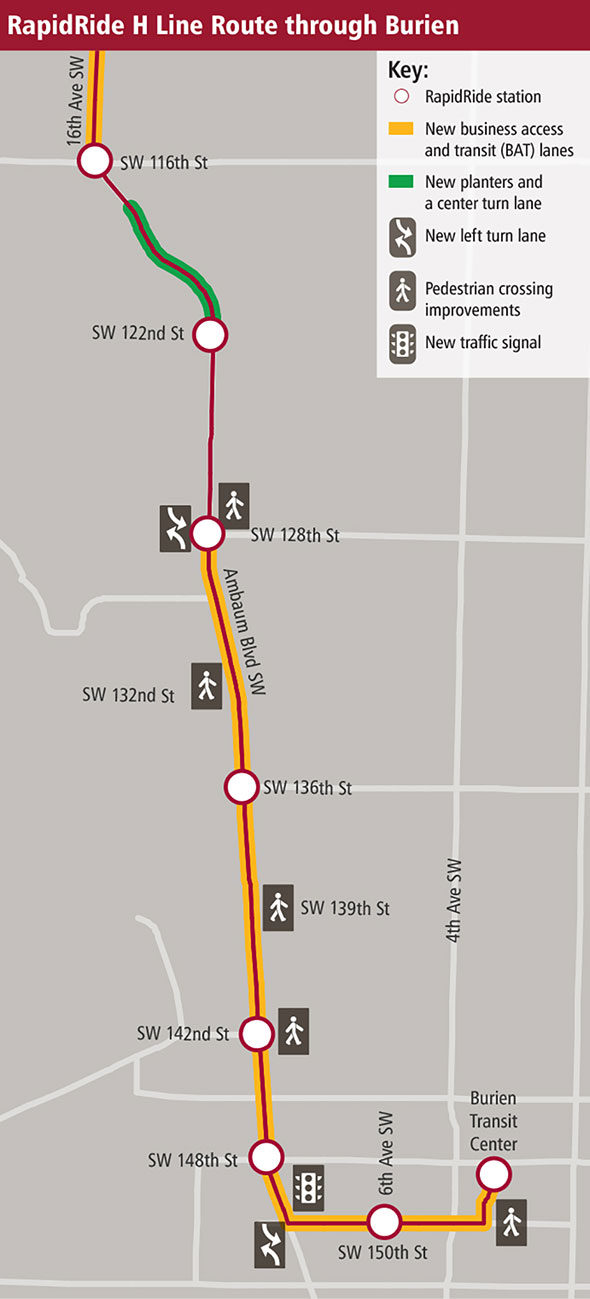 H Line groundbreaking
video by WestsideSeattle.com