Rat City Tat2: "On to the Next Shop"
Rat City Tat2: "On to the Next Shop"
White Center tattoo shop among 8 business damaged in electrical fire.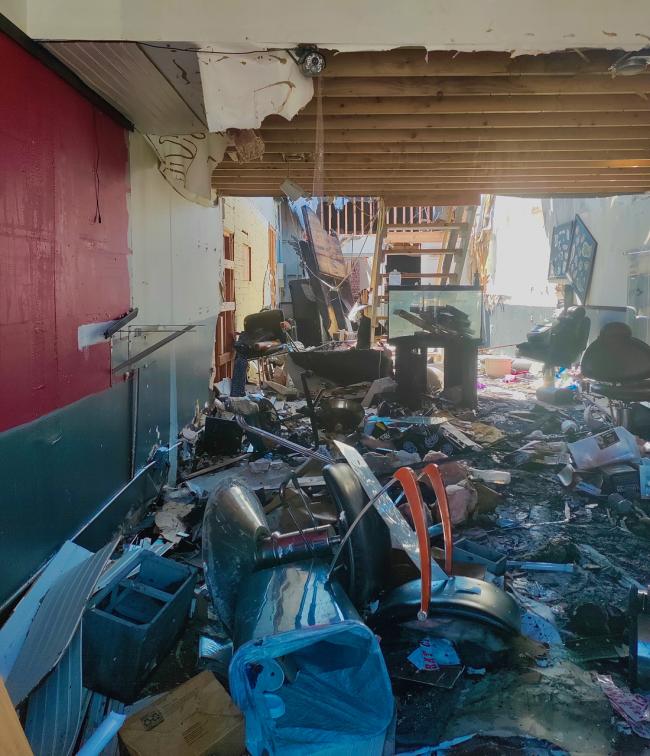 Thu, 07/08/2021
By Ruby Tuesday Romero
Like most members of the White Center community, surprise was far down on my list of emotions when learning of an early morning fire following the Fourth.
Speculation exploded into the comments sections of local Facebook groups regarding the source. However, the Fire Marshall on scene denounced fireworks as the igniter and deemed it to be an electrical fire beginning in the basement of The Lumber Yard Bar. 
Around 1:45am on July 5th, 2021 it was reported that a bystander was able to wave down a truck returning to Highland Park's Station 11 after an aid call, and informed them flames were seen coming from the tattoo shop. Multiple departments attacked the fire defensively, armed with ladder trucks and drenching the fire from above and behind.
When arriving to assess the severity, my jaw dropped.
By noon, the first responders had gone and it was surprising how quiet it was.  Visible from 17th Ave SW, the backside shows the remains of a patio, including the twisted metal from propane heaters, stark reminders of what could have happened if it had been occupied. With restrictions lifted, the Lumber Yard Bar could have had a decent crowd at last call. Due to a power outage reported the night prior, the bar and conjoining businesses were unable to stay open. It seems normal enough here in unincorporated King County to randomly lose power, less routine however, was what happened when the power came back on.
Directly next door to the only LGBTQ+ bar south of Union St was Rat City Tat2. Jason Hobbs, the shop's owner, his wife Catherine, and artist Veggie, were already there to salvage anything they could, although hard to believe it was much. The same scene of twisted metal as the patio next door, only this time, it was the skeletons of metal carts used to hold various tattoo supplies. There wasn't any sort of chatter between the trio while sifting through their professional lives. All Jason had to say was simply "On to the next shop."
His perseverance and drive shining through, regardless of everything being destroyed- including irreplaceable art, countless supplies, and a once vaulted ceiling replaced with sky.
Before it was a tattoo shop, it was a boutique with a speakeasy (of sorts) in the back, and for a short time I worked there. These buildings' structures are made of wood, despite many others along the block being brick. Also, I don't recall seeing any sprinkler system being as they are 'grandfathered-in' in regard to fire safety. While speaking with an employee at Cosco Fire Protection out of Tukwila, Kirk clued me in to how only newly constructed buildings and existing businesses expanding their footprint are required to install sprinkler systems.
On top of that, if the building is old enough, there are no requirements at all and it's purely up to the property manager or tenant to install fire alarms, a costly sprinkler system, or other fire prevention tactics. That building was built in 1917.
Within the first 24 hours, the community has rallied together to help soften yet another blow to these important assets of White Center. Most had GoFundMe pages already accepting donations, while La Tipica Oaxaqueñaa had a sidewalk sale to liquidate as much merchandise as possible before the building was closed. 
Rat City Tat2 quoted a long time friend and prominent tattoo artist, Angel Murietta, who had just recently passed. "I started with nothing and still have most of it left." The rest of the post on social media hinted that the shop wasn't looking for donations, but would rebuild and move on. Again, Jason's wavering sense of endurance seems unwarranted with such devastation. 
Contrasting Hobbs' original statement, a GoFundMe surfaced. When I spoke with him, he explained 'the big heart' of their kid was behind it. He also informed me that they are already on the hunt for a new location, one possible being not too far that has stood vacant for the past 15 years. Regardless of where, Rat City Tat2 won't be out of commission for long. I had an appointment with Jason scheduled for the 8th, and I'm surely not the only person booked in the coming weeks, so it's no wonder Jason and his team are more focused on moving forward and reopening than they are with crowdfunding.  See their GoFundMe here.
Seven of the eight affected stores now brandish pink papers with "Unsafe" in big bold font.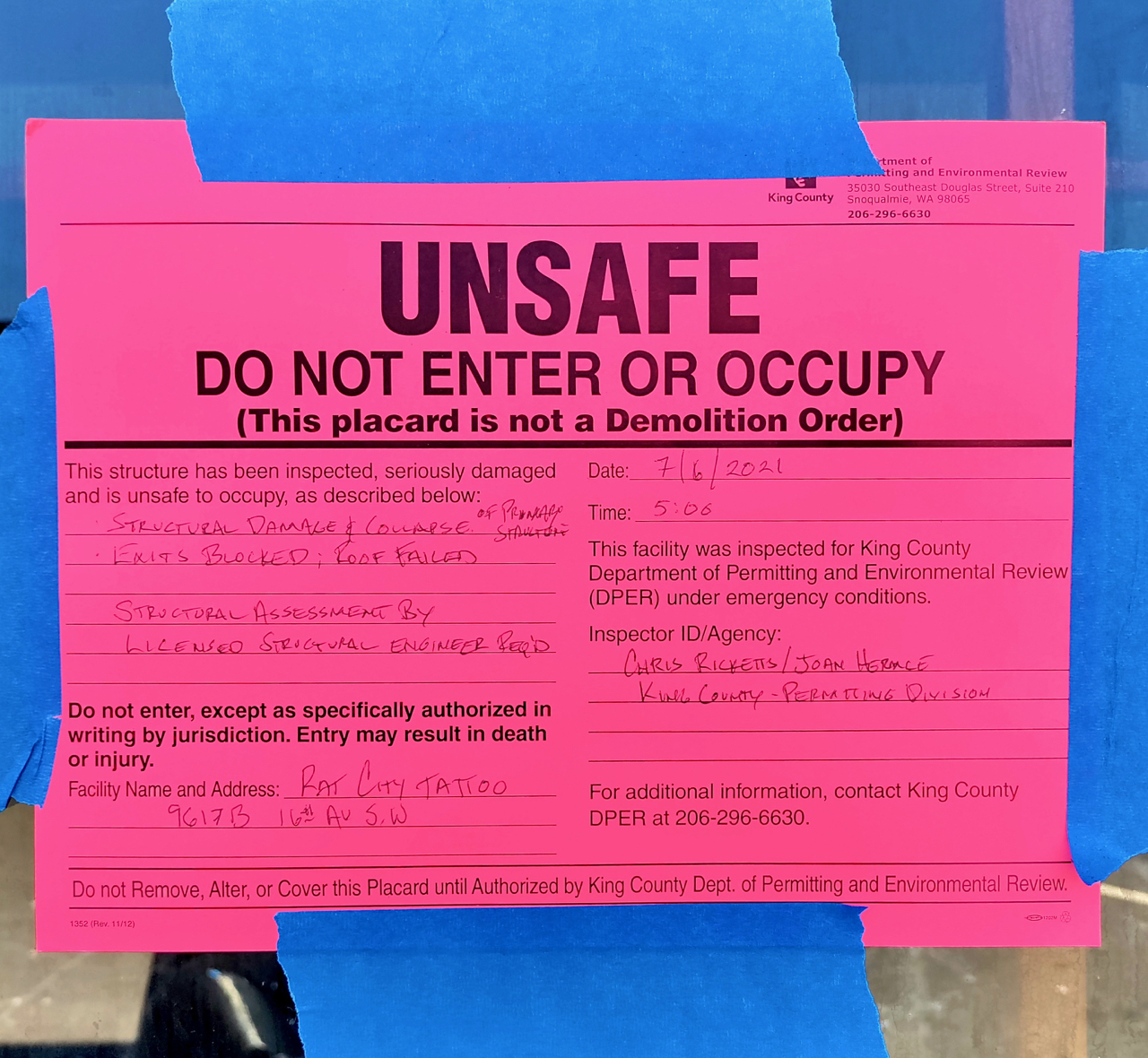 Those being The Lumber Yard Bar, Rat City Tat2, The Boxing Gym Westside, Nuggi (an unopened Boba tea café), La Tipica Oaxaqueña, John's Hair & Nails, and Dottie's Double Wide. The last business Vicky's Hair and Nails escaped with a yellow 'Restricted Access' sign. However, soon, the whole strip will be leveled and the perfect example of White Center's diverse population goes with it. 
I visit the business district of White Center everyday and ever since Monday, there's been plenty of parking. I've seen various spectators, peering into windows, probably questioning how eight livelihoods can be turned to char in 2021.
I think back to my conversation with Kirk, the Cosco employee, and remember his tone was uncomfortable when discussing the requirements. I fully understand the expense, time, and effort involved in retrofitting a building with sprinklers and alarm systems and speaking with neighboring business owners, you can hear the emphasis on what those costs would mean for staying open. You might argue these 'grandfathered in' businesses are flammable pariahs, written off as literal toast. All the while, hard working individuals are asked to risk everything in a damned-if-you-do/damned-if-you-don't situation from hell-and this isn't just here, it's everywhere across our country.
One more thing to add to the list of failures by the system.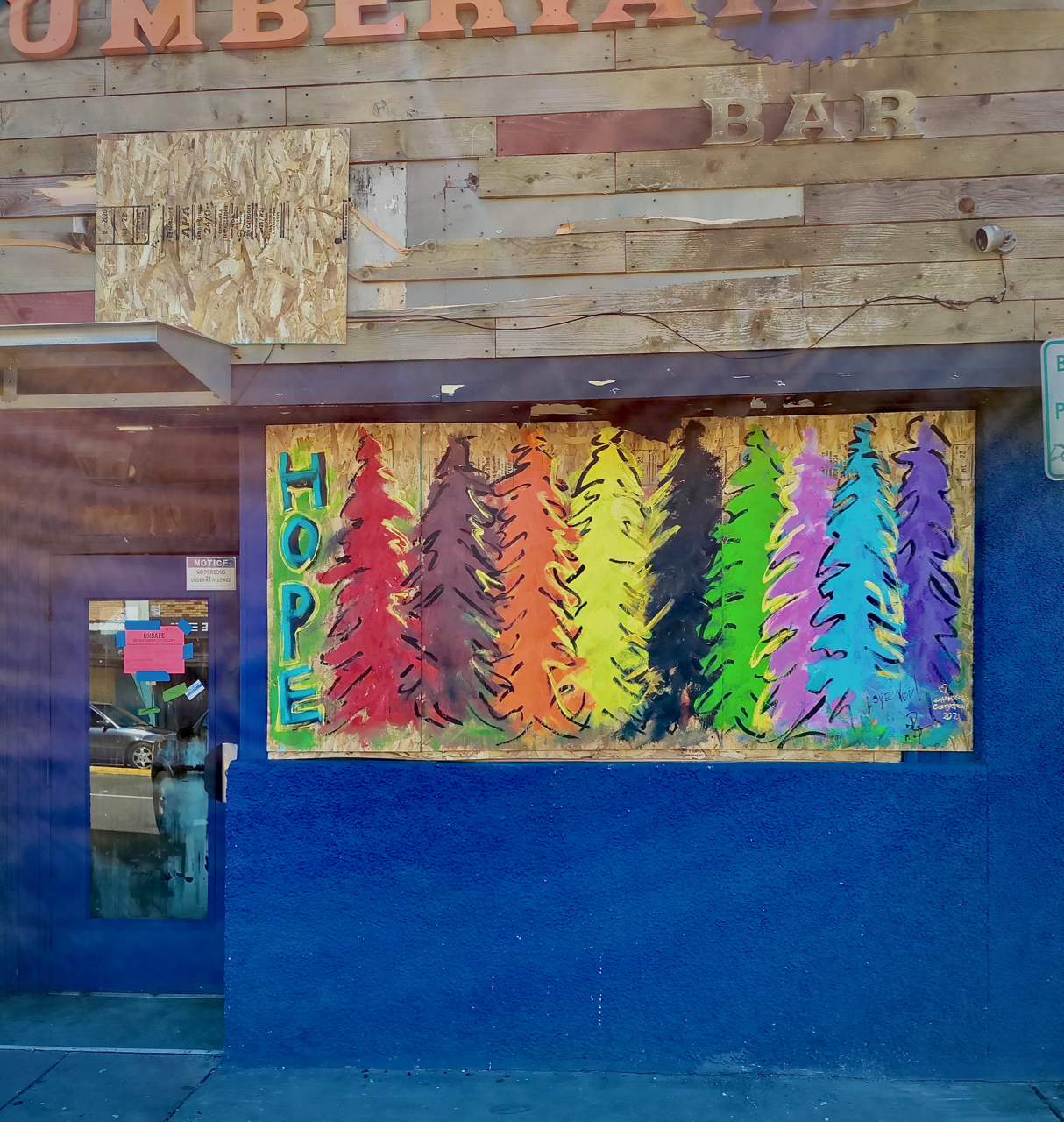 Comments
The last business is named Vicky Salon.
Ah! You're right I'm so so so sorry. Correcting now.