Punk Rock Flea Market returns to White Center Sept. 18-19
Punk Rock Flea Market returns to White Center Sept. 18-19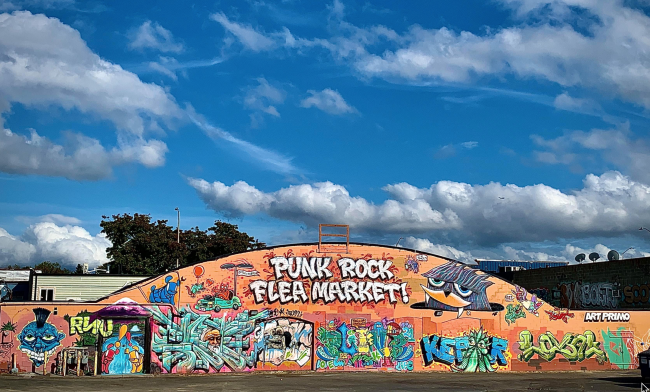 Tue, 09/14/2021
By Ruby Tuesday Romero
If you drive down 17th Ave SW, you'll notice 'Punk Rock Flea Market' spray painted on the exterior wall of the soon-to-be Unicorn Bar. And truth is, you should be excited! 
A Facebook event confirms that White Center will house the eclectic collection of artists and merchants on Saturday, Sept 18th and Sunday, Sept 19th. The masked, outdoor event will make use of the parking lot at 9832 17th Ave SW, previously Magic Lanes.
In the early 00's, Josh Okrent and a group of friends found and cleared out an abandoned bar beneath the Low Income Housing Institute in exchange for use of the space. Starting with a benefit for the institute, the group officially started the nation's second Punk Rock Flea Market in 2005, and 16 years later Josh continues to donate a portion of the proceeds from every event to LIHI.
After a lengthy stay on 1st and Wall in Belltown, the market outgrew the location and LIHI decided to repurpose the space into an emergency homeless shelter. The next few years the flea market used various locations, including a massive 2017 installment at Seattle Center backed by KEXP and Vera Project. 
However, in true punk fashion, the organizers felt the size and structure of 2017 didn't reflect their values and wasn't the direction the group wanted to take. Revisiting their subterranean beginnings of DIY and anti-corporate, the next few were held at King's Hall in the Central District. PRFM had two events planned at the hall in the spring 2020, but it goes without saying- those were cancelled and subsequently, the hall has closed.
Since vendors prepay for their stalls, Okrent offered a full refund, but most declined-knowing the flea market would be back. More than half of the vendors this weekend are those who trusted Josh and waited patiently in good faith. So when Adam Heimstadt and Kaileigh Wilson, owners of Unicorn, extended the offer to use their lot, Josh jumped at the opportunity and this weekend makes history.
Starting at Noon, one will find unique treasures, either handmade or in curated collections. Highlights include vegan leather bondage gear (oh, behave!), taxidermy critters, rock memorabilia, and of course, vinyl records. Ridiculously talented artists and innovative crafters will be a focal point, including some personal favorites Paz and The Basement Archives.
Due to Covid restrictions, there won't be any live Punk Rock this year, but there will be DJ's spinning all day and plenty of Food Trucks to try! 
So put on your most spiffy mask and vest, and let's act like we're too cool to know each other this weekend at Punk Rock Flea Market!!
All inquiries directed to prfleamarket@gmail.com
@spasm_swapmeet
@punkrockfleamarketseattle