White Center Pub Crawl March 19 will feature 9 local bars; It's a fundraiser too
White Center Pub Crawl March 19 will feature 9 local bars; It's a fundraiser too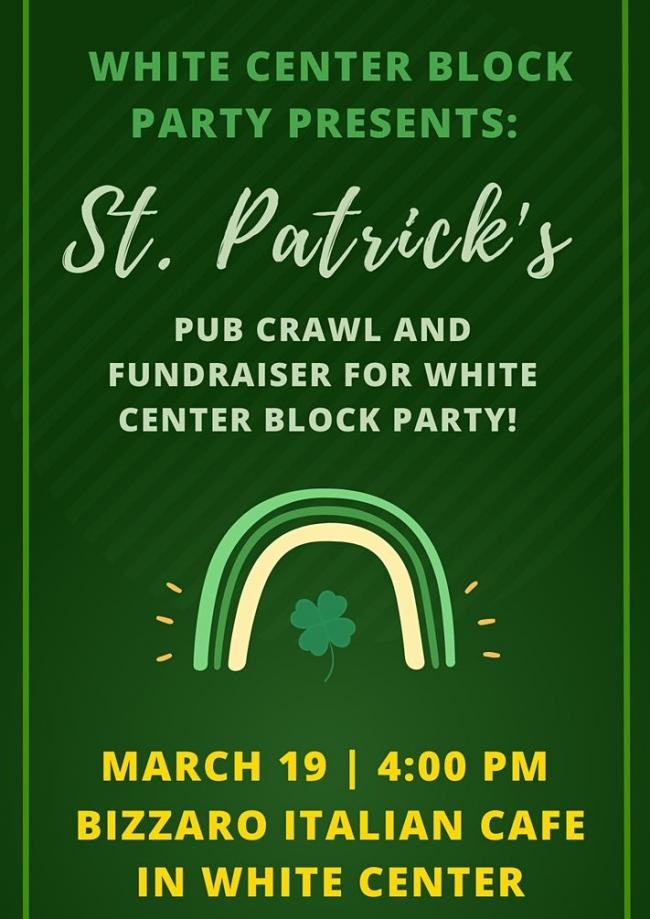 Tue, 03/08/2022
The people who sponsored last summer's wildly successful White Center Block Party is planning an evening of drinks and deals over St. Paddy's day weekend right in the heart of White Center. It's all set to happen Saturday March 19 at 4pm with the event beginning at Bizarro Italian Cafe.
All proceeds from bracelet sales will go toward planning the next White Center Block Party this summer. 
The cost is just shy of $20.. at $19.75 each including processing fees.
PRE-ORDER NOW AND GET A FREE JELLO SHOT AT PICK UP! OR, PURCHASE DAY-OF FOR 20.00. 
Participating bars: 
Buho
Drunky's Two Shoe BBQ
CanBar
Mac's Triangle Pub
Lariat
Roller Rink Bar
Boombox
Future Primitive
Beer Star
Special Shops Participating: 
Macadons - Free Cream Puff for Pub Crawl Attendees 
Cartwheel Vintage & Consign - 20% off from 4-8 PM for Attendees