UPDATE: New license agency opening in West Seattle at Westwood Village delayed
UPDATE: New license agency opening in West Seattle at Westwood Village delayed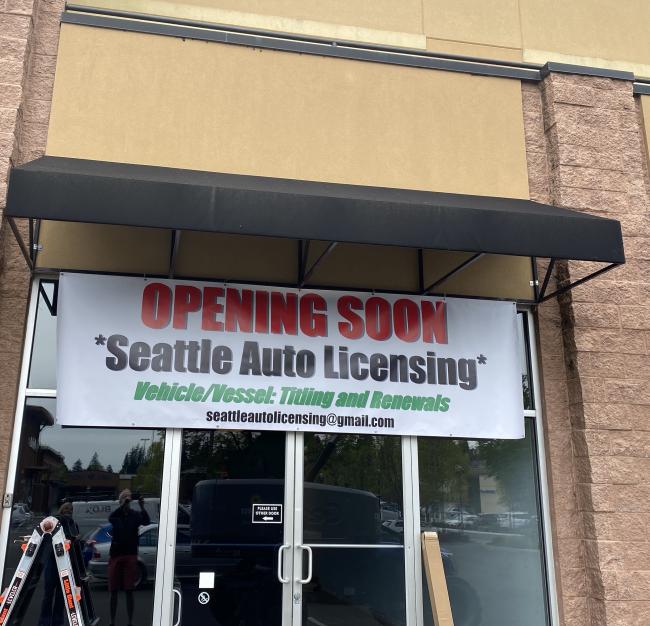 Fri, 06/18/2021
The Seattle Auto Licensing agency was set to open Monday, June 21 in West Seattle at Westwood Village.
But Westside Seattle was notified that they are "experiencing internet issues and are delaying their opening."
That opening should come in the near future.
Owned by Randy and Robin Lais who also own the Port Orchard License Agency (opened there in 2011) the business will provide title and license services for vehicles, motorcycles, vessels, watercraft, travel and utility trailers. You can also renew registrations, get a report of a sale, get trip permits and disabled placards.
Randy also offered, "Quick Titles will begin the moment we have the state's computer software programmed for our office. We are honored to have the opportunity to support the West Seattle area. We will do you proud."
The official address is  2515 SW Trenton Street, Suite 103 Seattle, WA 98106-3209
The company officers are Randy and Robyn Lais and Aaron Herbstritt.
Their website should be online  "in a week or so," said Randy.
He noted the great proximity to the Washington State Driver's license agency nearby on 25th SW where you can renew your personal license to drive.
This will be the first license agency in West Seattle to open following the closure of the former West Seattle License Agency at the end of 2019.
The owners of Seattle License Agency have no affiliation with the former owners of that company.
 Initially, customers will need to pay with cash or check until the credit card system is set up. 
Seattle Auto Licensing Location:
Westwood Village shopping center
2515 SW Trenton Street, Suite 103
Seattle, WA 98106-3209 
206-582-2747
Hours: 9-5 M-F, Sat 10-2
Benefits for the community:
The new location will serve West Seattle, White Center and westside residents in their own communities, especially helpful now with the bridge issues.
The new location in Westwood Village is easily accessible with plentiful parking, including ADA parking right in front of the office.
King County partners with the Washington State Department of Licensing (DOL) to issue and renew vehicle and vessel licenses. Through this partnership, King County also contracts with local businesses, called subagents, to offer convenient locations to conduct in-person licensing. 
Visit dol.wa.gov to see the services that are offered online.