Sealth golf tournament swings into action June 3
Sealth golf tournament swings into action June 3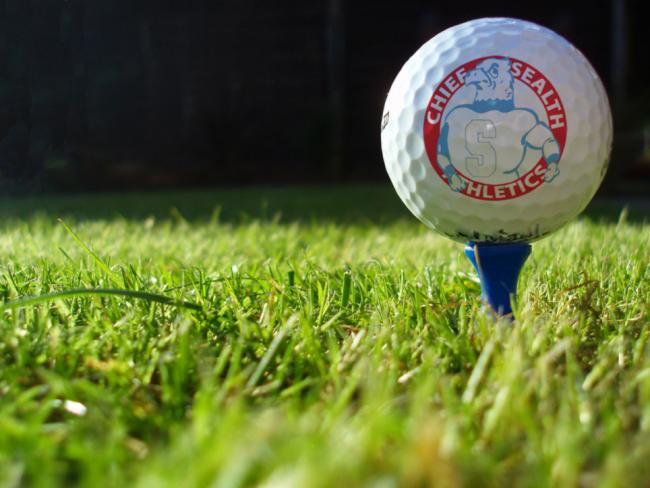 Sun, 05/29/2011
by Sam Reed Chief Sealth International High School Athletic Director

This Friday, June 3, 2011 is the date for the first Chief Sealth Athletics Golf Tournament at Rainier Golf and Country Club. All proceeds will benefit the student-athletes at Chief Sealth International High School. There are still limited spaces available for both individuals and foursomes to participate in the fun and fundraising. Reservations can be purchased here.
You can download the full event schedule at the link above.
Individual participation is $150, while foursomes can still be reserved for $500. The tournament will be a scramble with a shotgun start beginning at 10:00 a.m. The afternoon will conclude with a full dinner and auction featuring exclusive sport memorabilia and unique athletic experiences.
Auction items and prizes include:
Signed balls from Hall-of-Famers Lenny Wilkens and Warren Moon.
Autographed balls from Seattle legends Edgar Martinez and Kasey Keller.
Signed 100th Anniversary University of Washington football and basketball posters.
Autographed prints featuring Seattle Seahawks Ring of Honor members drawn by acclaimed artist Michael Reagan.
Oil painting by local artist Sanford Holien featuring Kasey Keller and other Seattle Sounders.
Box seats to select Seattle Mariners games.
Rounds of golf at area courses.
Gift certificates and prizes from local West Seattle establishments including Husky's Deli, Menashe & Sons, and the Brickyard BBQ.
A custom-made Musty Putters featuring the Chief Sealth Athletics logo.
Season tickets to Chief Sealth boys and girls basketball games.
The opportunity to design and call the first play of a Chief Sealth football game.
Proceeds from the event will help fund a variety of departmental items, including "c-team" participation, transportation, new uniforms, equipment, off-season camps and leagues, and continuing education for coaches.
"I believe that high school sports play a very important part in developing success in the classroom and success in life. Responsibility, teamwork, and perseverance are traits that can serve one for many years to come. I ask you to support those traits and the growth of Chief Sealth athletics by considering participating in this event," says Athletic Director Sam Reed.
To reserve a spot in the tournament: click HERE.
For additional questions, contact Sam Reed, Athletic Director at 206-252-8603